Creativity, collaboration, and some good ole' design sense were the foundation for this stunning kitchen. Homeowner and designer, Cait Pappas of Nest Out West, came to the table knowing exactly what she wanted, she just needed some support. Cait is an influencer with over 80,000 followers on Instagram who love to soak up her decorating advice and product recommendations.
In addition to design, part of her services includes renting 'the Nest' for anything from newborn photography to marketing materials. With that said, she needed a kitchen that would live up to her high standards and compliment the rest of the home.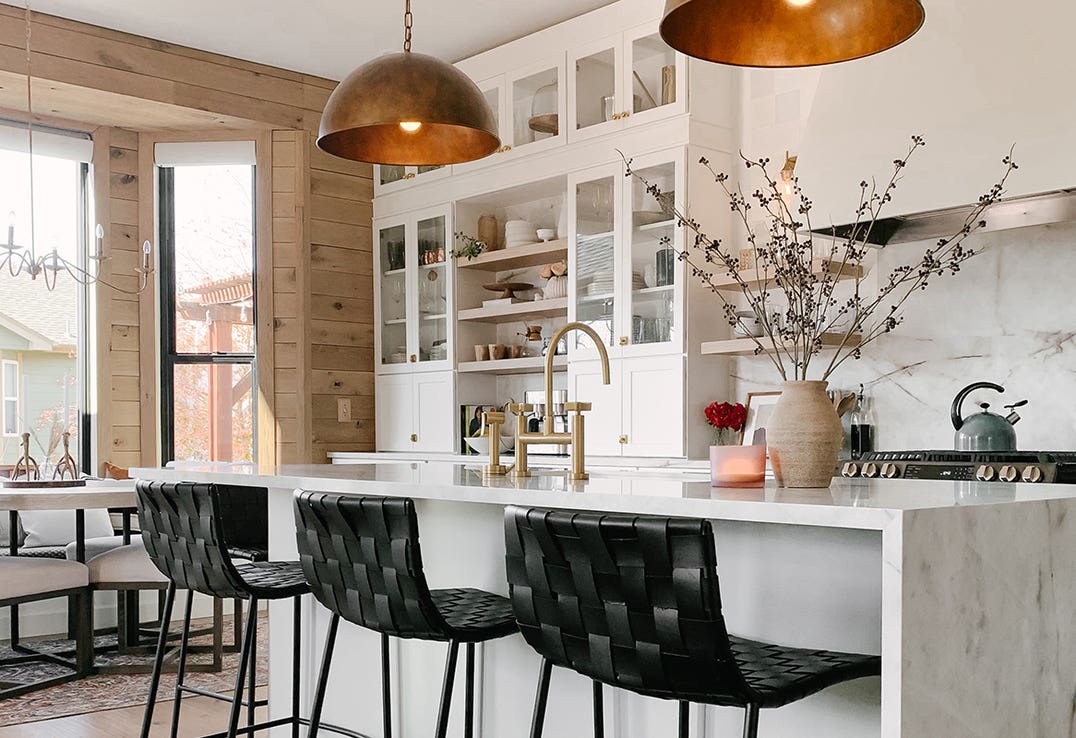 CliqStudios designer, Shantel Tempel, partnered with Cait throughout the planning process. They ended up choosing a two-tone design in Signature Plus's Newport door style with Lily white and Fossil. To open up the kitchen a small wall needed to be taken out that would've been to the left of the new range. This created much more space and, as a result, brightened up the kitchen.
Shantel spoke about what it was like to work with Cait on her kitchen project; 'Cait had so many great ideas', 'she has a beautiful eye for what will look good in a space'. Shantel mentioned that it was Cait's idea to use a two-tone color scheme in the kitchen which really brought the organic, earthy style to life.
Shantel said, 'It was easy to collaborate. Caitlyn is an absolute joy to work with'. She explained that they tried a few really good ideas, but some didn't work out. They had to revisit the refrigerator wall and buffet a lot to get it to work. In the end, they found a solution that met the needs of the space while remaining aesthetically pleasing. In addition to the beauty of the kitchen, they also added some considerable storage with roll-out tray pantries and multiple drawer bases.
A few design touches that really added to the unique flair of this kitchen were the half-waterfall countertop on the island, and the stacked glass buffet wall cabinets. Cait balanced these details by adding in wood floating shelves and some rich copper pendants and brass hardware. To ground the bright design, dark stools and accents were brought in to polish it off.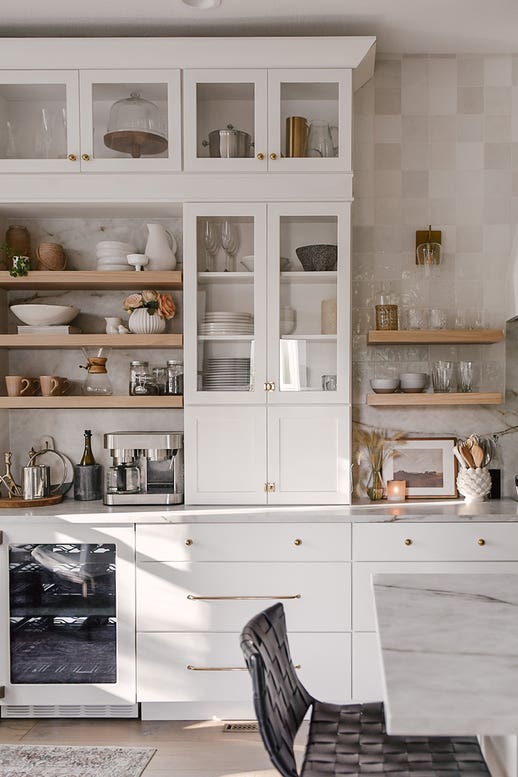 Overall, this has been an incredible transformation. From working with older DIY painted cabinets to now having a kitchen that perfectly integrates with the rest of the home, this kitchen will host many great memories. Cait finally has her dream kitchen, and we can barely wait to see how she decides to use it in the future!