Updating your kitchen does not always require a complete remodel. Freshen up your space and make it feel clean and refined. Below are CliqStudios 10 simple, cost-efficient tips to transforming your space without needing a contractor:
Fresh Kitchen Towels
Switch out your old towels hanging on the oven door from weeks prior. Pull out a couple of fresh folded waffle weave or flour sack towels to use for the week. This small detail can truly transform your kitchen from busy to neat.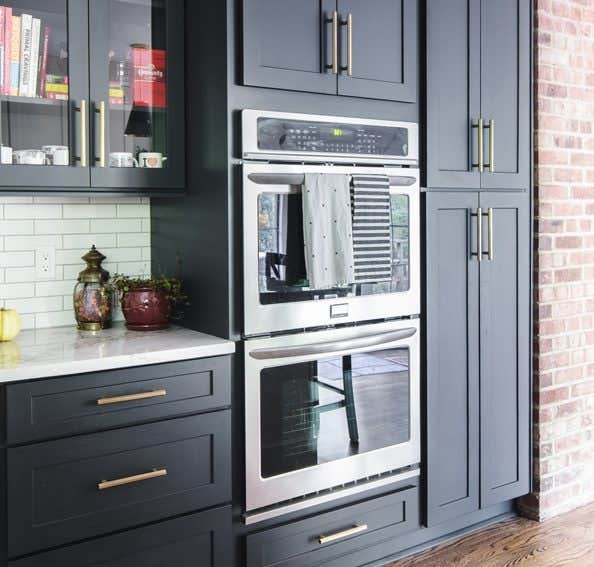 Hand Washed Dishes
You know those lingering few items that can't go in the dishwasher? Wash them and put them away. Letting dirty dishes build up in the sink invites a discouraging atmosphere right when you enter the kitchen.
Counter Top Appliances
If your countertop appliances don't have a designated spot on the counter, store them elsewhere. Either place them in an appliance garage, or in a pantry. If your coffee maker and toaster complete your kitchen look, make sure they are wiped down and ready to use!
Spices & Oils
Everyone has their favorite few spices or oils they use in every dish. While leaving them next to the stove may be convenient, storing them until needed is sure to declutter your kitchen. Furthermore, keeping your seasonings and oils in a cool location. This will keep their flavor longer and they won't collect dust.
A Clean Sink
Avoid soap scum on the counter and sink by keeping your dish soap and scrubbies under the sink. Thus, they remain convenient while keeping the sink area clean. However, leaving out hand-soap and paper towels can make your kitchen sink more functional for day-to-day use.
Fresh Fruit & Vegetables
Fresh fruit or vegetables on the counter? Place them in a bowl or on a plate so they won't stain the counter and can be moved easily for more counter space. This always transforms them into a decorative piece on your counter.
Cluttered Refrigerator Doors
Artwork, save the dates, Holiday cards, and magnets can overtake your refrigerator doors. Clear them off and save them on a bulletin board or in a file elsewhere. Showcase a few favorites or keep it blank and enjoy the reflective surface of the refrigerator bringing more light into your kitchen.
Take out the Trash
After going through the mail, newspapers, boxes, or junk mail often get left behind littering your countertop. Freshen up your space best by recycling or throwing it out right away to get ahead of the build up. With that said, when your recycling or trash is full, dispose of it as soon as possible. Thus, averting unwanted odors and freeing up space.
The Miscellaneous
There are always one or two things that are sitting on the counter because they need replacement or attention. Like a battery or a screw or some sort of adapter. Resolve those issues every week and they won't end up sitting on your counters for months.
Bring It to Life
Give your space a fresh element. Take out oranges or apples from your refrigerator drawer and display them on the counter. Or, plant your herbs in a decorative pot. Additionally, every grocery store has bunches of fresh flowers just waiting for a good home!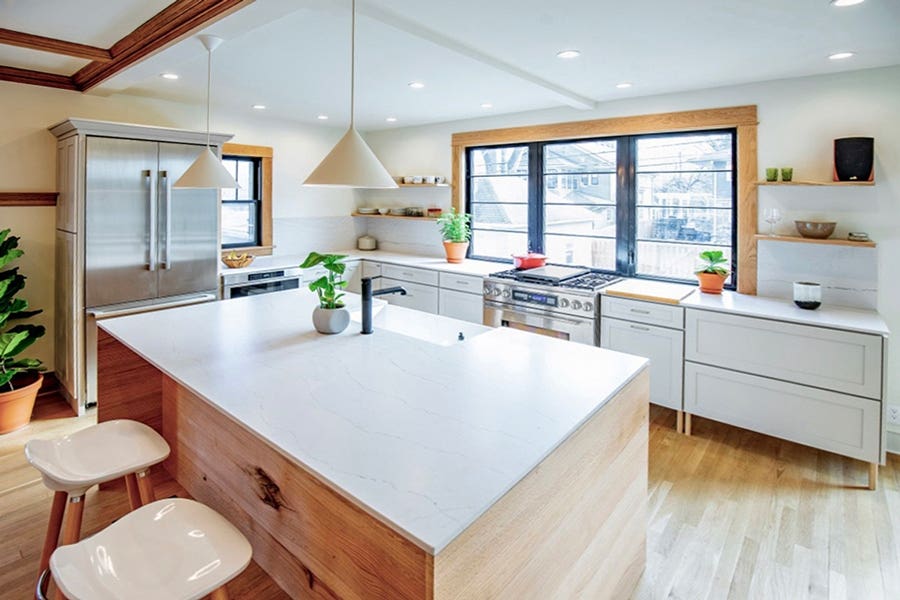 Whenever you restyle or reset a room, remember to clear the space first to help rethink the functionality and flow. What tips do you use in your home to freshen up? Leave your thoughts and insight in the comments below!