The 2018 Cost versus Value report has some good news for homeowners planning to remodel a bathroom or kitchen this year.
Hanley Wood and Remodeling Magazine publish the annual report. The report is an industry benchmark in estimating project costs and how renovation projects affect home resale values. The Cost vs Value report compares average costs of popular remodeling with the value those projects retain when a home is resold.
Major Midrange Kitchen Remodel
Of particular interest is the report on a " Major – Midrange Kitchen Remodel ." This project includes updating a 200 square foot kitchen with semi-custom wood cabinets , including the addition of a 3-by-5-foot island. This project is also priced using modern laminate counters and double-tub stainless-steel sink with single-lever faucet. Additionally, it has an energy-efficient range, ventilation system, built-in microwave, dishwasher, and garbage disposal. The final features include custom lighting, with new resilient flooring, finished with painted walls, trim, and ceiling. The national average for this project in 2018 is about $63,000, and retains about 60% of its value at resale.
Midrange Bathroom Remodel
Another great project for 2018 is a " Midrange Bathroom Remodel. " A relatively simple project, the 5-by-7-foot bathroom got an update on its existing footprint. We added a new ceramic tile floor, a 30-by-60-inch porcelain-on-steel tub with 4-by-4-inch ceramic tile surround. As well as, a new faucet, white toilet, recessed medicine cabinet with light, and solid-surface vanity counter with integral sink.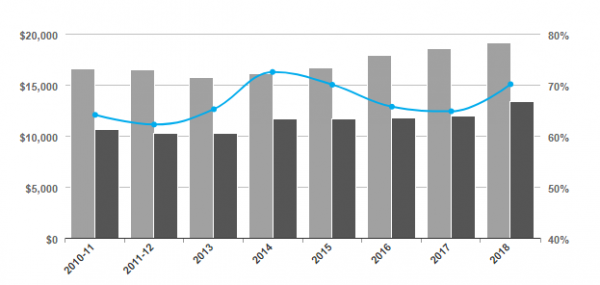 The national average for This type of project is just a little over $19,000, but it retains over 70% of its value upon resale.
CliqStudios can be a great partner on these types of renovations. We're confident that our factory-direct prices can help make the most of our your kitchen remodel, without having to sacrifice style, storage , or quality. Moreover, CliqStudios' vanities will give any bathroom that type of upscale spa look and feel that home buyers gravitate toward.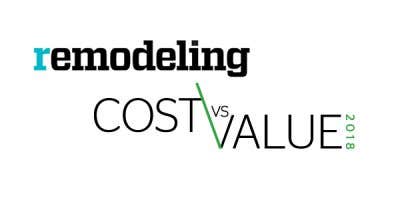 It's important to remember that these numbers are national averages. Cost and value may vary widely in your area . If a home improvement project is in high demand, or areas with a hot real estate market, it can pay back more than 100% of its cost. In other parts of the country, slow home sales may drive down the value of a particular project.