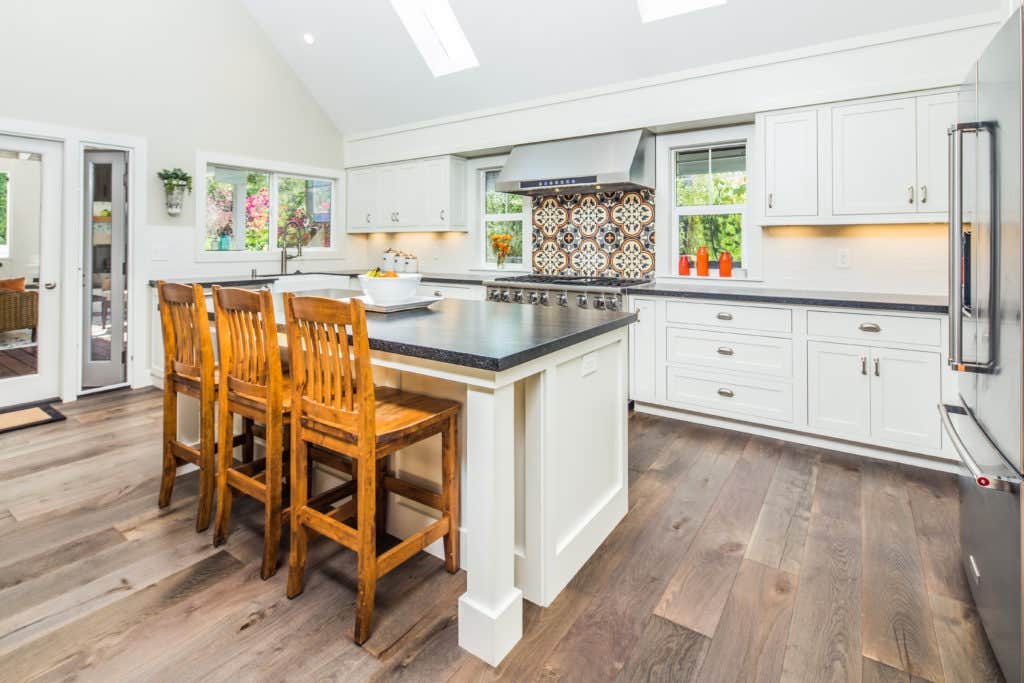 Looking back at 2017, a few trends stood out, many of which we hope are here to stay! We spotted a few ideas we had to share with you to keep in mind when you're planning home improvements.
More Color, More Places
If 2016 was the year of white and stark, then 2017 is the year of pizzaz! But before you cringe too much, we are not completely swinging back to avocado green kitchens. Embracing bright and bold color as accents to the whites and neutrals makes your kitchen stand out! In the kitchen pictured above, the vibrant backsplash brings life to the bright, transitional space!
Patterns and Textures
People have said that white kitchens have been ubiquitous for so long is due to their "classic look." Even if your kitchen is small with little or no natural light, white cabinets make it feel bigger and brighter. With that, many folks are slightly hesitant about straying too far from a look that's sure to outlast a 'trend.' Fear not! That's where the third dimension comes in. Look for ways to use tasteful textures for a tiled backsplash. White and off-white can combine in a playful pattern on fabrics and painted surfaces. If your home has exposed brick, keep it! The added texture and authentic look will make your kitchen pop.
More Metals
Their elemental qualities make metals' colors and textures instantly timeless. Metallic backsplash tiles make a huge appearance at the blog in early January 2017. Having exposed air ducts and other inner workings of your ceiling, can create an industrial feel. In addition to perfectly incorporating metals into your design. In addition to tiles and ducts, keep an eye out for more metallic accents. For example, outlet and light switch covers, cabinet hardware, and all sorts of accessories!
These trends were originally spotted by our friends at construction2style.Read more and watch their video at: http://construction2style.com/blog