Remodeling Your Kitchen? Make These 8 Decisions Before Hiring A Kitchen Contractor

For the best kitchen remodel experience, do extensive research before you begin to interview contractors and ask for bids. You will minimize misunderstandings and expensive change orders and be able to evaluate bids with identical specifications. Be well-informed on the following topics before talking to any kitchen contractors. Make final decisions before asking for bids.
1. Your budget
Decide how much you will spend on the project. Then develop a realistic budget and stick to it. Include line items in your budget for labor, materials, eating out and permits. Allow at least 10% of your budget for unexpected expenses. Really. Don't cheat on the 10%. The pie chart below shows how costs for a typical kitchen remodel may break down.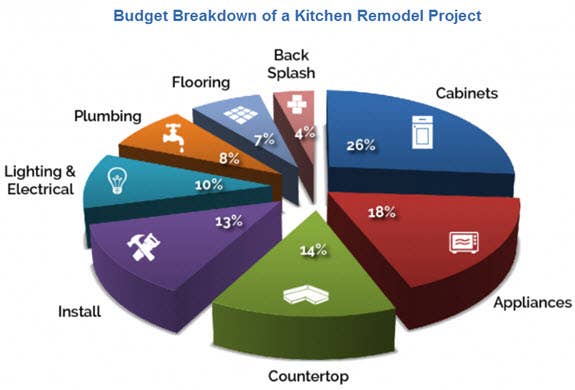 2. Project scope
Are you are simply replacing cabinets, countertops, flooring, and appliances? Moving a sink or range? Or moving walls? The more extensive your kitchen remodel the more important it is to develop a detailed plan and stick to it. Resist project creep — the "while we're at it" syndrome.
3. Must-haves vs wants
List everything you hope for in a kitchen (specialty storage, traffic, glass door cabinets, type of appliances, etc. Prioritize, classifying each item as: must have, can compromise, or can wait.
4. Your style
Be ready to share images of kitchen features you like with your kitchen designer and your contractor — a picture really is worth a thousand words. Prepare an idea file with pictures, notes and links to web pages. Our photo gallery, Pinterest and Houzz are good sources of inspiration. If you're not sure what your style is, give our style quiz a try.
5. Appliances
Consult with your designer before buying appliances, asking for suggestions on the best value and fit for your space and your cooking style. Visit an appliance showroom and look at models, check out Consumer Reports for quality reviews, then check online and at clearance outlets to find the best prices. If you are on a tight timeline, be cautious about special orders. Provide model numbers to your designer for a perfect fit in your cabinet layout.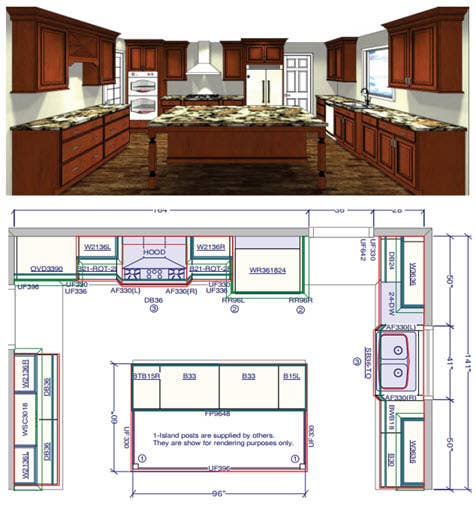 6. Cabinets
Cabinets represent a major share of your remodel budget and are facing years of hard work, so quality is as important as style. The Cabinet Buyers Guide will help you evaluate quality across brands, and your designer can provide advice on style. Cabinets need to be on site early in the remodel process, so be sure the company you buy from can deliver accordingly.
7. Professional kitchen design
Whether you know exactly what you want in your kitchen or are looking for ideas, consult with a professional designer early in your planning process. Draw on the expert's experience for suggestions on saving money, increasing storage, adding a unique personal touch or otherwise getting the most out of your space. The designer should provide a computer-generated detailed layout of the space. (CliqStudios offers free kitchen design services)
8. Countertops, flooring and backsplash.
The type of countertop and flooring you choose (quartz or laminate countertop, hardwood or tile flooring, etc.) will affect your contractor's timeline and budget, so those decisions need to be made before you start getting bids. Specific selections can wait, as long as the products are there when needed.
Before making purchases, lay out samples of cabinetry, countertop, flooring and backsplash together in your space and light. If you fall in love with a special order product, check reviews for the company's record for on-time delivery before putting money down. And consider stock or discount online alternatives — the cash you save may allow you to upgrade your choices of appliances or cabinetry. The backsplash can wait until phase two if necessary.
With this planning complete, you are ready to interview contractors and evaluate bids.