7 Ways to Use Cabinetry to Carry Your Style Throughout Your Home

More Than Just Kitchen Cupboards
As permanent fixtures in your home, cabinets provide utility and beauty not only to kitchens, but also pantries, laundry rooms, bathrooms, home office spaces, and more. As you cultivate the interior design of your home, consider these seven ways to use cabinetry to carry your style throughout your living space.
1. Design a buffet, butler's pantry, or beverage bar
Coffee, tea, or wine? A butler's pantry, hutch, buffet, or beverage station is perfect for entertaining. They give you extra room to prepare appetizers and drinks and make it easy for guests to help themselves. A convenient place to store glasses and linens, these cabinets help fully utilize the corners and niches near your kitchen.
Tucked away in a corner just off the kitchen, this beautiful wine storage bar features glass doors and inner-cabinet lighting to make for a stately display that befitting of the historic guest cottage.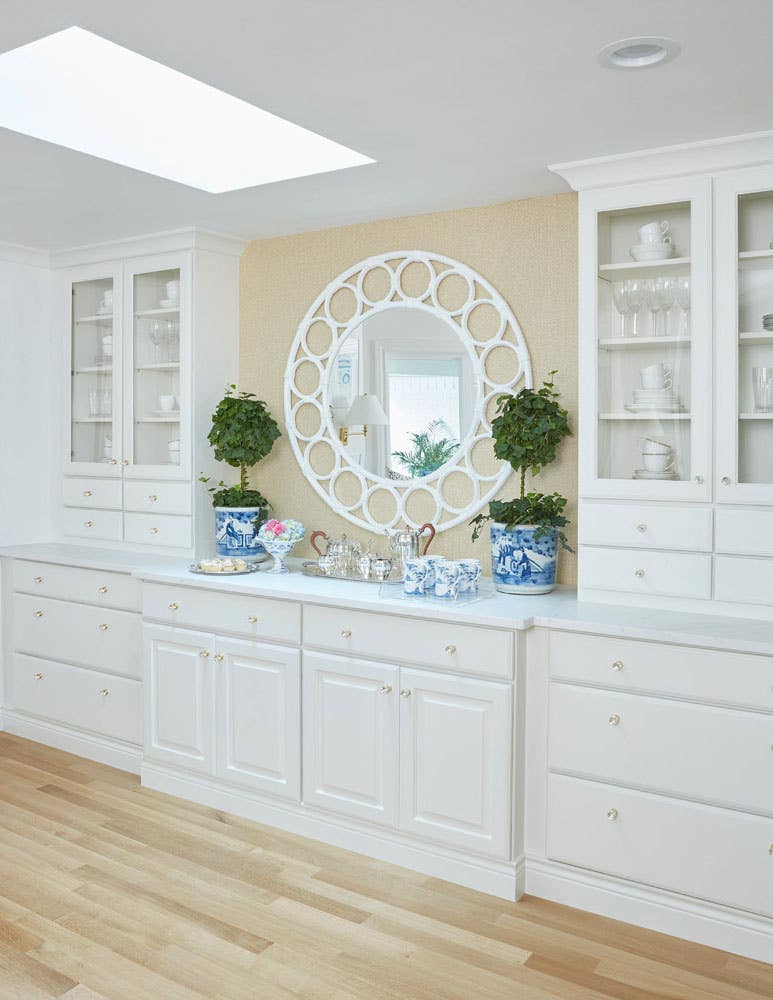 This buffet was built as part of a seven week ranch house renovation. "I couldn't be more pleased with what it adds to the space," said Jennifer, the homeowner and interior designer. "It creates cohesion between the banquette and the kitchen while providing lots of extra storage, and the perfect place to set out refreshments."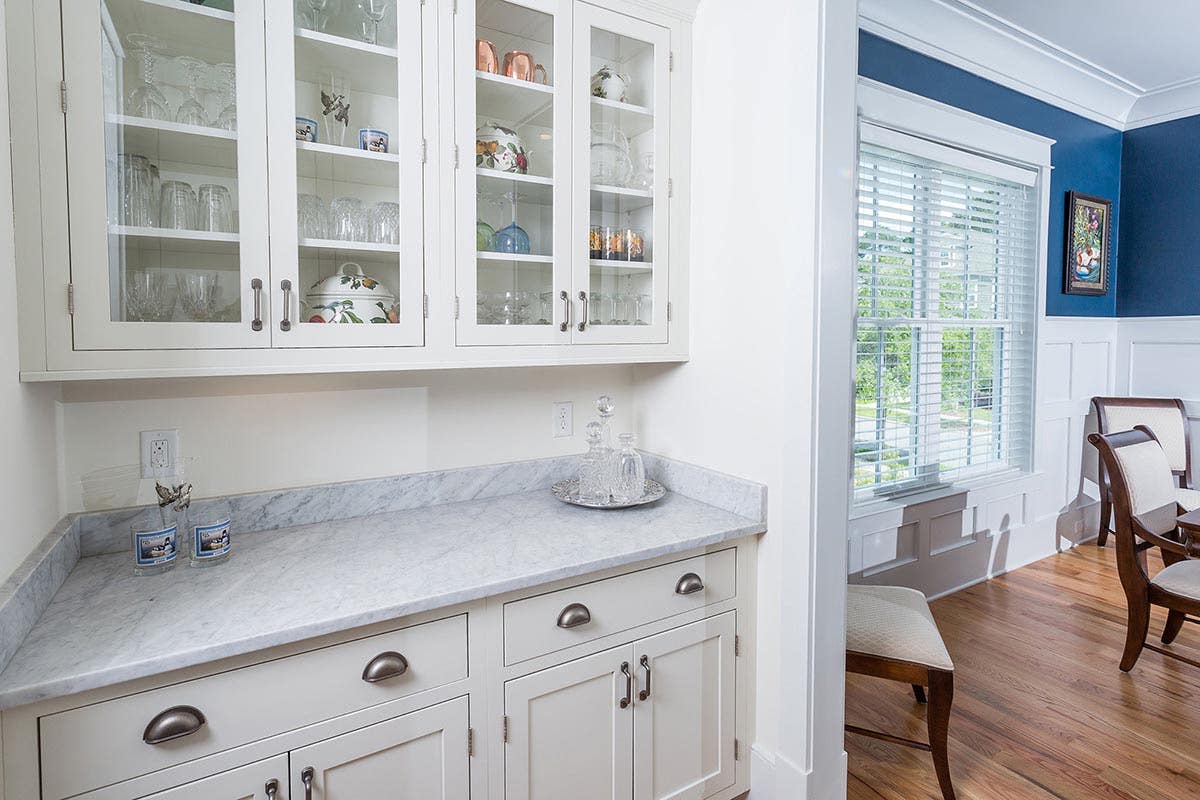 There's nothing like a butler's pantry to make a beautiful display of glassware, ceramics, and other serving items. In this South Carolina home, the butler's pantry creates a special serving nook between the kitchen and dining room.
2. Welcome yourself home with entryway storage
Even if you don't have a mudroom, entryway cabinets can stand on their own as a stylish way to store jackets, boots, and accessories for heading out or coming home.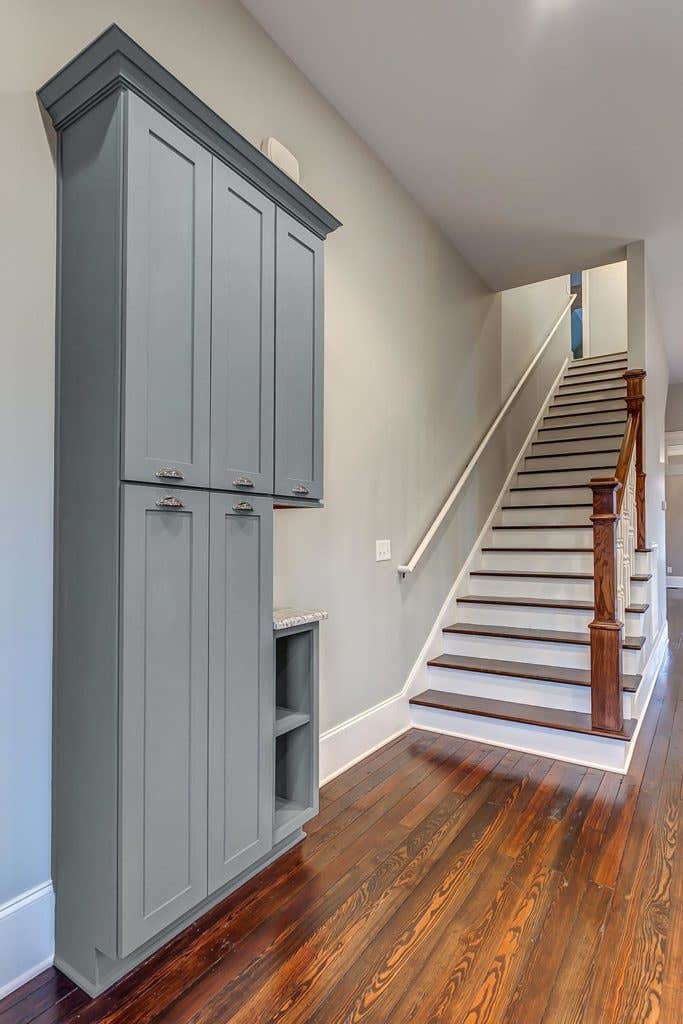 A couple of tall utility cabinets can go a long way for serving as a handy locker area.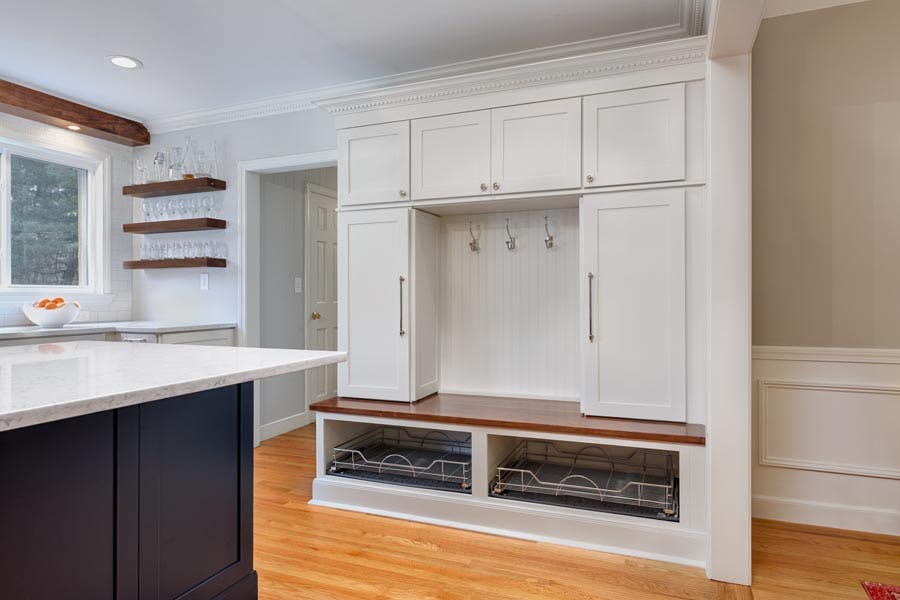 This custom entryway locker serves as a wonderful entryway space, built in collaboration between a kitchen designer and the contractor. Needless to say, the clients absolutely loved it.
3. Use colors and finishes to make a design statement
If you're an adventurous stylist wanting to add a "wow" factor to your space, a bold, bright, or two-tone cabinetry finish may be the focal point you were looking for. An unconventional finish not only sets the palette for your kitchen – it can also influence design choices in adjacent rooms to create a vibrant and unique interior.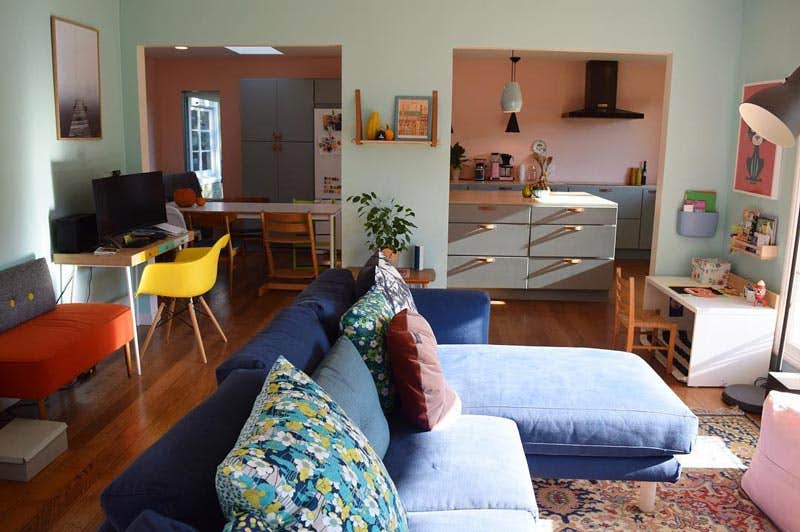 In this living room inspired by Scandinavian design, the blue walls and kitchen cabinetry create a backdrop for the warmer and livelier colors like yellow, orange, and pink. Fun, cozy, and hygge.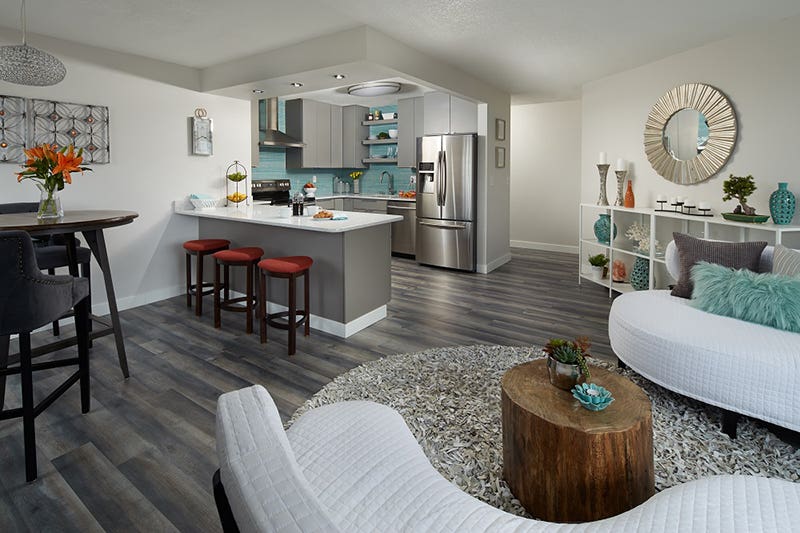 Thinking of using a dark neutrals like gray or black? Use it as a cabinet finish to really anchor the room, such as in this modern-styled condo, where cabinetry and flooring set a dominant gray tone.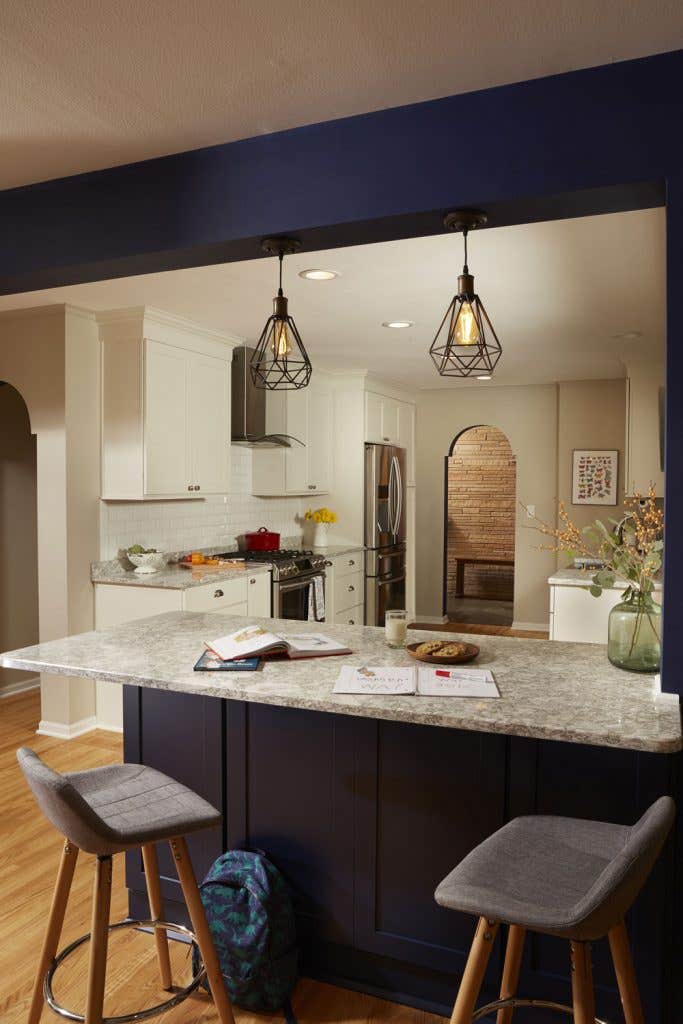 Repetition in your color scheme creates a rhythm to your interior design as you walk through the house. Here, the blue cabinet finish is reinforced by the blue paint used on the soffit and load-bearing column.
4. Showcase your personality using shelving and display cabinets
There's nothing like being surrounded by the things you love. Bookshelves, glass displays, and storage cabinets go a long way in living room spaces, letting you exhibit your photos, vases, book collections, and travel mementos for all to see.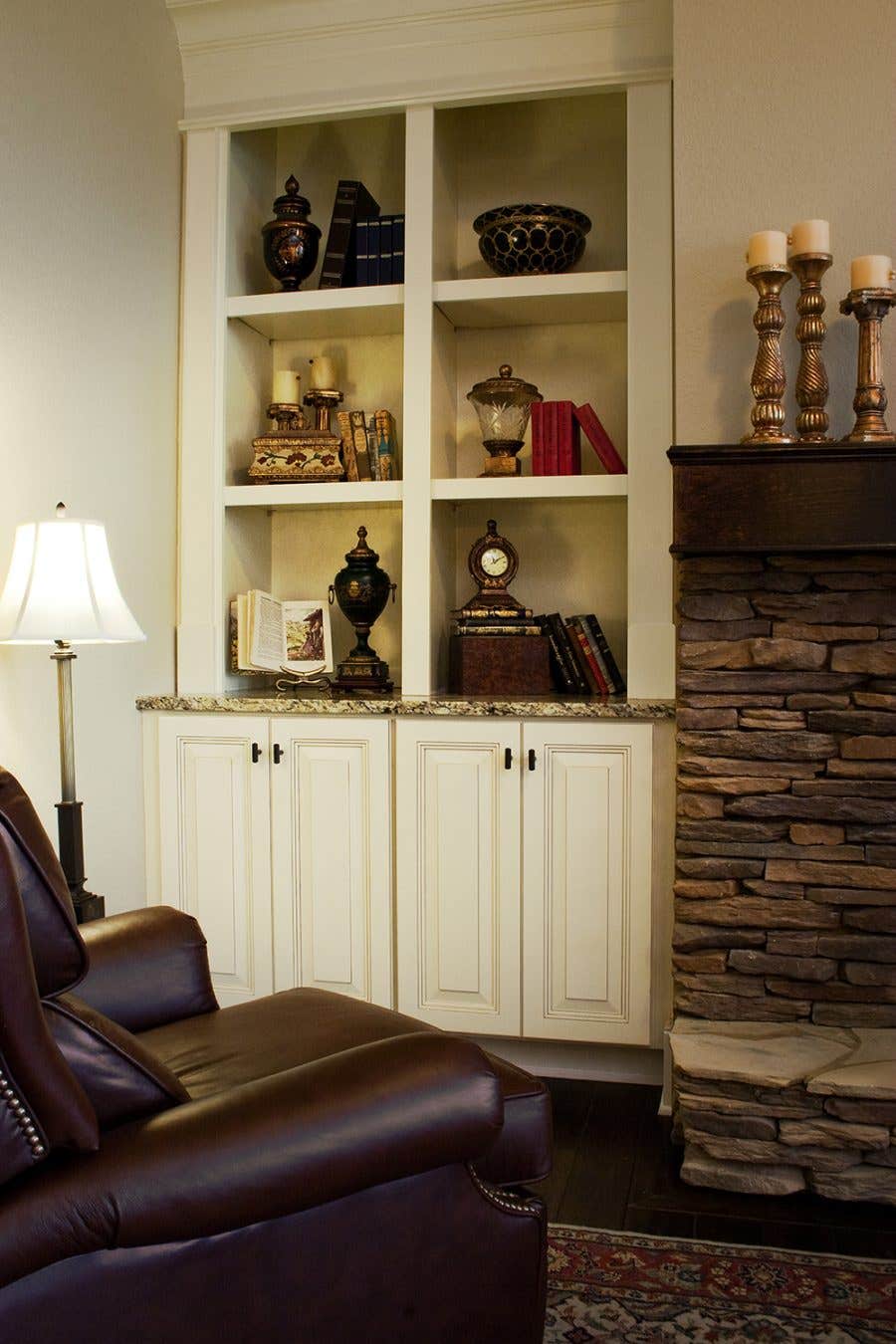 A dry bar was designed in this living room, enhancing the functionality of the space while also bringing in the style of the nearby kitchen.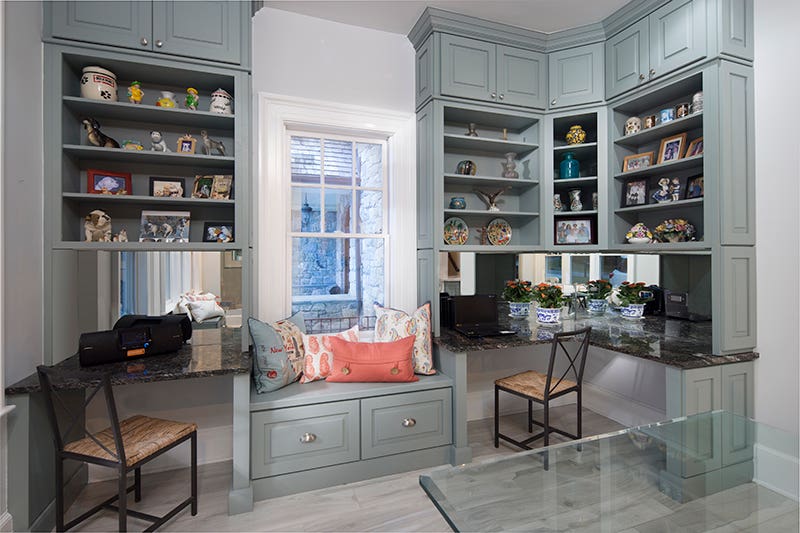 A stunning display, this ground-to-ceiling cabinetry design uses lavish shelving to create a dazzling space.
5. Construct a deluxe home office
It's hard to be productive in a messy, cluttered office. Cabinetry can help you create a clean, welcoming, and organized space so you can be productive when working at home.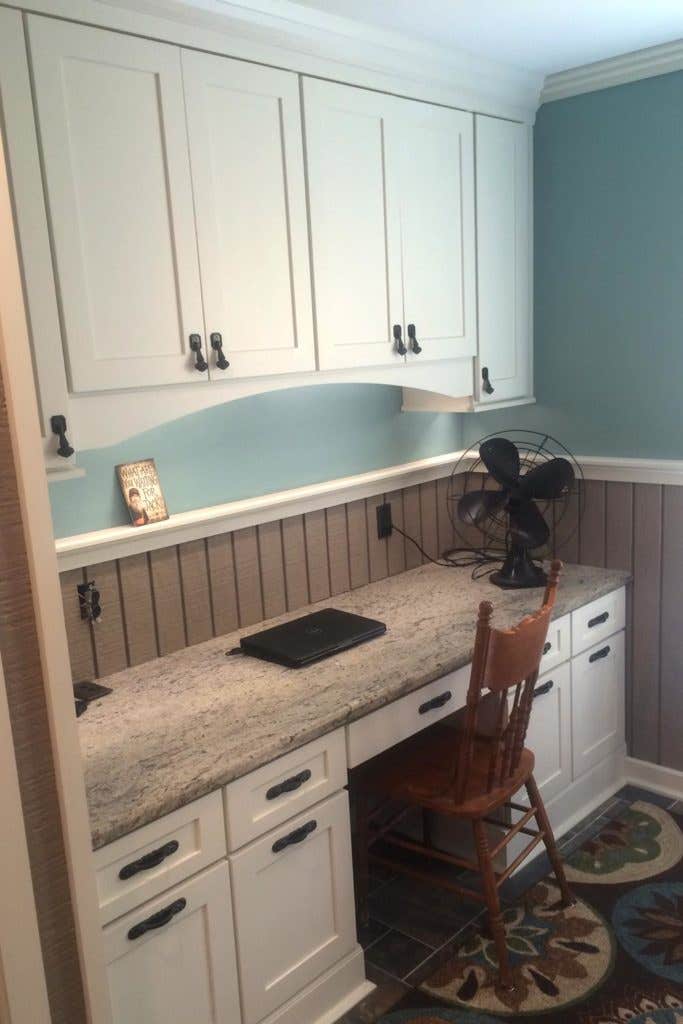 The simple styling of white cabinets and rubbed-bronze hardware forms a private yet luxurious workspace.
6. Lay out a laundry room you love
A well-organized laundry room saves you time and energy by simplifying the activities of washing clothes, drying, sorting, and folding. Cabinetry thoughtfully designed for a laundry room offers task-based storage, countertop space, and easy access to your washing machines – not to mention a clean and beautiful style.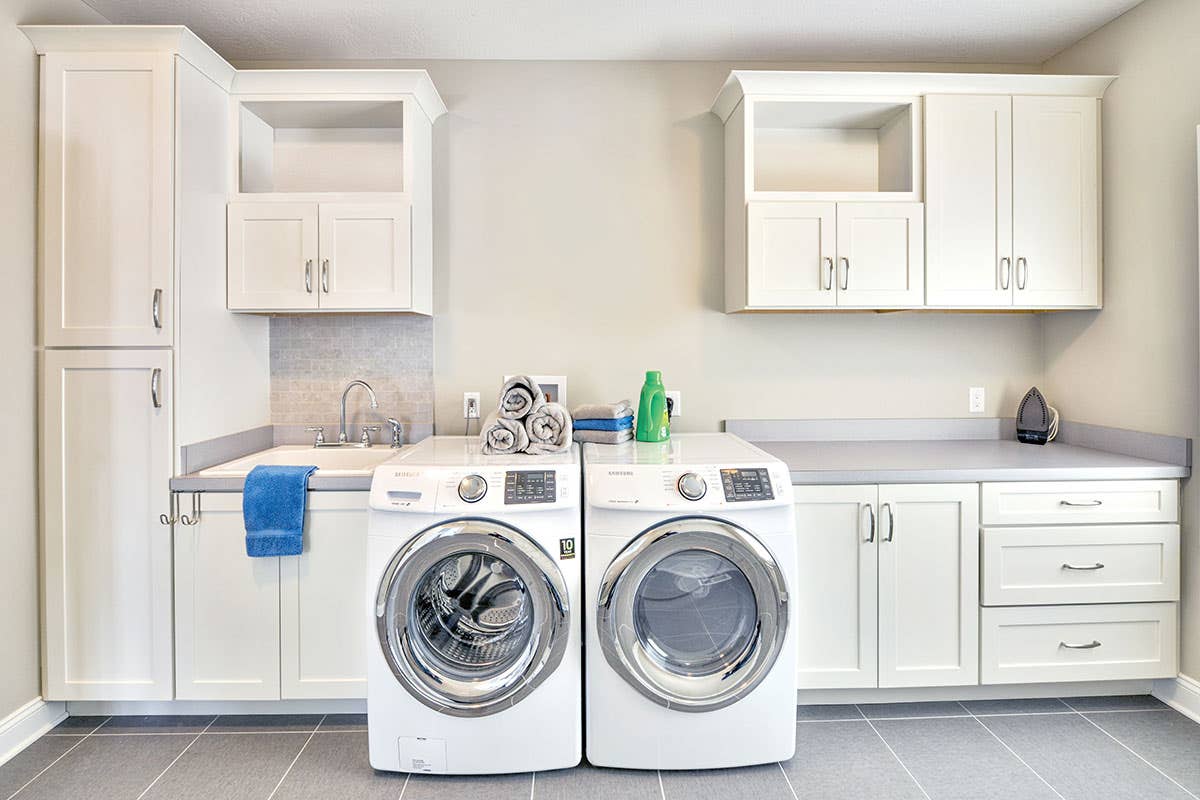 This laundry room shows how balance and symmetry in a cabinet design can create a clean and oh-so-attractive laundry room.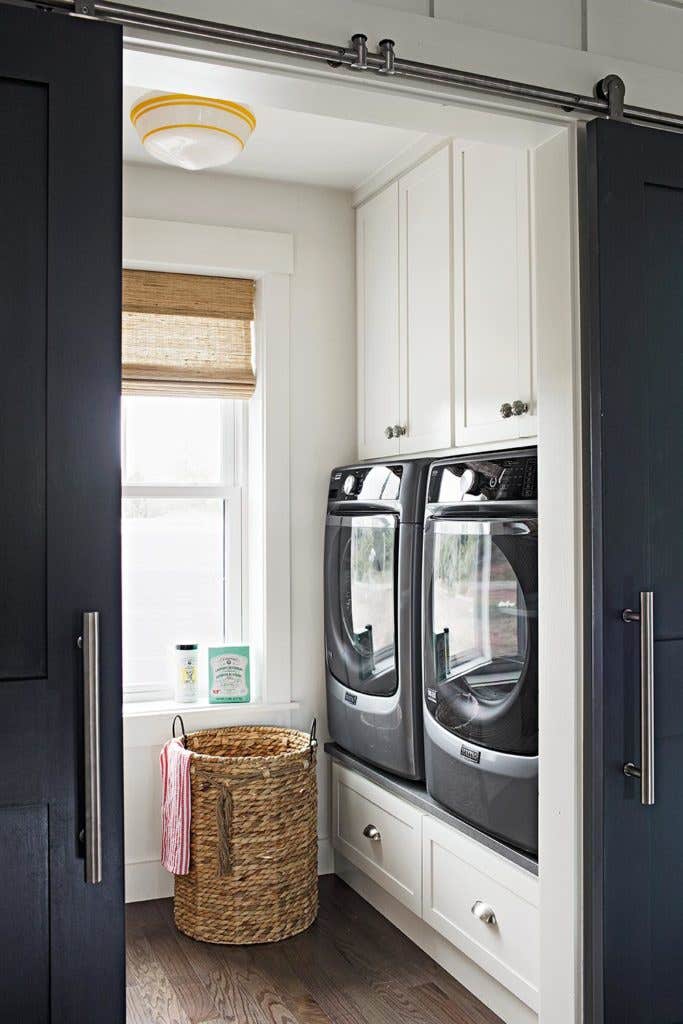 If you have front-loading laundry appliances, elevate your style and give your back a break by raising your washer and dryer. Using cabinetry drawers to increase the height of your laundry appliances is not only more ergonomic for loading and unloading, it's also great for storing cleaning supplies.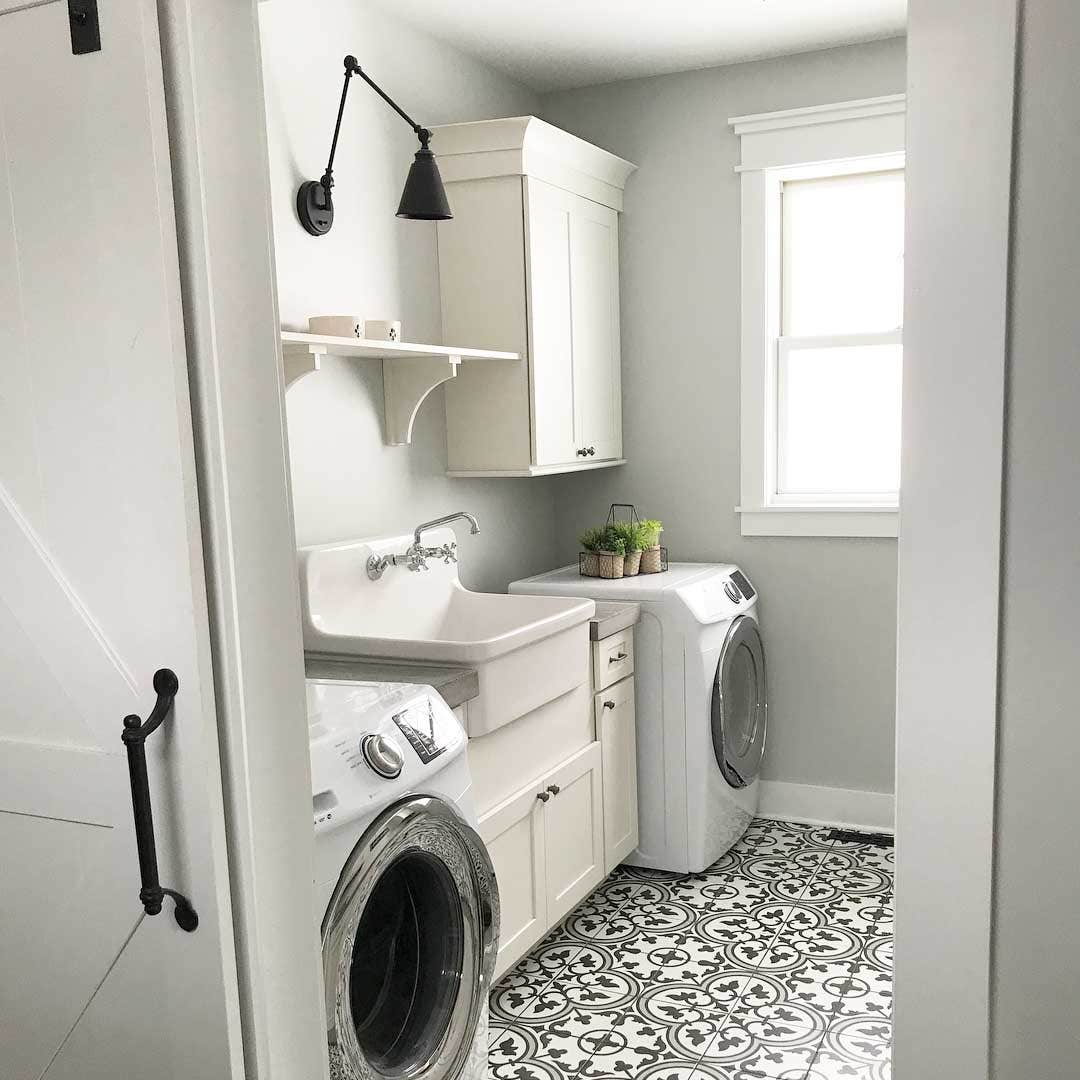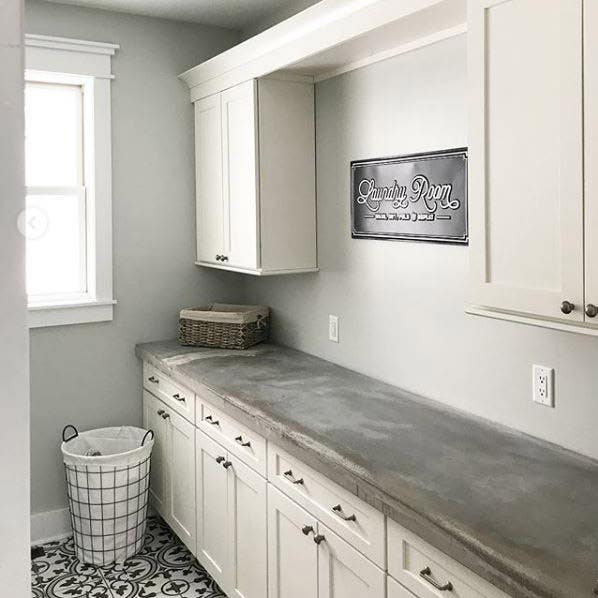 This laundry room, paired with a modern farmhouse kitchen and bathroom is a great example of how similar design motifs can be repeated throughout the house.
"I don't know about y'all but I always feel great when the laundry is caught up, the floors and the cabinets are clean. There's a sense of peace that comes over my soul when I can finally sit down after traveling for a week and relax," wrote homeowner and interior designer Renee Lois on Instagram.
7. Complement your kitchen style with a bathroom vanity
A high-quality vanity instantly boosts the comfort and style of your bathroom. Using a similar door-style or finish as your kitchen cabinets provides your home interior with a consistent and comfortable aesthetic.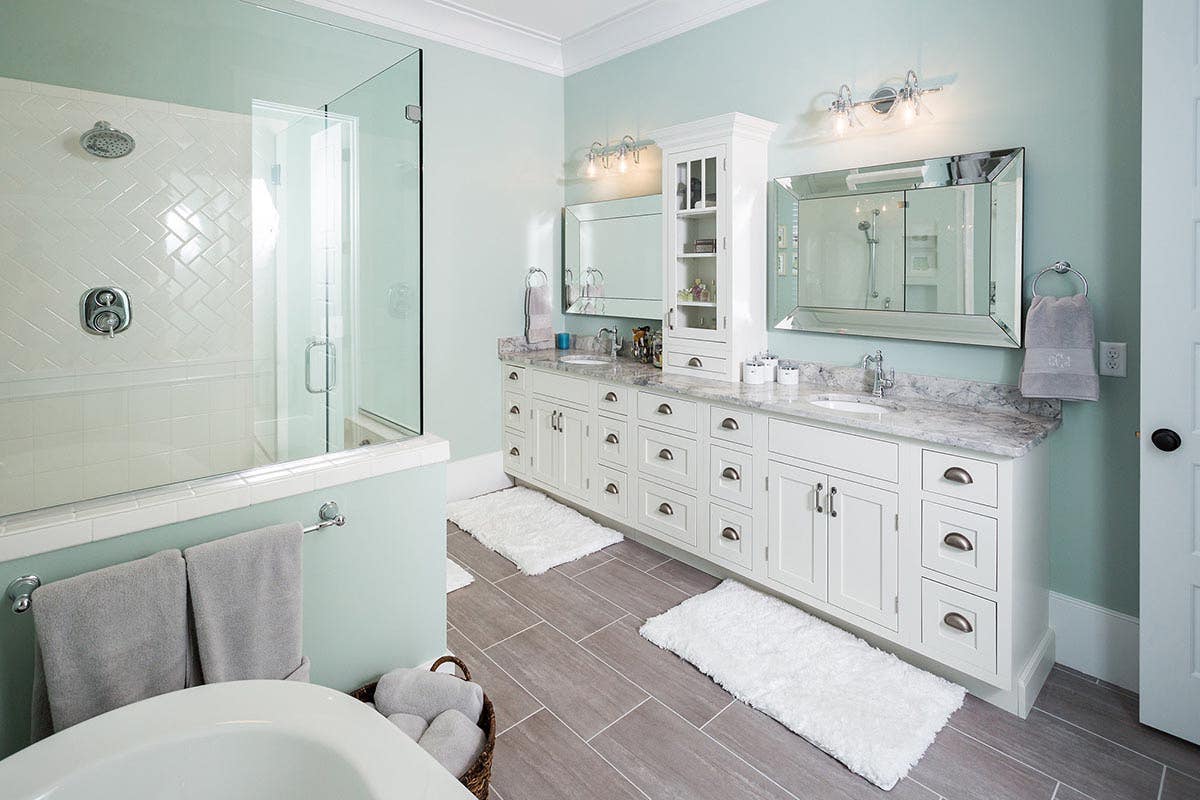 This bathroom vanity uses the same door style and finish as the kitchen cabinets (the same house as the butler's pantry above), creating a strong sense of continuity throughout the house. Other details like the choice of wall paint and a vanity tower with glass doors create a spa-like environment.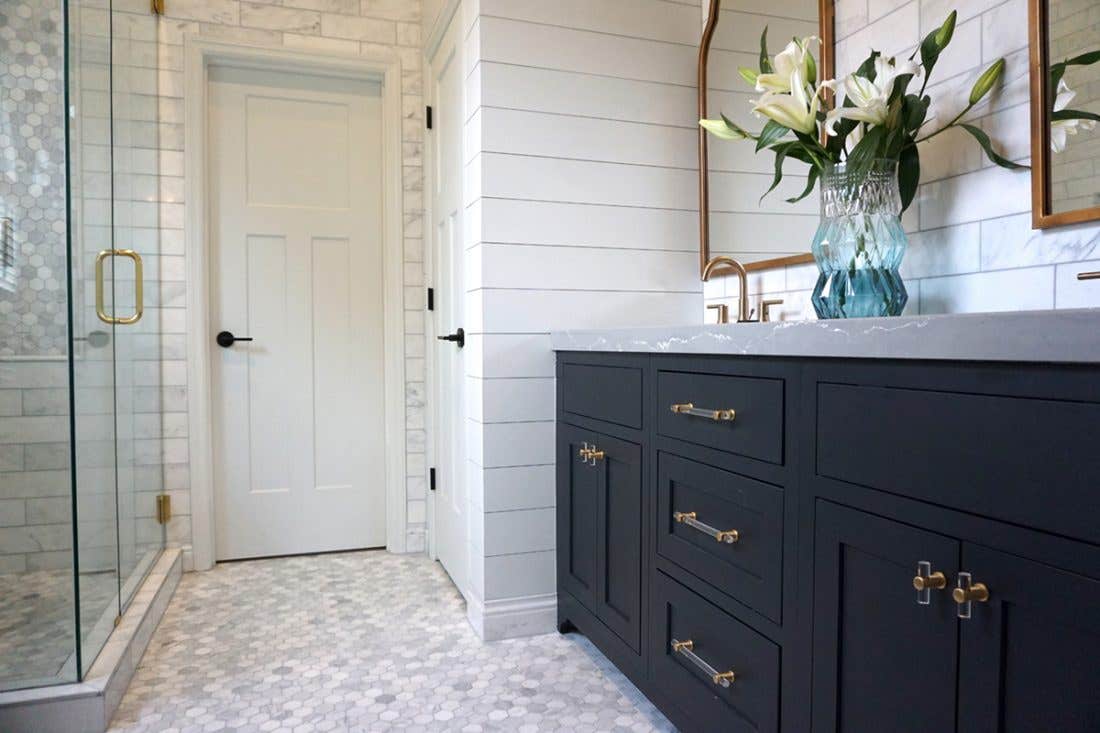 The master bathroom of the Casa de LAVA uses the same cabinetry as found in the kitchen, but switches up the hardware, countertop, and tiling to make for a unique space that's stylistically congruent to the rest of the house.
There you have it: seven ideas on how to style your home using cabinetry. Which ideas are you looking to add in your home?
Resources to help you create a beautiful kitchen.

Read More

Is your style modern, contemporary, traditional, or transitional?

Read More

Explaining balance, focal points, proportion and scale.

Read More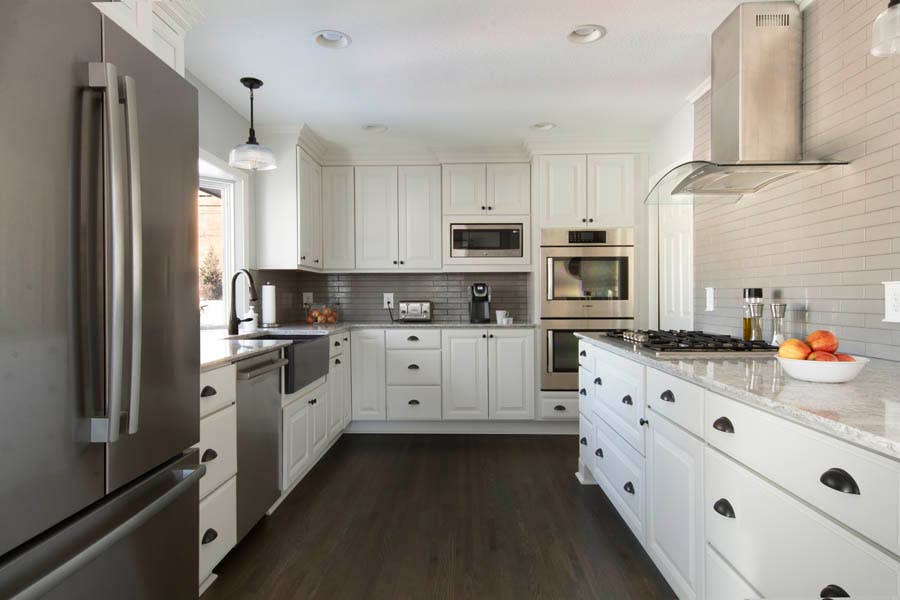 Ready to start your free design?
Take the first step toward your dream kitchen today! We'll connect you with your personal designer to make your project a reality.
Let's Get Started