How to Start a Kitchen Remodeling Project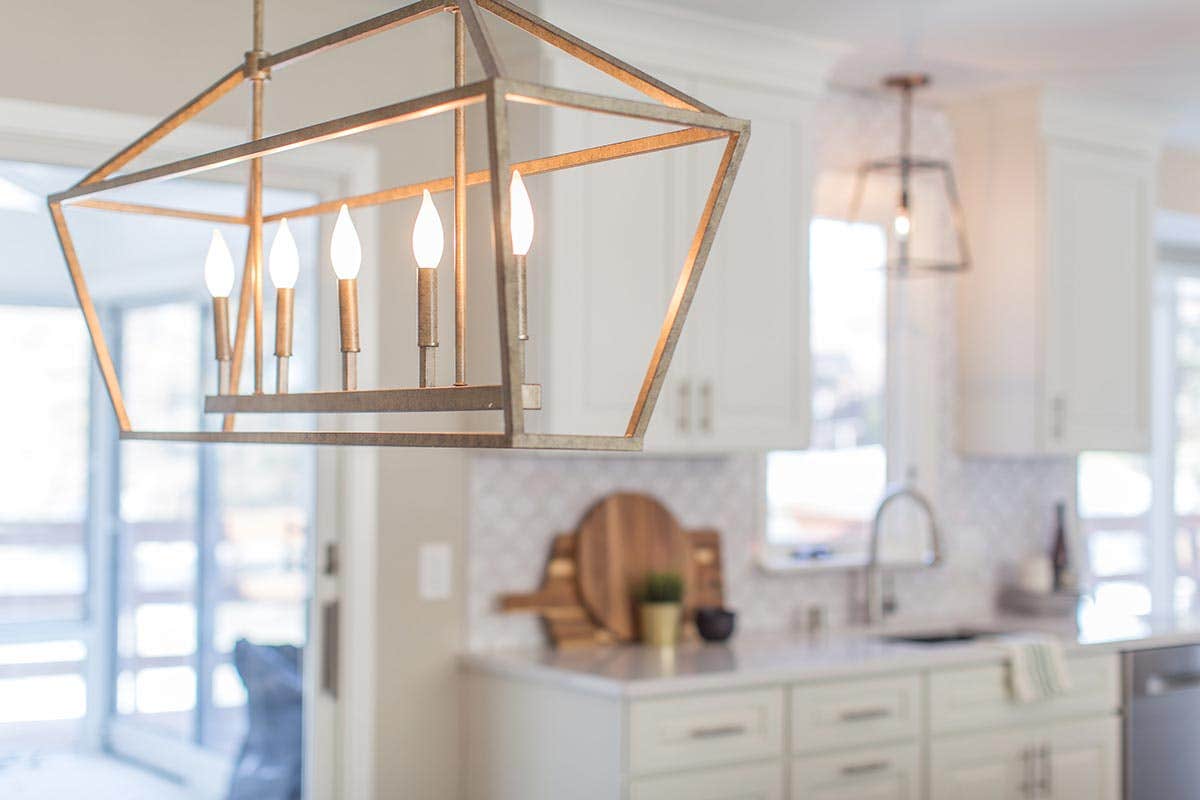 How Do I Start a Kitchen Remodel?
Some homeowners start a kitchen remodel by shopping for appliances. Others start collecting inspirational photos and color swatches. And still others begin by envisioning alternative floor plans and layouts.
"Homeowners may find themselves in this exploration stage for a year or longer before they start interviewing kitchen designers or general contractors," writes Houzz Contributor Rebekah Zaveloff.
Why do kitchen projects get held up and deferred for so long?
Remodeling feels overwhelming. Managing all the choices, details, and dependencies in a kitchen remodeling project can be mentally draining. Decision fatigue can set in, causing delays or even avoidance.
Homeowners can't picture the end result. How will everything come together? Will the finished kitchen look good? With other major purchases, such as a car or a house, what you see is what you get. But with a remodeling project, "what you get" is un-seeable until everything has been installed in your house.
In fact, both of these reasons support talking to designers and contractors sooner in the process. Their experience and guidance will only help you make better, more well-informed decisions, and can help keep you from getting stalled out.
Follow these steps to start off your remodel on the right foot.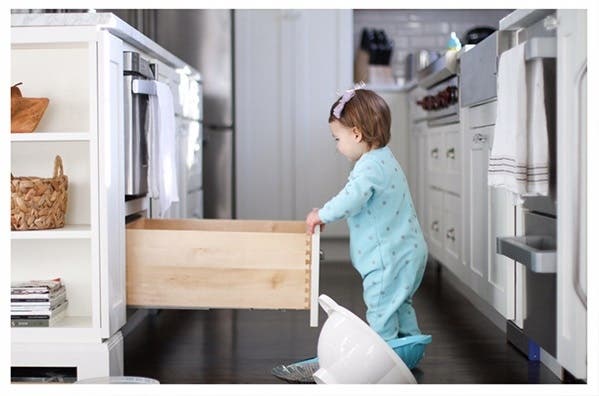 Step 1 – Prepare Yourself
From online shopping to boutique dealers to home center superstores, the marketplace today offers a near-endless stream of enticing products and choices. But how do you prepare yourself to navigate through the sprawling world of home-improvement products?
A little preparation will help you break the process down into logical and manageable steps. Think about the all reasons why you want to remodel your kitchen – what's your motivation? What are your aims? Write them down and communicate them with your partner and your household.
Next, make a commitment. You will remodel your kitchen.
If you can take this first step with firmness and confidence, then congratulations. No matter the obstacles ahead, your decision will bring you to the finish line.
In the steps that follow, we will help you to figure out your goals for your remodeling plan. As you walk through these steps, think about how your kitchen will:
Meet the lifestyle needs of your household.
Fit and maximize the dimensions of your space.
Fit your remodeling budget and timeline.
Step 2 – Assess Your Wants and Needs
There are many kitchens. Gourmet kitchens. Entertaining kitchens. Family kitchens. At the end of the day, you're looking for your kitchen.
Assess your wants and needs by observing how your existing kitchen works:
Who cooks? How often?
What kitchen equipment do you use?
Do other activities take place in the kitchen? Things like: paperwork, computer work, entertainment, laundry, etc.
How easy is it to reach and access storage space? Do you need more storage? Where?
How easy is it to access the trash? Do you store recyclables in the kitchen?
Do you need more counter space? Where?
What do you like about your kitchen?
Now, what would you change about your existing kitchen?
What don't you like about your current space?
Which features are missing in your kitchen?
Do you have ideas about the layout of your kitchen?
What styles and colors do you want to include in your kitchen?
It pays to be thorough. The more clearly you can talk about your wants and needs, the easier it will be to get kitchen designers and contractors to follow your specific vision.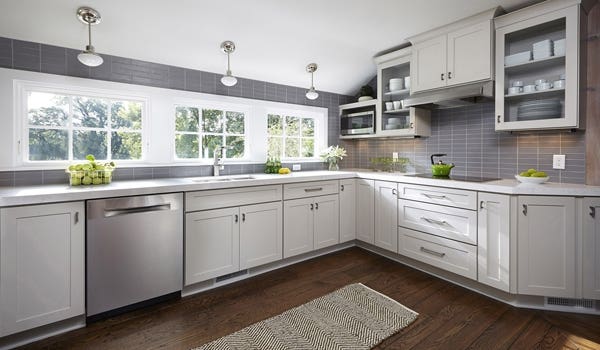 Step 3 – Set a Remodel Timeline
"How long does it take to remodel a kitchen?"
When it comes to remodeling, everything depends on the size, scope of the details of your particular project. That includes your time frame.
But what if you don't have much experience remodeling and don't really understand how long construction work takes? What's a good benchmark for setting a remodeling time frame?
Nine months is generally sufficient time to get what you want and stay on budget for the average kitchen remodel. That's six months to plan your project (searching, shopping, designing, preparing, ordering, hiring and scheduling), and three months of contract work to build it out.
A lot of homeowners wrap up their projects much faster depending on how they use their time. But don't take time for granted. Time is a resource that allows you to get more of what you want. And we all forget how much time it takes to shop. You'll want the time to discover products, vendors, and seasonal sales.
It's okay and normal to want your kitchen remodeled in time for the holidays. But be sure to give yourself enough time, and start planning in January!
Read More: The Complete Kitchen Remodeling Timeline
Step 4 – Set Project Goals
Having identified your needs, the next step is to list your project goals, the improvements that you want for your space.
Your goals might resemble one or more of the following:
An increase in resale value if sold within the next few years
More accessible storage units (trash bin cabinets, pots and pans drawers)
An open layout to make the space bigger and brighter
Updated, more energy-efficient appliances
More countertop space near cooktops
A sleek, modern-looking kitchen in gray and white
New tile flooring
A station for coffee or wine (or both)
A charging station for electronics
Step 5 – Go Shopping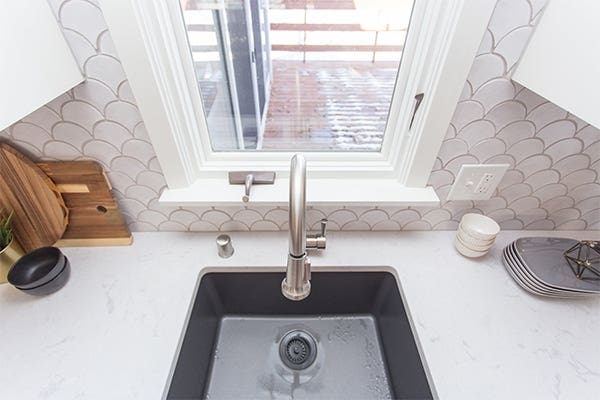 "Shopping is a big deal," says Dan Jones, CliqStudios' kitchen remodeling expert. "People forget about the hours they stand in the plumbing aisle looking at the same four faucets."
Unless you have a very hands-on contractor or interior designer, you're likely making several major purchasing decisions by yourself. They are indeed major decisions. "The kitchen remodel is one of the top five biggest purchases of your life," says Jones, "all within the single biggest purchase of your life – your house."
To get started, add these key kitchen products to your shopping list:
Cabinets
Countertops
Appliances
Sinks and faucets
Flooring
Lighting
Backsplash
Within each category, there's much to learn about different brands, materials, installation methods, maintenance and care requirements, costs, warranties and more. Keep track of your options in a detailed list or a spreadsheet.
Shop online and offline, read product catalogs, visit showrooms and trade shows, and check out your local salvage yards and specialty stores. Over time, you'll come to a better understanding of how much certain items, features, and upgrades cost, and how much you personally value them.
Read More: How to Identify Quality in Kitchen Cabinets
Step 6 – Determine a Remodel Budget
"What's your budget?" It's the one of the first question a remodeling professional will ask you. But you won't be able to confidently set a budget until you've shopped and compared different product options.
In this way, determining a remodeling budget is similar to determining a budget for your car, or your house. What you can buy depends on what you have, what you're willing to spend, as well as your financing options.
Kitchen budget benchmarks. According to HomeAdvisor, the average cost of a kitchen remodel is about $22,000, with a typical range of $12,500 to $33,000, but high-end kitchen remodels can cost much more. Generally, cabinets are about 25-30 percent of the remodeling budget. CliqStudios customers spend an average of $8,000 on cabinets.
Pay attention, write down costs, and like any good shopper, you'll find out along the way how to save money.
Read More: What Does it Cost to Remodel a Kitchen? Understanding Your Renovation Budget
Step 7 – Bring in the Pros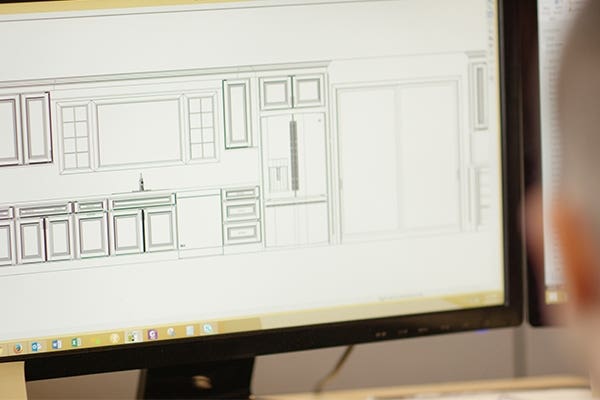 There are two main players when it comes to professional kitchen remodeling help:
A kitchen designer
A general contractor
A kitchen designer ensures that your kitchen space is functional, efficient and the best value for your budget. They take the time to learn your needs and wants. Then they translate those into a functional, beautiful, and actionable plan.
A general contractor (GC) coordinates the build-out and installation of the kitchen designer's plans. The GC is in charge of organizing products, materials and people. They schedule work for the trade professionals typically involved in kitchen renovations such as electricians, plumbers, tile professionals, fabricators, and finish carpenters.
Start early and be proactive with bringing in professionals. Their expertise will help you make better remodeling decisions, and making early appointments will ensure that you have a spot on their calendars. The most well-regarded pros have very busy schedules, and it's common for a contractor to be booked months in advance.
What about interior design or architectural services? If you're remodeling your entire house, or making major structural changes, you may have an interior designer or architect helping to coordinate the project. But if you're only remodeling a kitchen, their services are not critical, even though they can add significant costs to the project.
Between you, your kitchen cabinet designer and your general contractor, you should able to make sure that your kitchen is decorated, designed and built to your liking.
Happy remodeling!
The best ways to find and hire a contractor.

Read More

How cabinet styles and price points compare to CliqStudios.

Read More

A step-by-step kitchen remodeling timeline.

Read More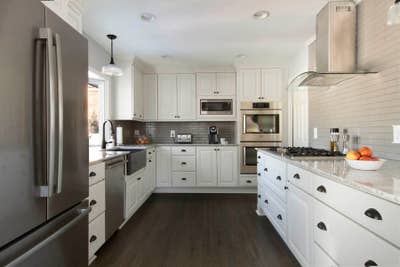 Ready to start your free design?
Take the first step toward your dream kitchen today! We'll connect you with your personal designer to make your project a reality.
Let's Get Started
Frequently Asked Questions
First things first - talk to a professional kitchen designer. The kitchen is the most expensive area to remodel inside a home. This is because almost every area needs to be touched; appliances, cabinetry, countertops, heating/cooling/ventilation, electrical/gas, plumbing, wall/ceiling treatment, flooring, backsplash, lighting and living space. You don't want to start off going in the wrong direction for such a large, expensive and time consuming project.
How to plan a kitchen remodel
When planning a kitchen remodel, you will first want to consult a professional. You will want to find an experienced professional to assist you due to the sheer volume of things that need to be selected and installed. From appliances to cabinetry, there are so many factors to consider.
How to start a kitchen remodel
Right off the bat, you are going to want to sit down with a pro to discuss the project. A kitchen renovation can go off the rails quickly due to the sheer number of things that need to be selected and remodeled.
How do I remodel my kitchen
The first step in any kitchen remodel should be to consult a kitchen designer. A kitchen remodel can be super overwhelming and complex, so you will want their expertise when it comes to choosing all of the materials that are apart of your project as well as the layout.
How to plan a kitchen refit
A kitchen refit should always begin with a conversation with a professional. A kitchen designer has the experience and expertise to make your kitchen remodel a success and will know best how to layout your space.
How to manage a kitchen remodel
Manage your goals, set expectations, expect delays and establish excellent communication with everyone involved with the remodel, primarily your contractor but don't forget your family. Everyone in your home will be affected.
How to do a kitchen remodel
Before any work can be done in your kitchen, you will need to sit down with a kitchen designer. They will be able to help you choose the best layout and materials to bring your dream kitchen to life.
Where to start with kitchen remodel
The first step in your kitchen remodel should be to speak with a kitchen designer. From the floor plan to the materials, appliances, and plumbing, they will be able to help you make all of those choices.
Showing 1 Comments
Deborah Jo Decker
May 01, 2022 13:26
Hello. I'm starting a DIY kitchen remodel. Mostly giving it a new look & possibly adding a coffee bar not sure yet.