How Do I Compare Kitchen Cabinet Costs?

Choosing new kitchen cabinets can feel overwhelming. There are thousands of options and comparing quality and price can be challenging. Here we share the best ways to compare kitchen cabinet costs so you can find the right ones for you.
Content
How to Shop for Kitchen Cabinets
Compare Cabinet Quality – Apples to Apples
Comparing Kitchen Cabinet Costs
How to Shop for Kitchen Cabinets
Cabinets are often the largest part of any kitchen remodel, but how do you compare kitchen cabinet costs? We suggest you shop for kitchen cabinets following these steps.
1. Identify Storage Needs and Wants
The start of your kitchen cabinet search is a good time to identify your storage needs and wants. First, consider how much kitchen storage you may need. Then choose which specific storage solutions you would like to add to your new kitchen. Would a pantry be perfect for storing all your bulk cooking staples? Would a Multi-Storage Drawer help you keep container lids organized? Finally, make sure each cabinet brand you consider offers the features you want.
2. Think About Style and Color
Now is also a great time to think about what style and color you would like. Do you like painted white Shaker cabinets or stained wood cabinets? Do you want a modern slab door or a classic raised panel door?
After you select a few styles you like, you can order samples. This will help you to choose your favorite colors and styles. Just like the paint on your walls, cabinet colors can appear slightly different depending on the interior lighting and sun light. Because of this, it is best to view samples at different times of day as you decide on a finish.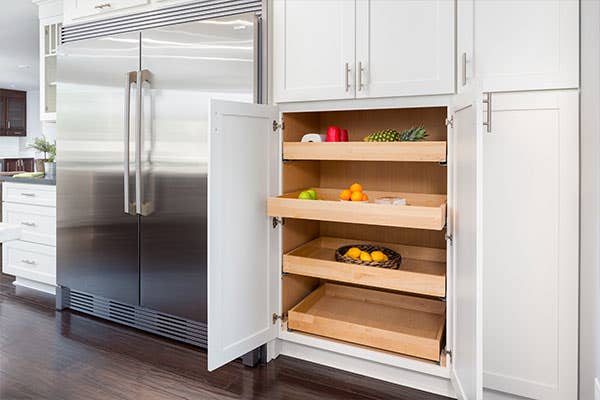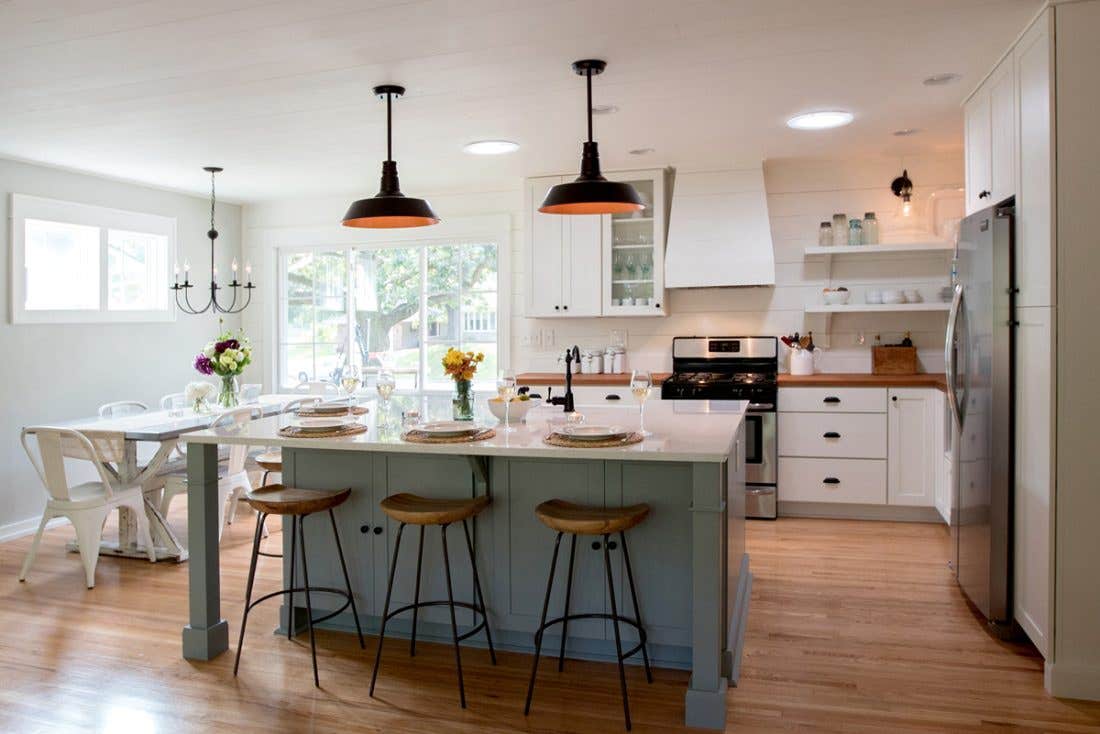 3. Measure Your Kitchen
The next step is taking measurements of your space. Taking accurate measurements gives your CliqStudios designer the information they need to create a layout. Measurements will also help you estimate how many cabinets you will need. Many homeowners follow these simple steps to measure their kitchen. If you have a contractor, you can talk with them about measuring you space.
4. Talk With a Kitchen Designer
After you send in measurements of your space, you will begin working with your personal kitchen designer. In your first conversation, you will discuss what you would like to accomplish with your kitchen remodel.
A few things your designer may ask are: How many cooks use your kitchen? How often do you cook? Do you enjoy entertaining? Do you use the kitchen as space for homework or paying bills? This is also a good time to share your project goals and any design inspiration you found. Many homeowners share ideas from Pinterest and Houzz.
After your first conversation, your designer will create an initial layout. This will show you what your CliqStudios cabinets will look like. The packet will help you compare the differences between CliqStudios and other brands.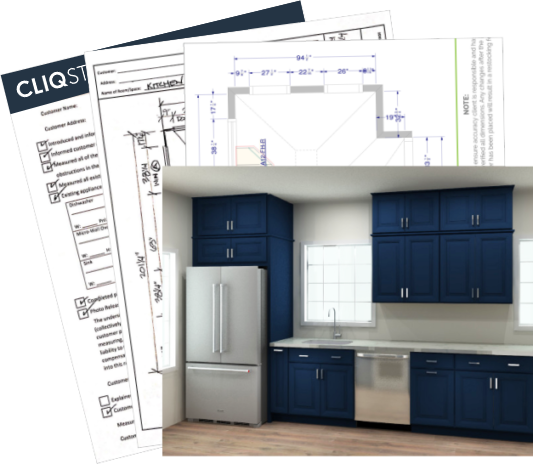 Compare Cabinets Apples to Apples
Your design packet also comes with an itemized quote for your CliqStudios cabinets. In that quote, you will be able to see transparent pricing for each cabinet. This will help you see the value and quality you will receive.
If you choose to compare this quote to other brands, it's important to compare quality and construction features apples to apples as well. Most homeowners want cabinets to last from 10 to 30 years. Choosing a high-quality product will help meet that expectation. In order to find quality cabinets, compare these important construction features.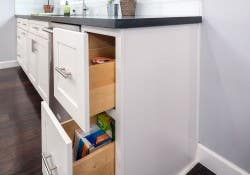 Cabinet Box Material
Most cabinets boxes are made with plywood or furniture board. Both material choices are strong options. Furniture board is sometimes slightly more affordable than plywood is.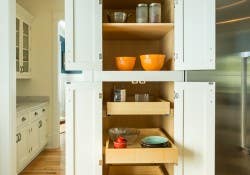 Cabinet Back Panel
Cabinets with solid, full-height back panels are structurally sound. In addition, they are also easier to install and keep dust out of cabinets. An open or partial cabinet back does not provide the same durability and protection.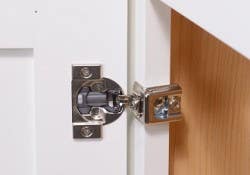 Door Hinges and Drawer Glides
Soft close hinges and drawer glides come standard on all CliqStudios cabinets. They are easily adjustable and eliminate the sound of slamming doors in your kitchen.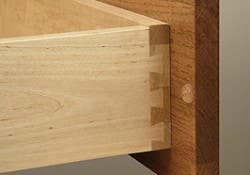 Drawer Box Construction
Drawers constructed with dovetail joints are durable and beautifully crafted. On the other hand, drawer boxes with stapled drawers are more prone to sagging because the bottoms are not fully set in the sides.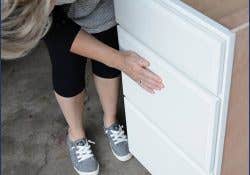 Fully Assembled Cabinets
Ready-to-Assemble (RTA) cabinets arrive in pieces and must be assembled before installation. Cabinets that arrive fully assembled save time because they are ready to install on arrival. CliqStudios cabinets are assembled and inspected at the factory to ensure their quality.
Which Price Points Have These Quality Features?
Island | Modified sizes | Fully assembled | Designer paint colors | Decorative moldings | Storage solutions throughout
Compare Kitchen Cabinet Costs
After finding cabinet brands you like, you can begin comparing kitchen cabinet prices. These are the three main ways you will see cabinets priced. As you compare cabinet costs, you can also make a list of cabinet features. This will help you determine which cabinets provide the most value.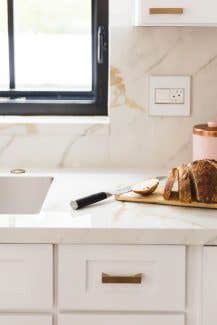 Per Cabinet Prices
This type of pricing lists each cabinet and decorative piece separately. Prices for each piece are based on style, color, size, storage features and modifications. Calculate the total cost by adding up each cabinet, panel, trim and molding in your design.
Per Linear Foot Prices
Cabinet price per linear is calculated based on total feet of cabinetry used. Price per linear foot varies based on features like construction, materials, modifications and storage options. Find your total cabinet costs by multiplying the price per foot by the total linear feet of cabinetry.
Kitchen Package Prices
This type of pricing shows sample kitchens with select cabinetry. These packages generally show kitchens in different price levels ranging from just the basics to all the extras. Keep in mind that package prices only show the starting costs. The price will increase with each addition or modification.
As you determine what your kitchen cabinets will cost, remember to ask about delivery and installation costs. These should all fit in your total remodeling budget.
Following these steps will help you compare cabinet costs and understand different levels of quality and pricing. Now you can choose the right cabinets for your style and budget.