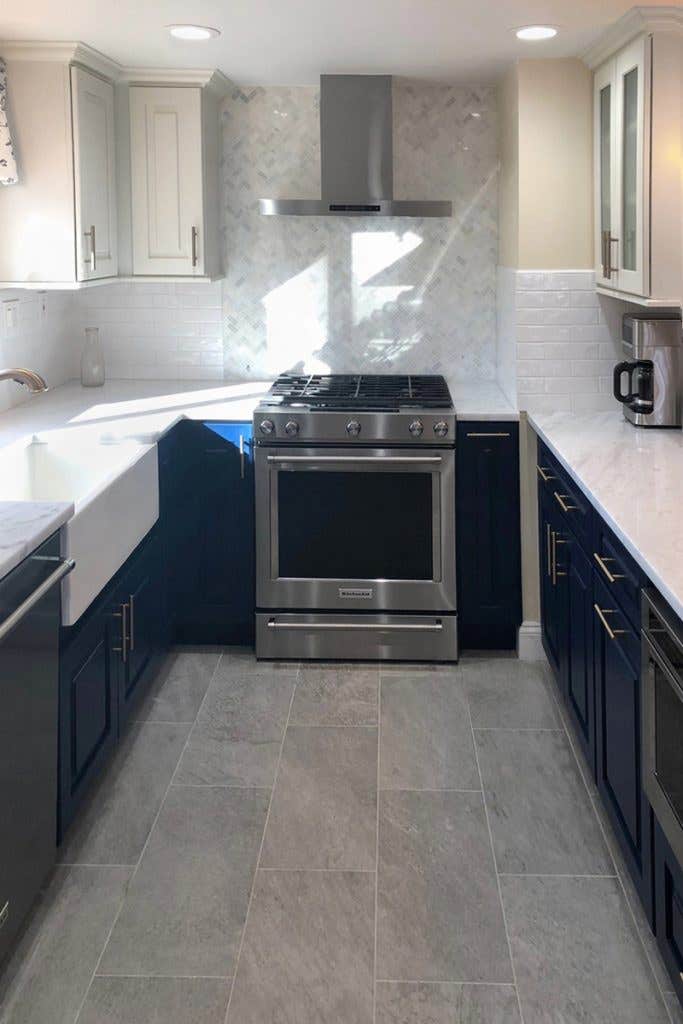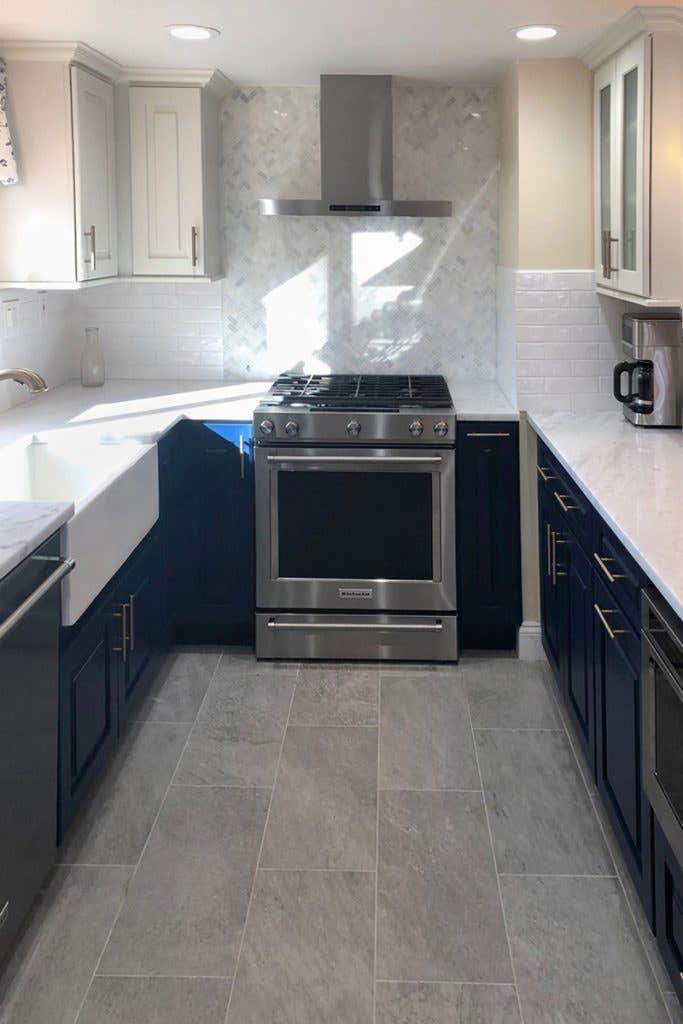 Remodeling a Small Kitchen
If you have a smaller kitchen, you may wonder if a remodel can really change the way your kitchen looks and functions. Just like larger spaces, incorporating a smart layout, useful storage and timeless design are the keys to creating a space that works for your lifestyle.
Jennifer's kitchen, designed by CliqStudios designer Vanessa, shows how smaller spaces can be transformed to feel larger and more elegant.
"Our home is a small Cape [Cod], just north of Boston," Jennifer said. "It was built in 1951 and still had the original cabinets. Since the footprint of the kitchen is very small, we wanted to use every inch and make it as functioning and beautiful as possible. We wanted function, space, layout and style!"
Designing a Functional Small Kitchen
Smaller spaces require a thoughtful layout and careful consideration of how moving doors and appliances will interact with each other. This is why a kitchen designer kitchen designer is vital to designing a functional small kitchen.
Jennifer asked Vanessa to make sure the cabinet drawers by the oven would not be blocked by the oven door handle. Vanessa was able to add the exact model of the oven into the layout to verify that they would work together. Working with a designer who can check these details helps kitchens of all sizes function well.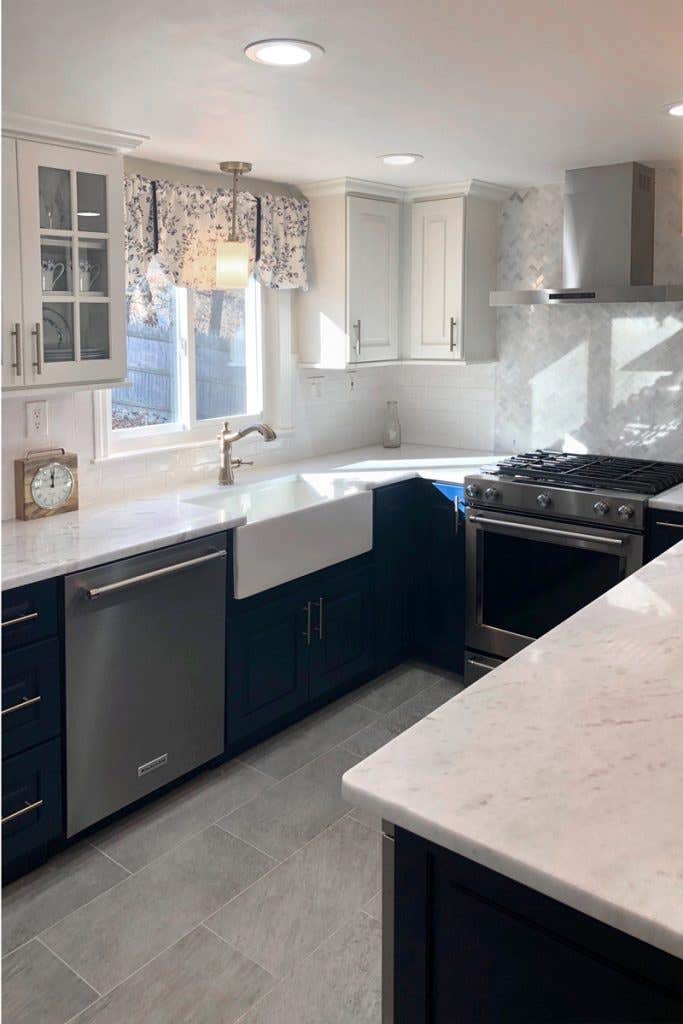 Dark Cabinets
Dark cabinets in a smaller kitchen may seem like they would shrink the space, but this kitchen shows that in moderation, you can add darker colors and still have a bright space. Our Cambridge style cabinets in Navy are balanced out by White upper cabinets, countertops and backsplash.
"I have to admit, as much as I loved the Navy in pictures I was a little hesitant to make such a bold choice," Jennifer recalled. "My husband, who is an artist, felt the color scheme would work well, so we decided to go with it. I am so glad we did."
"I love when people use our Navy color, it's just so pretty," said Vanessa. "I really like the Navy and White together too, it blends a traditional door with more contemporary touches really well."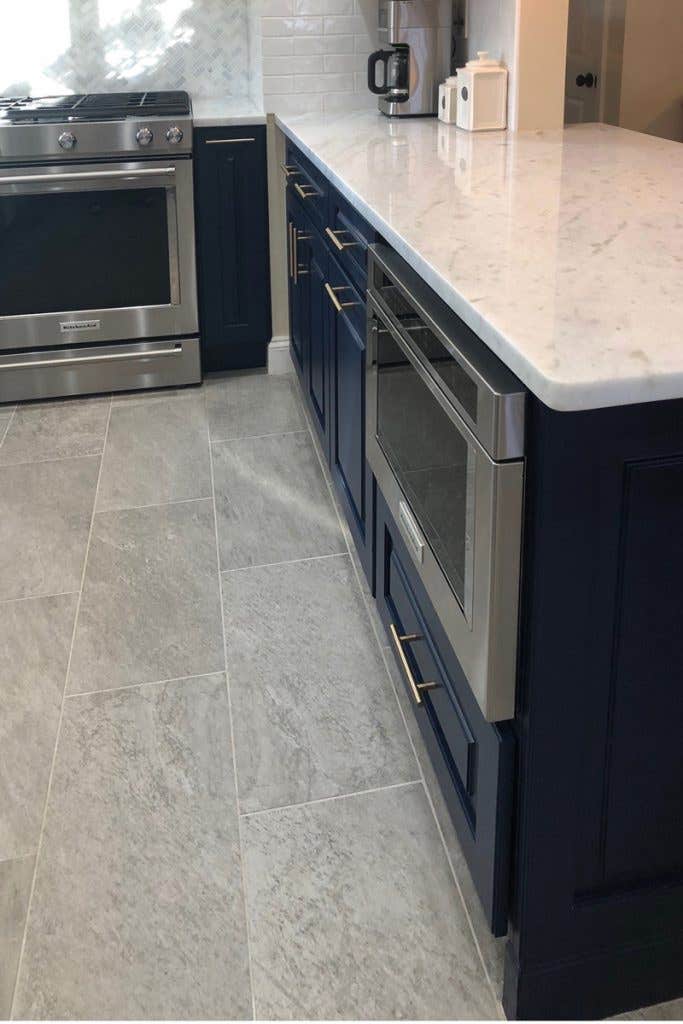 Microwave Cabinet
"There are so many features that we love about the kitchen, but my first focus was the microwave," Jennifer emphasized. "I loathe countertop microwaves, due to the space they waste. I also did not want the microwave over the range. Due to the amount of cooking I do, I felt that it would be filled with grease. The built-in microwave was a must and one of my favorite parts of the kitchen."
Moving the microwave to a cabinet also opens up walls to give the feeling of more space. Microwave cabinets come in several sizes, but it's important to be aware of how the size of the appliance may affect the rest of your design.
"Originally Jennifer had selected a new microwave that would have increased the length of the peninsula," Vanessa explained. "Instead she chose a slightly smaller one so she didn't need to make that adjustment."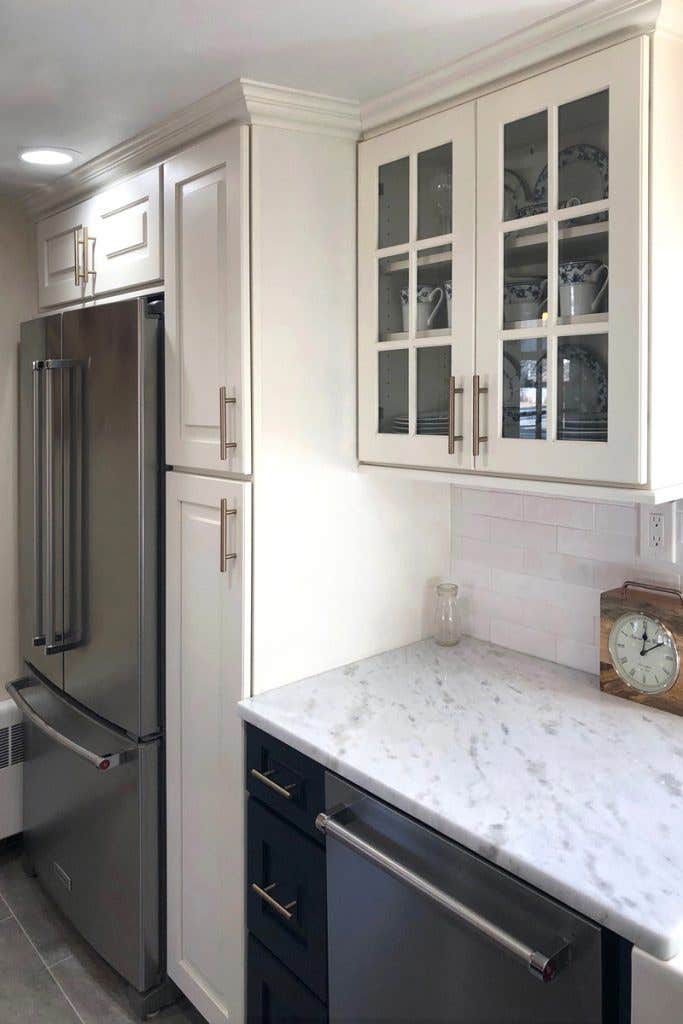 Glass Cabinet Doors
Glass cabinet doors may just seem like a decorative feature, but they also help give the illusion of wider walls. Glass doors open up the front of cabinets, allowing light to travel closer to the wall and visually open up the space. They also provide the perfect place to store beautiful, lesser used items like vases and fine China.
"I wanted to display my blue and white china, that played well with the navy cabinets," Jennifer said.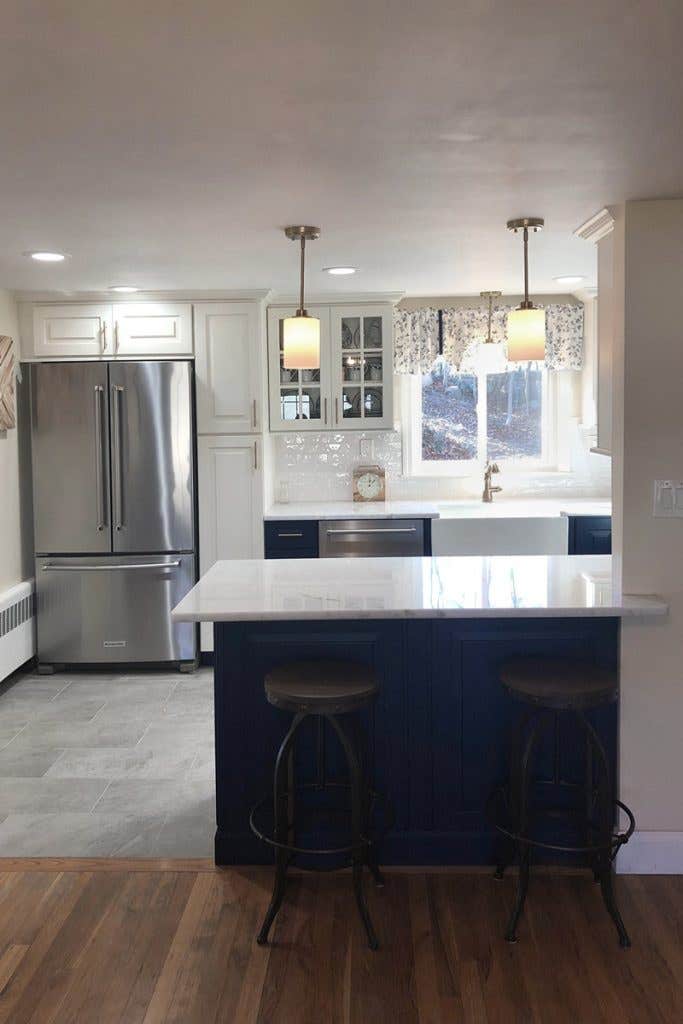 Specialty Storage
"Storage was a huge factor when remodeling," Jennifer explained. "One of the main reasons we chose CliqStudios is because you offered a Lazy Susan that fit our space. The Super Susan is so big that I can even fit my Crock-Pot inside!"
Vanessa and Jennifer worked together to choose additional specialty storage solutions like a Spice Pull-out, Roll-out Trays, and Pull-out Wastebasket. Narrow storage cabinets, like the Spice Pull-out next to the oven, ensure every inch of space is functional.
"Our experience was all positive," Jennifer said. "Our designer Vanessa was great, and helped us out a lot. I also referred my sister-in-law who is currently in the design process with Vanessa!"