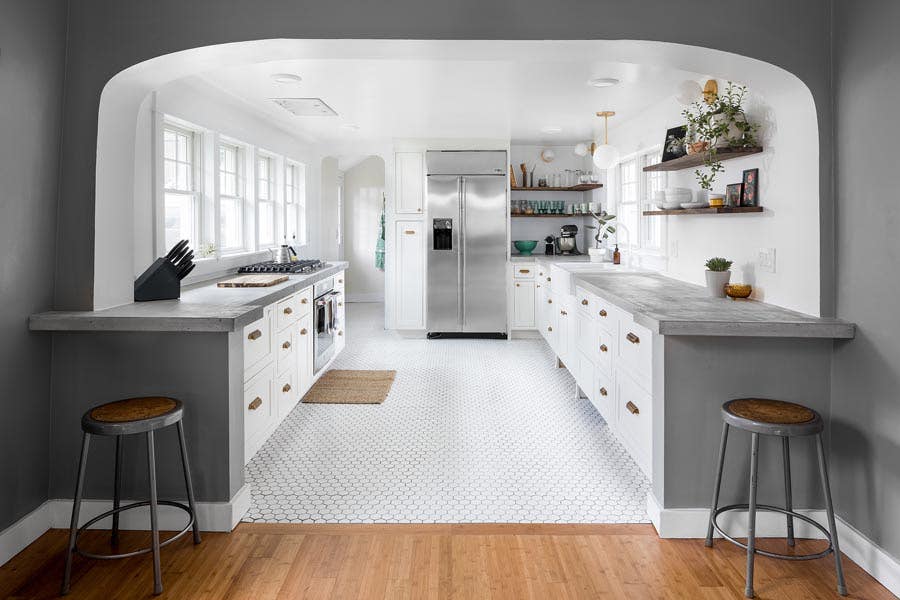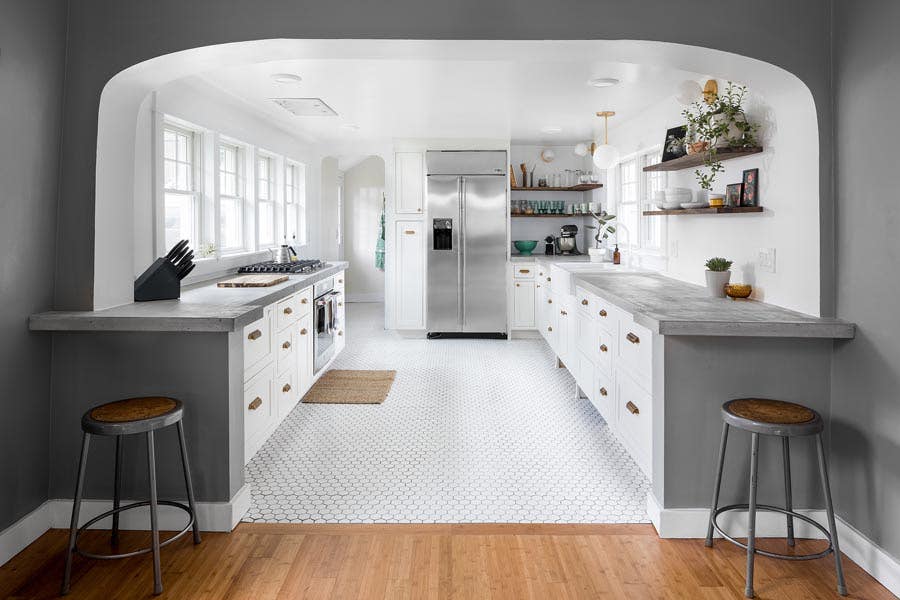 Before transforming their L-shaped space, Seattle homeowners Spencer and Mackenzie had discussed and planned their kitchen renovation for over two years. The result was a radiant galley kitchen, basked in sunlight and well-suited to the professional photographer's home.
After seeing Spencer's self-shot kitchen photos on Instagram, we called them up to hear about their experience redesigning their layout, shopping for cabinets and countertops, and demolishing a one-hundred-year-old Craftsman house.
Spencer, you're a photographer with a background shooting architectural spaces. How did that influence your redesign?
SPENCER: As a photographer, the whole effort of opening up the walls and adding the windows was to get in more light. I also wanted the cabinets to have symmetry, so that the north side and south side would mirror each other. Just trying to keep everything really clean.
Walk me through the renovation. What were your goals with the space?
SPENCER: We wanted it to be as open and bright as possible. No upper cabinets, a lot of windows, bright tile, and also making it look a bit older, because it is a Craftsman house. We lived in the house and planned for a long time – to make sure that it was a smart choice to move the refrigerator, or add windows, or open up the walls.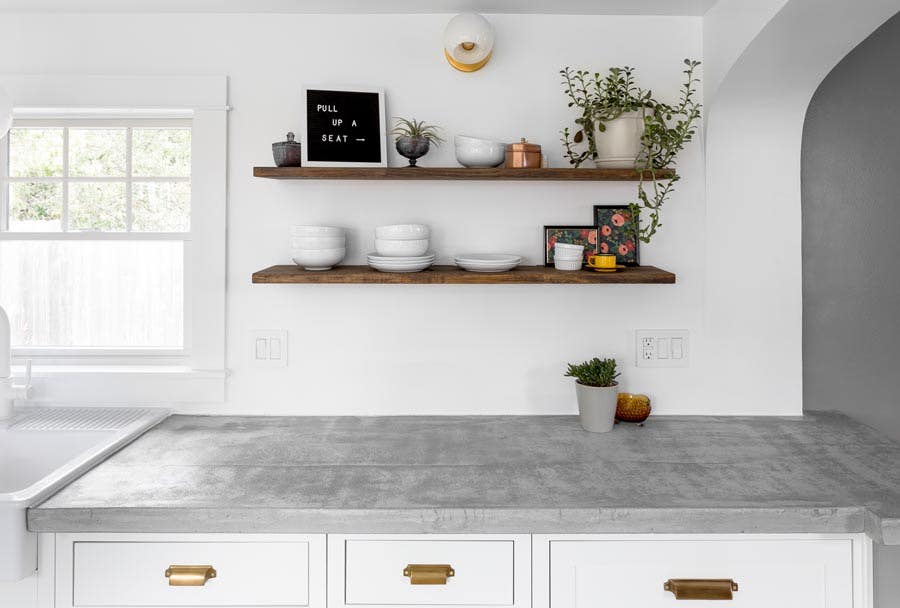 It sounds like your intuitions about visual composition translated directly into your kitchen design.
SPENCER: Yes, for sure.
MACKENZIE: I didn't know how hard it was going to be to decide where to put cupboards and where to put drawers. When we saw the CAD drawings, the kitchen mock-ups, we were both bothered by the fact that the drawers had no symmetry. We had picked what we wanted and placed it around, but the finished product didn't look super great.
Our CliqStudios designer Rob was super helpful with everything. He'd say, "I think if you switched this and this around, then that would be better," or "For your blind corners, this might be better." He even helped us figure out the exact cupboard we needed for our IKEA sink with the least customization needed on our end. That was all really helpful to get the look that we wanted.
Did you look at other cabinet companies? Why did you choose CliqStudios?
MACKENZIE: I really wanted inset cabinetry. We looked around a lot and found that it was pretty hard to find. There were places that did custom work, but the quotes came close to thirty grand, which was way more than we wanted to spend.
Then we looked at IKEA cabinets just to have our baseline – we figured they would probably be the cheapest – and then we ended up getting five quotes from different places including CliqStudios. We found that CliqStudios' prices were the best (besides IKEA), but it was the look that we actually wanted.
Also, the quality. It was real wood. We had no clue they were going to come pre-built, which was a bonus we loved.
SPENCER: We were searching for ready-to-assemble cabinets and CliqStudios came up. We thought we were going to have to build the cabinets, and then they just arrived in big boxes.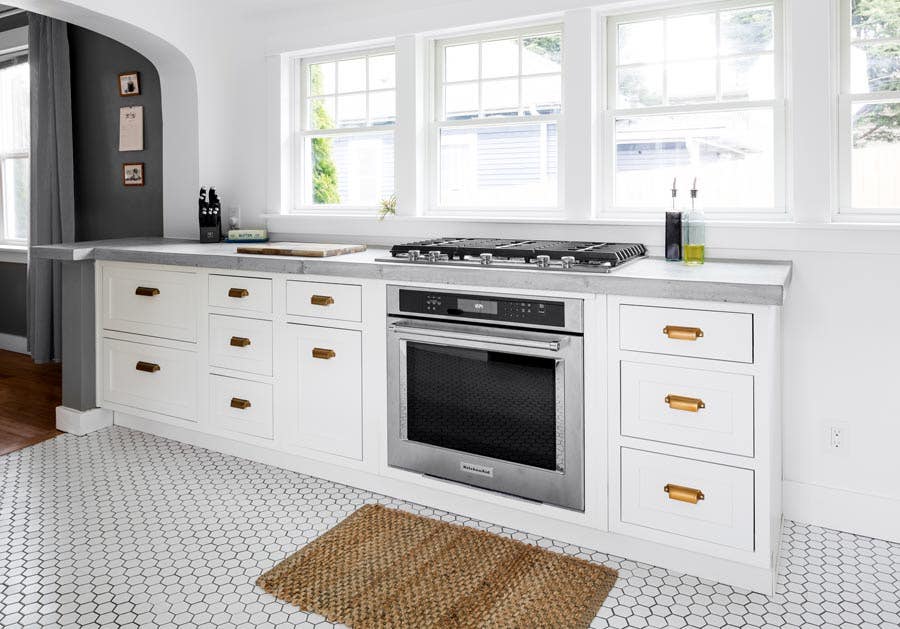 Wait. You thought you were buying unassembled cabinets until the moment they arrived at your doorstep?
MACKENZIE: Yeah. We didn't literally realize they were pre-built until the truck came. It was such a nice surprise.
Did you run into any problems gutting the kitchen?
MACKENZIE: We wanted new windows, which required us to tear into two walls. Then when we did so, we realized – since it was such an old house – that the walls were leaning in. None of the angles were square. So we opened up all of the walls and the ceiling just to see what we were getting into. We ended up doing a lot more demo, sheet-rocking, and that kind of work than we had planned. Those sorts of things we didn't necessarily expect.
How has the new space affected the way you live in it?
MACKENZIE: Oh, man. It's so enjoyable to see the kitchen this bright. We never need to turn the lights on.
Also, it's functionally laid out well. Previously, our refrigerator wasn't in a great place: it stuck out really far into the walkway, and someone was in the fridge, you couldn't walk past them well.
We have room to work. There's lots more counter space – Spencer and I both love to cook – so we can prep in different spots and still have space for food to be out on the counter and for people to be standing around eating. The counters overhang into the dining room, so we also added two bar areas where people can sit, which has been really nice.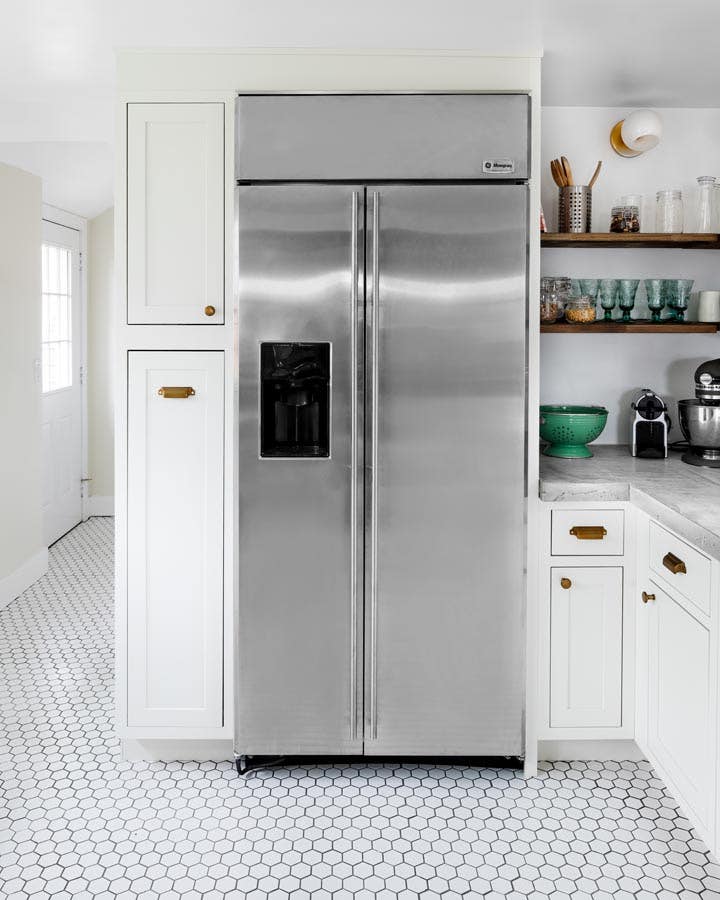 What's the reaction like from family and friends?
MACKENZIE: *laughs* Everyone's like, "Wow! This is the dream house!"
We host a community group for church. It used to meet at someone else's house, but now it meets at our house because they like the space better. That's been really fun – sharing it with other people. I've had my sisters-in-law over for baking days. It feels like a space where you can have people over and allow them to use the kitchen at the same time.
I have to ask about your countertops. Why did you choose concrete?
MACKENZIE: I thought I wanted butcher-block countertops. But our house has wood floors, and it's a straight shot through our living room, dining room, and kitchen. When thinking it over, we figured that wood would look weird considering there were countertops going down both sides of the room.
So we threw out wood and looked at quartz, marble and granite. We threw marble out pretty quickly because it's super expensive and not very durable. Granite was too busy. Then we looked at quartz for a while. Due to the size of our counters, we were going to have to combine different cuts. It was going to be really hard to make the seams look natural, and I didn't want seams anywhere. Ultimately, we decided it was going to be too busy.
Then we looked into concrete. We actually looked into it at first but then shied away because my parents have concrete and they don't really like theirs. But we came back to concrete because it's way more cost effective, we wouldn't have to have any seams, and we like the look the best.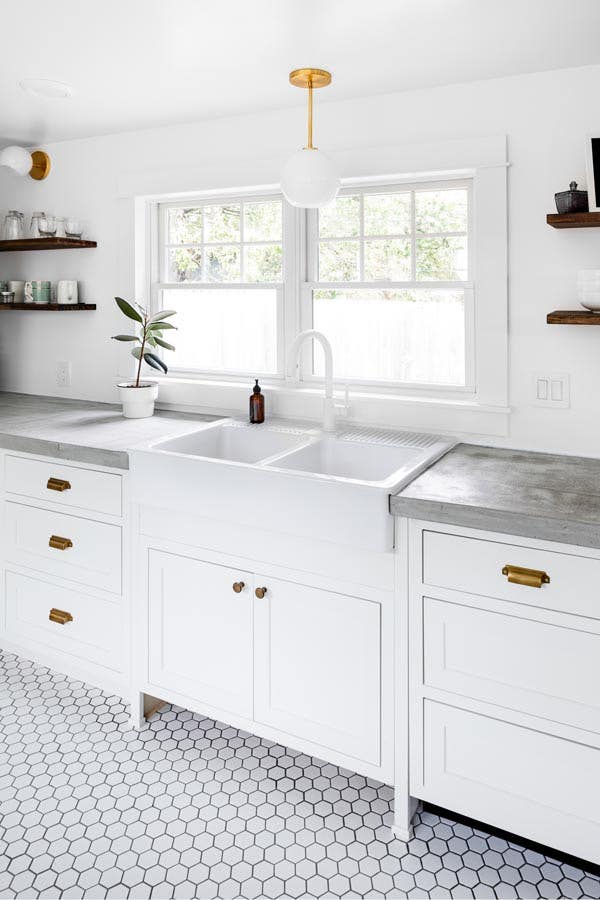 What advice would you give somebody at the beginning of their kitchen remodeling journey?
MACKENZIE: Talk about it a lot, plan a lot, and think about different scenarios. The biggest thing we realized after living in the house for two years and having numerous conversations about redesigning the kitchen was that our ideas changed quite a few times based on how we were using the space.
Originally we weren't even going to do cabinets on the south side wall; we were going to do the built-in dining nook. To see where it came two and a half years later is pretty crazy, but we're both thankful we didn't go with the first idea.
So just continue to plan, look at lots of ideas, and determine how you use the space. Ask yourself: what's the thing you don't have but want the most?
For us, it was lighting and countertop space.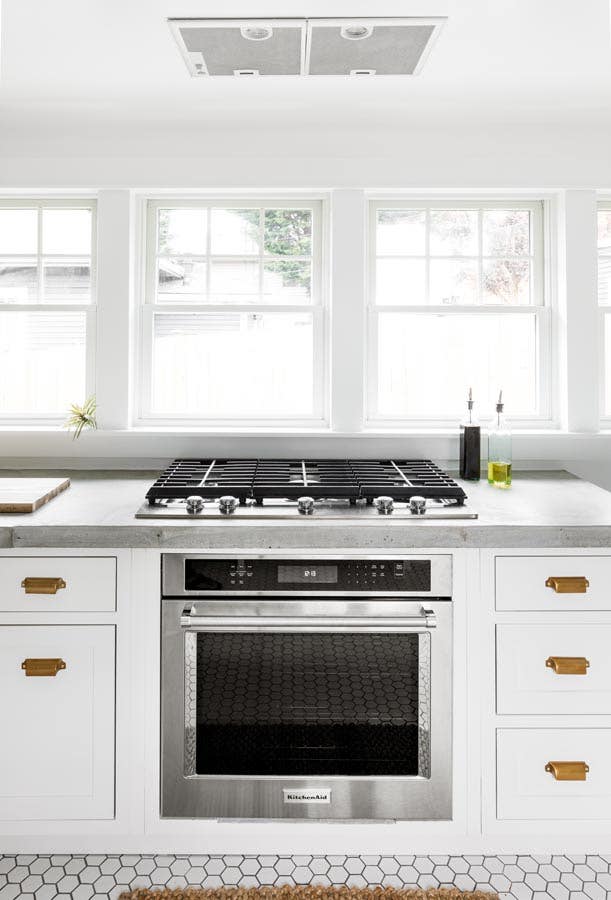 Project Details:
Sink: IKEA
Faucet: Brizo
Fridge: GE Monogram
Range: KitchenAid
Oven: KitchenAid
Dishwasher: KitchenAid
Countertops: Concrete
Flooring: Lowes
Lighting: West Elm
Ventilation: Bosch
Cabinet Handles: Pottery Barn
Shelves: IKEA