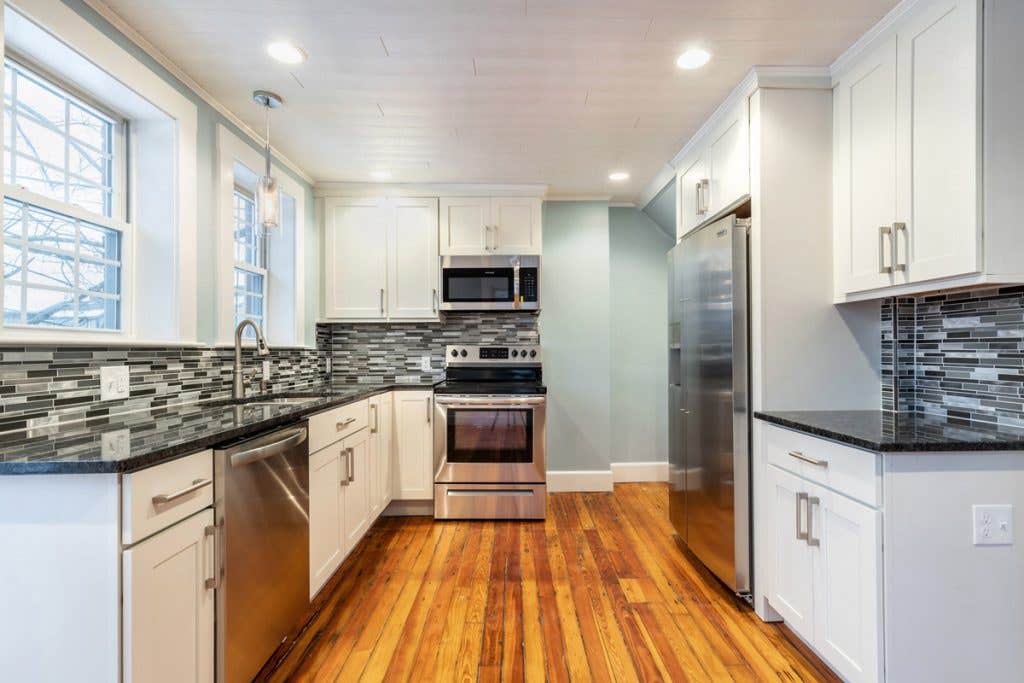 "The old kitchen was hanging on by a thread," says real estate investor Travis F.
With the help of CliqStudios, Travis managed this neglected kitchen's transformation. Modernizing the kitchen was part of a year-long rehab of this historic home.
Real Estate Investing
"I have worked in mortgages for over 14 years," Travis shares. "Being so deeply rooted in the real estate industry is what gave me the motivation and knowledge to get into real estate investing. This property is actually my first renovation."
The historic home is located in the Atlantic Heights Development in Portsmouth, New Hampshire. The development was built in the early 1900s to house shipbuilders working at the nearby blue-gray. This townhome is typical to the development, with two bedrooms and one bathroom in only 650 square feet.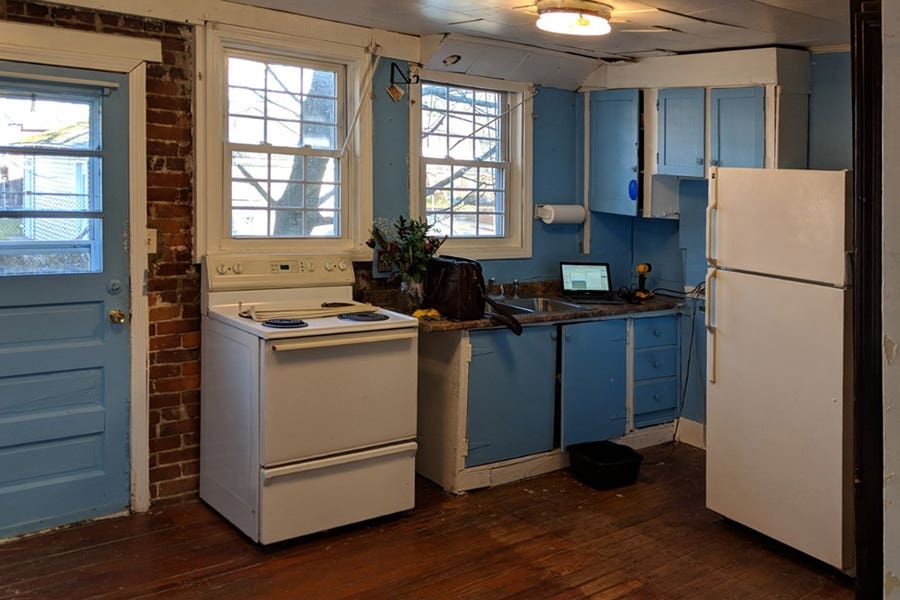 In addition to being small, the property needed extensive work. The kitchen ducts were outside of the walls. The house needed all new plumbing. Nothing, including the electrical, was up to code. The doors and brick walls did not have insulation. The list could go on.
"Ultimately, the whole house had very limited upkeep for the past 20 years," Travis says. "Everything was worn. Nothing was level. Nothing was square. All of this creates a whole host of challenges in completing projects. It requires working with the right professionals to get the job done correctly."
Trusting a CliqStudios Review
As Travis created a plan for restoring the home, he saw CliqStudios online. Shortly after, he heard the name again.
"At work, I did a closing for a house with a gorgeous kitchen," Travis remembers. "I asked the realtor where they got the cabinets, and he said they were from CliqStudios. I couldn't believe the coincidence. They design and flip properties, so I figured it was a CliqStudios review that I could definitely trust."
This kitchen was Travis' first as a CliqStudios Pro partner. "Travis usually has a layout in mind for the space," his designer says. "Then from there we work on making sure everything fits properly and is functional."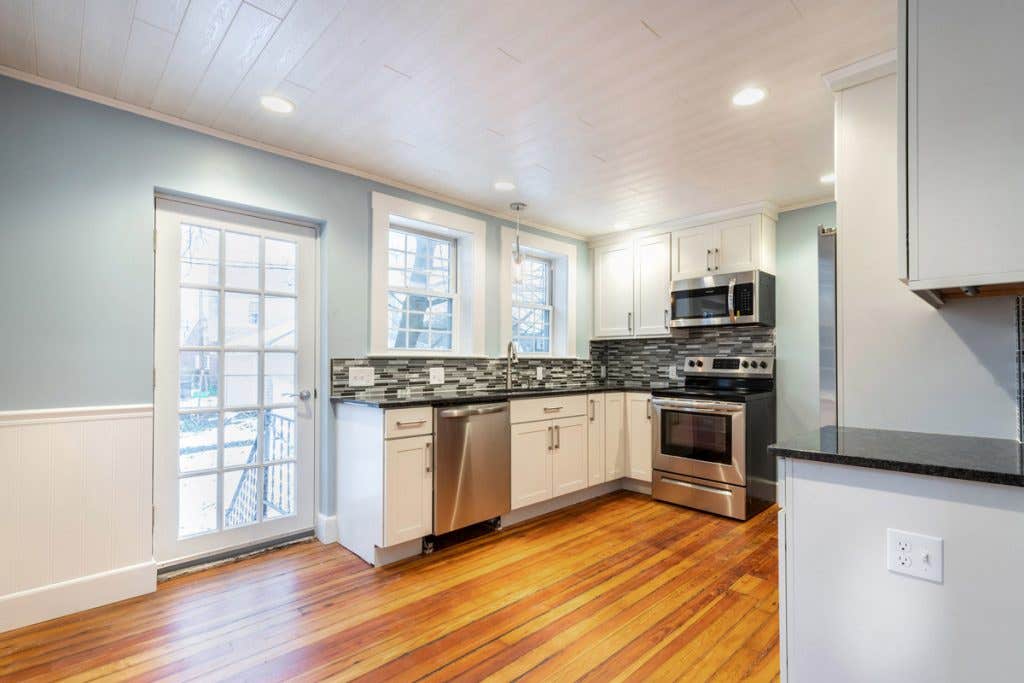 Maximizing a Small Kitchen
The most challenging part of this design was maximizing such a small kitchen.
"I made sure there was as much storage as possible without impeding the function of the space," his kitchen designer explains. "In this kitchen it was tough, because we had to make sure the walking space between the oven and refrigerator was wide enough."
Travis agrees, "There is not a lot of space to work with to make things functional for a couple of people or a small family."
In a kitchen like this, Paige always includes cabinets that will maximize storage.
"Every space is different, but I recommend a Lazy Susan instead of a blind corner," Paige says. "I also think Utensil Drawer storage is a great way to keep things organized."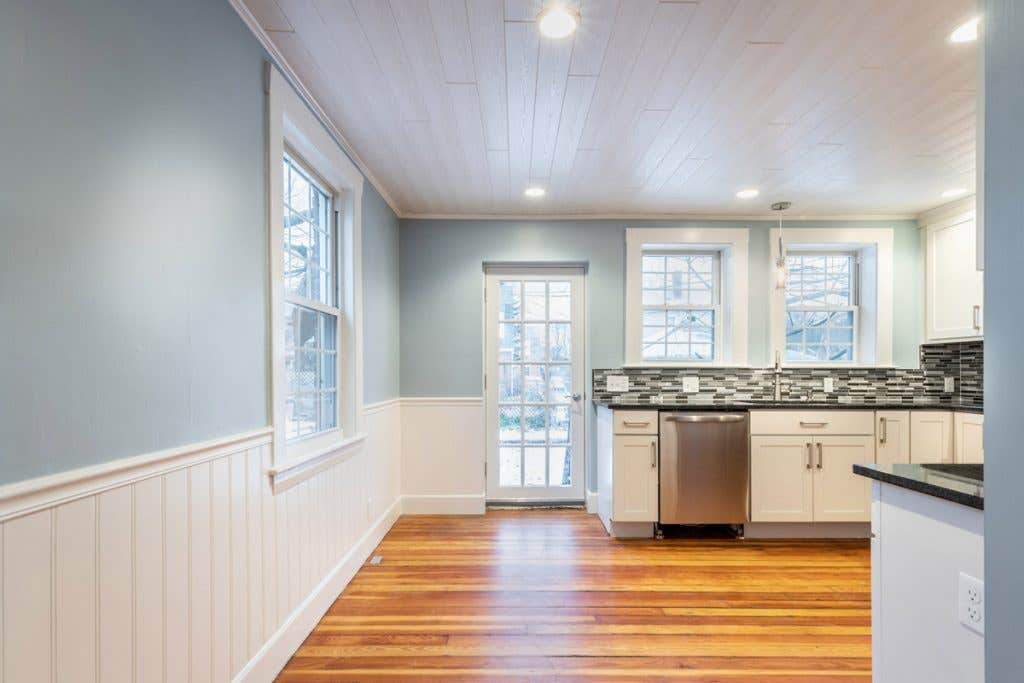 Flipping a Historic Home
This was Travis' first time flipping a historic home, and he knew he had a lot to learn.
"I expected the renovation to take about 4-6 months," Travis says. "However, due to my own time constraints and contractor delays, it ended up taking a full 12 months before it was ready to be put on the market."
"I would get estimates for a job, and call to book, only to be told that they were booking three months out," Travis remembers. "Having to coordinate multiple quotes by multiple contractors, in multiple trades, with multiple opinions was a lot to sort through for a first-timer. I knew it would be a learning experience, and it sure was."
One of his biggest lessons came when planning the budget of this historic renovation.
"One thing I learned about these large rehab projects, is to double your cost estimates," Travis shares. "Unexpected issues come up all the time and really drive up the renovation costs significantly."
After putting in so much into the project, Travis chose to keep his first investment property as a rental home.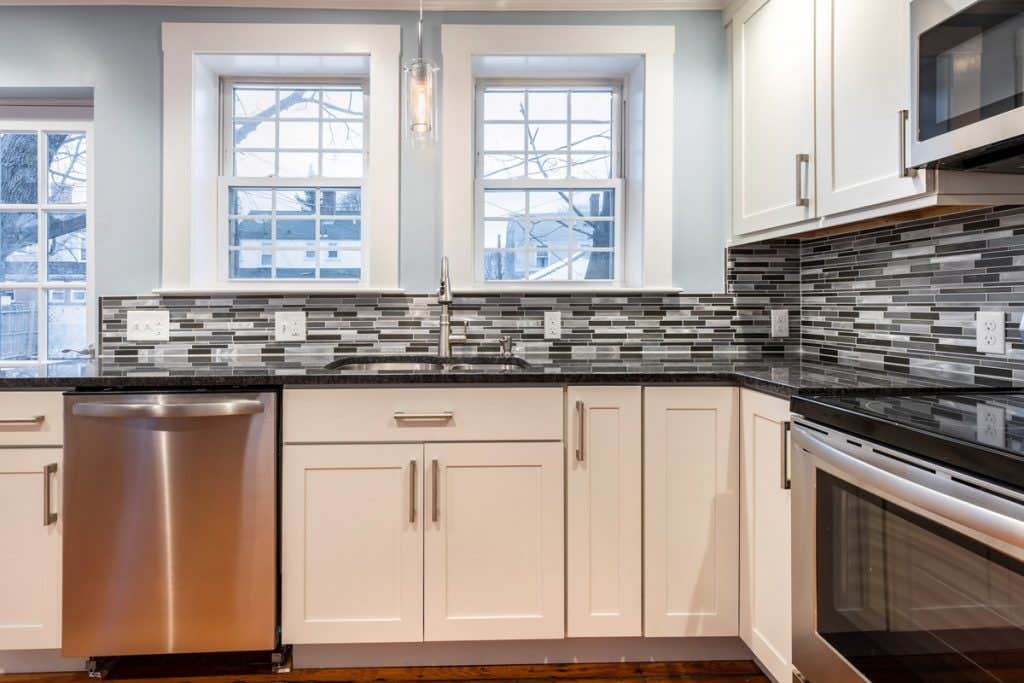 A Completely Different Kitchen
"It looks like a completely different kitchen," his designer says. "I like that we were basically able to double the storage in the space too."
"What I like most is that the new kitchen looks nothing like the old one," Travis says. "It's white and modern, but has the classic design of the Shaker cabinets. It brings a new, fresh look to the kitchen. Overall, you really couldn't ask for a better small kitchen in such a tiny house!"