3 Tips to Buy Kitchen Cabinets Online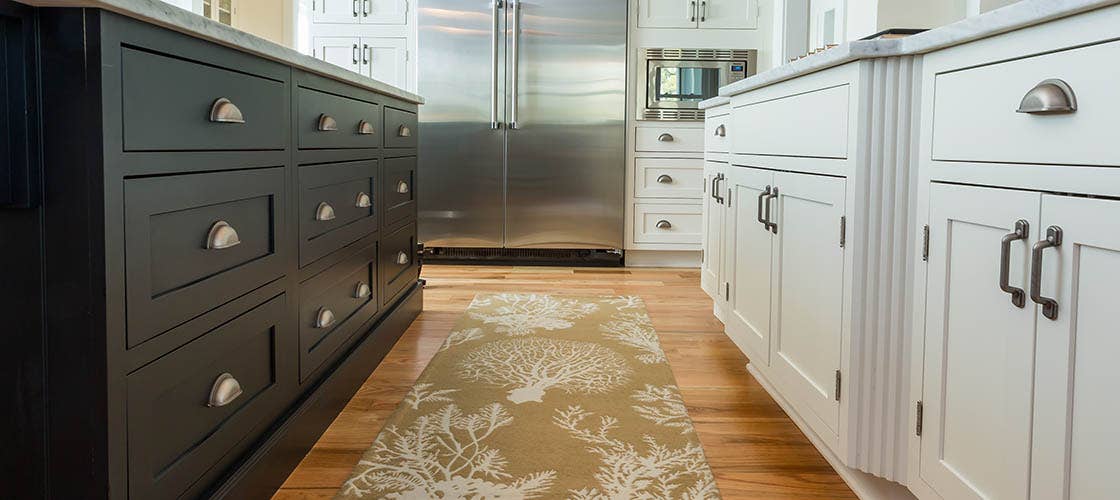 In today's online world, you can buy everything from shoes to mattresses to SUVs over the internet, would you buy kitchen cabinets online?
When faced with this question, many homeowners balk. "Cabinetry is such a major purchase that I could never buy them online!"
In fact, buying kitchen cabinets online is a fairly simple process and it also eliminates a lot of the inconvenient appointments associated with visits to local kitchen dealerships or big box stores.
If you're remodeling your kitchen, weigh some of the advantages and disadvantages to see if buying cabinets online is right for you. Here are three tips to help with you decide whether to buy kitchen cabinets online.
Common Objections to Buying Kitchen Cabinets Online
1. There's no showroom to go see and touch the cabinets.
If you can't see and touch the product, can you trust its quality? It's a question that's been around since the early days of the internet, and the doubts raised by that question is for some a major deterrent to buying cabinets online.
Other homeowners understand that internet provides many other ways for homeowners to find out about an online cabinet company's products and services:
Know your cabinets. Take the time to learn about how to identify characteristics of quality cabinetry. Does the company sell fully assembled cabinets, or ready-to-assemble cabinets? Are the cabinets made of plywood, or engineered wood? Are the door and drawer hinges soft-closing? Knowing what to look for will help you compare different online cabinet suppliers.
Order cabinet samples. Even if it's not the full box, ordering a cabinet sample will give you a realistic look of the wood quality and the finish color, which may or may not look the same in your kitchen as it does through the computer screen.
Browse galleries. Photo galleries are virtual showrooms. Use them to assess whether you can see yourself with a similar kitchen style or feature.
Read reviews. Nearly 70% of consumers rely on online reviews before making a purchase. The more that a company is consistently well-reviewed (especially on independent, third-party sites like Houzz and the BBB), the better you can have more confidence in having a good experience.
Give the product a test-drive. If by chance you happen to also be remodeling a bathroom, laundry room, or home office along with your kitchen, you can try out a the company with a smaller project. This will also give you critical information about the level of customer service and support throughout the design and post-sale process.
2. Internet brands are younger and less established.
Most people only remodel their kitchen once. Not only do you want a good product and price, but you also want to know that you can trust the cabinet company to provide a high level of quality and service. A good reputation is important. Luckily, the internet provides you with a lot of transparency.
Questions to ask:
How long has this business been around? Where are they located?
How are their reviews on third-party sites like Houzz and the Better Business Bureau?
What's the size of their design team? How experienced are they?
What kind of cabinets do they sell? RTA, stock, semi-custom, or custom?
If the cabinets are pre-assembled, how are they assembled?
Are they the manufacturer, or do they re-sell other people's product?
3. The homeowner needs to take measurements and hire installers.
Homeowners will need to take simple measurements of their space. Taking accurate measurements is not a difficult task, especially for the DIY-inclined, but some homeowners find it overwhelming and choose to use a contractor for those details.
Referral services such as NARI and HomeAdvisor will help you hire a contractor to install the cabinets for you. Asking family and friends is also a great way to find a qualified, trustworthy contractor.
Learn to compare cabinet brands and prices.

Read More

Your new kitchen should be functional, beautiful, and safe.

Read More
3 Tips to Buy Kitchen Cabinets Online
1. Compare Cabinet Prices to Reduce Your Remodeling Costs.
As cabinetry is often a large investment, getting the best value for each dollar spent is a high priority.
Online companies operate at lower costs than the brick-and-mortar stores. By selling cabinets directly to consumers over the internet, online companies can operate without the overhead of retail spaces or large inventories. By operating at much lower costs, online companies can pass big savings to their customers.
For example, a typical CliqStudios cabinets generally cost much less than equivalent cabinets from a big box store. In addition, we offer a Price Match Guarantee. If you find a lower price on similarly constructed cabinets with the same design features, we will beat that price.
2. Shop kitchen cabinets at your convenience.
When shopping for one of the largest single purchases of your life, how do you imagine your experience to be like? Where do you want to be while planning?
A big box warehouse, surrounded by beeping forklifts and other customers distracting your designer?
It's often the case that homeowners find the experience of buying kitchen cabinets online not only to be more convenient, but also more helpful and responsive in terms of service.
Buying cabinets online:
Shop at your own time and pace, at home or during a lunch break
Instantly browse thousands of photos of real kitchens
Communicate with your kitchen designer by phone, email, or screen-share
Take time to consider your options carefully, thoughtfully choose your product features at your own pace
Choose from a curated selection of "just-right" style and finish combinations
Buying cabinets in the store:
Drive to the store during retail hours or weekends
View a limited number of bare-bones showroom kitchens
Return for several time-pressured appointments with a kitchen designer
Return to the store each time you have a question or concern
Wade through a large number of atypical or old-fashioned styles and finishes
3. Gain knowledge and experience from a kitchen designer.
Your kitchen designer is critical to your project's success. He or she is entrusted with making sure that your wants, needs, and ideas are accurately translated into your unique remodeling plans.
How do you ensure that you get a professional and passionate designer? If you don't have a personal connection or word-of-mouth referral, there's a basic reason why you're more likely to have a good experience working with a kitchen designer over the internet than at the store.
Designers in design studios work as professionals. We employ more than 130 kitchen designers with professional experience and often, a degree in interior design. Seasoned designers work at full-time design studio to do what they love: design.
Designers in retail stores work retail jobs. Not only are the hours long and the pay low, but at the retail store, designers are responsible for duties besides designing kitchens. Since designers must serve walk-in customers and attend to several departments with little to no assistance from others, any design job has the possibility of being rushed and interrupted.
A cabinet dealer may have a single designer. A big box store? No more than three or four. Our smallest studio has 22 designers. Centralizing designers into a single studio boosts collaboration, cross-training and creativity. New employees are supported by seasoned designers, and everyone shares ideas and perspectives. It's a win-win for us and our customers.
When weighing the advantages and disadvantages of buying cabinets online, consider the local suppliers in your area and compare them to online options. With the same kitchen layout, get quotes from local as well as virtual dealers to see how they compare. You might even end up ordering a sample. Ready to get started?
CliqStudios customers say this about buying kitchen cabinets online:
"I was very skeptical of buying cabinets online when I began looking into CliqStudios. I am happy to report that my skepticism was entirely unwarranted."
– Michele C., Athens, OH
"Buying cabinets online was a bit scary, but the layout and finish are top notch, and we spent about half as much on cabinets as a local contractor had estimated!"
– Kitty W., Lakeland, FL
"Working with a remote designer was very easy, and in many ways more convenient than working with the local retailer."
– Konstantin F., Concord, CA