Painted kitchen cabinets, often in white or cream, create a light, bright space, and provide excellent opportunities for creative decor. However, customers often ask, will the painted finish on my cabinets hold up?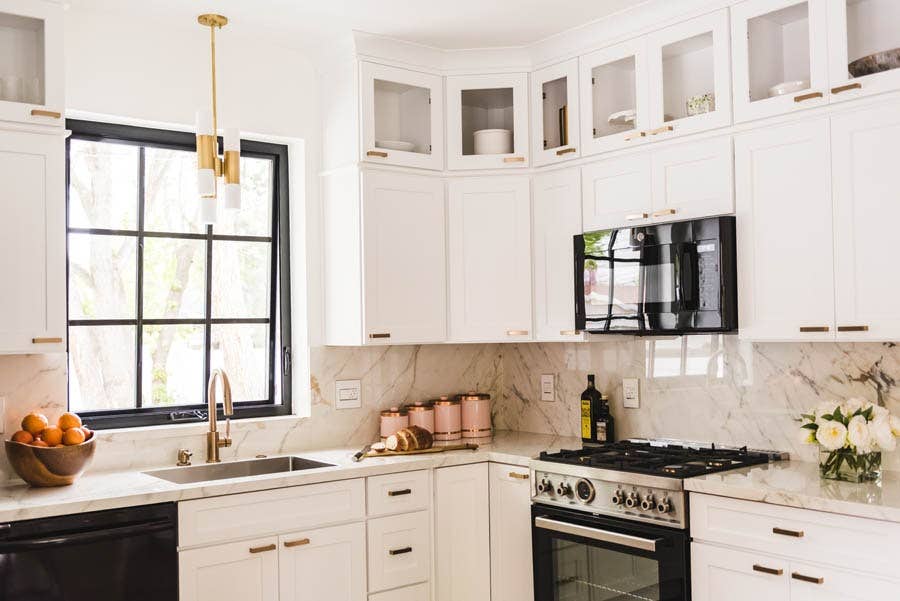 The answer is, "yes." Your painted finish should hold up well to normal use. Our materials, our process, as well as testing conducted by KCMA all assure you the finish meets high standards of durability. With basic care and maintenance, your cabinetry will be beautiful for many years to come.
Start With the Right Materials
Solid hardwood constructs all our painted face frames, drawer fronts, and door frames. Furthermore, to prevent cracking and shrinking, we craft inset door panels for painted cabinets from medium-density fiberboard (MDF). We developed our finishes with AkzoNobel, a world leader in high-end paints and coatings. Moreover, our painted cabinet finish include a wood conditioner, a flexible vinyl primer, an enamel color coat, as well as a catalyzed topcoat varnish with UV inhibitors.
Don't Try This at Home! Our 16-Step, Oven-Baked Factory Process
Only a factory produces an excellent paint finish. First, a factory has a dust-free environment providing an evenly applied finish coat. Additionally, the finish coat is oven-baked for strength and even coverage. Below is a condensed description of our 16-step process:
Sand the wood with medium grit followed by fine grit, and vacuum for a satiny smooth surface
Apply wood conditioner and prepare the surface for paint
Oven cure the conditioner
Apply the first coat of flexible vinyl primer to ensure a uniform surface bond
Oven cure the primer
Apply the second coat of flexible vinyl primer
Oven cure the primer
Apply the enamel color coat
Bake the color coat for a uniform surface
Apply the topcoat varnish to protect cabinets from moisture and fading
Cure the topcoat with heat for strength and durability
Tested by Professionals
All CliqStudios.com cabinets go through KCMA testing and certification. What does that mean to you? Your painted finish has proved it can stand up to serious challenges. KCMA Certification is based on accelerated tests conducted in third-party labs. Thus, they create the cumulative effects of years of normal kitchen conditions on pre-finished cupboards.
CliqStudios selects samples for testing in an unannounced visit to our manufacturing plant. A cabinet door first must meet a stringent standard for appearance. We then subject painted surfaces to vinegar, lemon, orange and grape juices, ketchup, coffee, olive oil, 100-proof alcohol, and detergent for 24 hours, and to mustard for one hour. First, we place the surface in a hotbox at 120° F and 70% relative humidity for one hour. Then, we return it to room temperature and humidity conditions. Finally, we place the surface in a coldbox for one hour at -5° F. This cycle repeats five times. After that abuse, the finish must show no appreciable discoloration and no evidence of blistering, cold checking or other film failure.
Care and Cleaning of Painted Cabinets
A little care and maintenance will keep your cabinets looking their best for many years down the road. A few tips from our Care and Cleaning Guide:
Clean spills with a soft cloth and warm water as soon as possible.
Rub grease spots away with a dry cloth or Magic Eraser. Use a mild cleaner if necessary.
Touch up scratches and nicks with the kit that came with your cabinets.
Avoid setting toasters, coffee-makers and other heating appliances, exposing cabinets to long-term heat and humidity.
Avoid leaving damp cloths in contact with the finish
Now Standard: Painted White Finish on Most Door Styles
Are you considering painted cabinets for your kitchen remodel? In response to demand, CliqStudios now offers a painted white finish as standard on most door styles. If you have any questions, we encourage you to call our studio (800.576.7930) and speak with a kitchen designer.