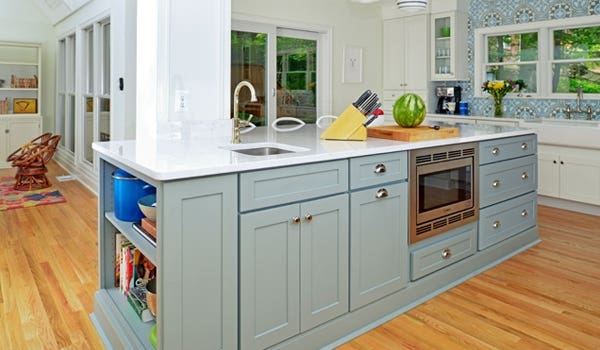 Gray, when used in interior design, refers to any member of a family of neutral colors. It can span anywhere from warm brown to cool blue. This sophisticated, neural toned color is here to stay. Gray is brighter than beige, softer than white, and the perfect backdrop for a strong-toned accent.
In the two-tone kitchen above, designer A.J. Johnson created a furniture-look island with medium-gray cabinets (Shaker Blue Gray) finished with ogee base trim and bookcase shelves. A dramatic tile back-splash framed by simple white cabinets, ties the color scheme together, adding interest without overwhelming the space.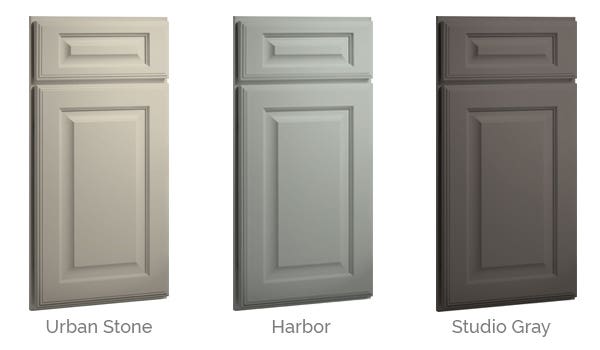 CliqStudios Designer Paint Collection
Our CliqStudios Designer Paint Collection includes three grays, pictured above. The light gray on the left, Light Gray, is rich with soft earth tones. The mid-tone gray in the center is Blue-Gray, a cool blue hue often associated with timeless Cape Cod decor. And on the right you see deep-toned, red-hued Medium Gray.
The images on your computer screen are, of course, only approximations of the actual colors. An important early step in planning a new kitchen is to order free samples to try out in your home.
When you have chosen a gray as the base for your kitchen design, stay in that family. Continue the same shade when selecting cabinets, a countertop, back-splash and flooring. Don't forget to continue the color family through adjacent living and dining areas. It is extremely important to have a full set of material samples in your space throughout the day. That way you can see the colors in various natural lighting.
Blending Tones & Textures
If your design combines gray with another color, use the darker color for base cabinets or in a center island. This creates a transition between kitchen and living spaces. Also, using a marble or granite counter with tones from both cabinet colors, tie the design together.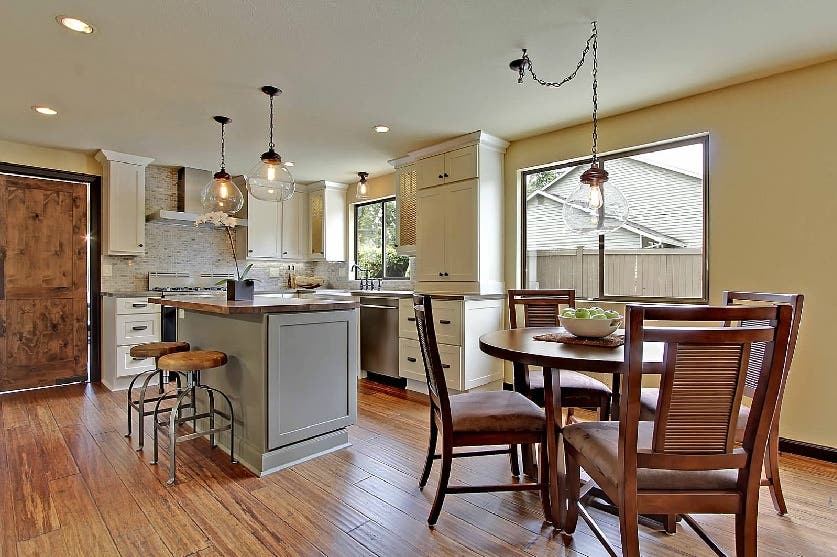 The transitional kitchen above introduces an industrial-chic element in the island pendants. The look is also carried through the butcher block countertop, bar stools, and sliding reclaimed wood door. Note how the backsplash and stainless range hood connect the Cream perimeter cabinets to the gray island. The industrial effect is softened with a traditional look. This is achieved by glass-door cabinets and deep crown molding on the room's perimeter.