Editor's note: I took the liberty of interviewing the customer, Diane Martin, and inserting some of her comments in Karla's article.
(Karla) Diane Martin, a home rehab and resale professional, is a repeat customer with CliqStudios. She always challenges me to create a distinctive focal point in her spaces, something that marks the kitchen as unique. It definitely challenges me to be creative and think outside the box. Diane always has a clear vision of what she likes and makes decisions quickly. Sometime I have to slow her down a bit to make sure we have covered all the bases.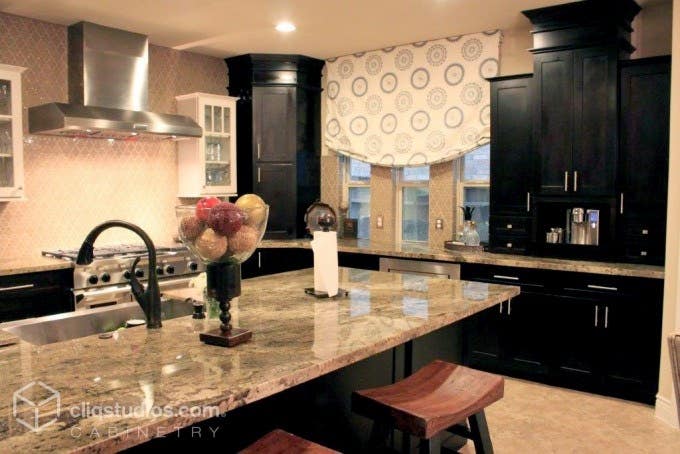 (Diane) I really like the CliqStudios design service. I can do aesthetics, but I need an expert in space management to help me know where things need to be. Karla has been wonderful. She listens and doesn't get frustrated. If she disagrees with me, she respectfully suggests an alternative.
Diane's Kitchen
(Karla) When Diane called this time, it was for help in remodeling the kitchen in her own house. This was a new house with a large kitchen, but it suffered from serious functional flaws – and was sort of boring to look at. Diane understands the need to balance resources and opportunities, so we focused on changes that would provide the most impact for the dollar. She chose to keep the appliances in their original locations in order to avoid changes to the electrical, plumbing and gas lines. This choice eliminated additional construction costs that allowed us to put more thought into her cabinetry.
(Diane) This was a spec home, and had a standard, basic kitchen. It was big, but lacked usable storage space. It had windows and not enough wall surface. So, I ripped out a fully functional kitchen and replaced it.
The Challenges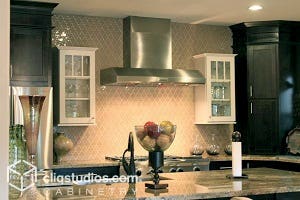 (Karla) This was an L-shaped kitchen with some distinct challenges. The challenge was a wall with three tall windows that were too costly to remove or replace. These windows drastically limited upper cabinet options. I suggested that Diane sacrifice the double ovens that were already in the layout in order to have more cabinet space that would increase the functionality as well as create a unique focal point. After some consideration, Diane agreed. We removed the double ovens and 30" cooktop and replaced them with one, larger 36" range that combined her cooking/baking needs into one unit.
Once the ovens were gone, I combined various cabinet boxes to create a furniture-looking coffee bar with a bead-board backsplash in an open cabinet. I topped it off with dramatic crown molding that emphasized the high ceilings. I also found myself getting creative with some of the cabinetry in order to accommodate her larger built-in microwave and provide her with a distinct tower of cabinetry in the corner.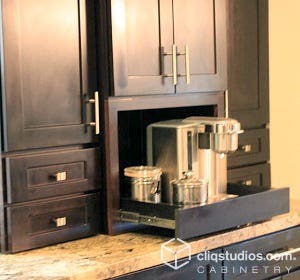 (Diane) Karla walked me through how I would use the space—where the pots would go, everything. I have less cabinets now, but much more usable space. When the cabinetry arrived, it was so easy to install. I couldn't believe she knew exactly what the builder would need to install ceiling molding, including over the coffee bar.
The Design
(Karla) Diane was looking for a transitional design. She chose the Shaker style cabinet with its simple design and paired it with the modern dark wood stain finish. To accent the dark cabinetry, she added Painted Light Gray glass mullion floating cabinets on each side of her Kitchenaid Professional Series range. The traditional, cream-toned Tuileries backsplash tile from Walker Zanger provides an elegant backdrop for the rich, dark-stained cabinetry; whereas, the granite picks up all of the tones of cabinetry and tile – creating a cohesive and beautiful final aesthetic.
(Diane) I come back to CliqStudios for the design service, the value of the cabinets (they are not the cheapest, but very good quality for the price), and the fact that they are delivered on schedule.
See examples of other homes Diane has brought to life at www.padimarproperties.com or learn about her Houston area real estate practice.