Industrial chic is the marrying of old and new. With this style, sleek and modern design is paired with items that are older or more historical. Design ideas come from factory and industrial like spaces. A big trend is to find these industrial elements from decades past and feature them in today's kitchen. Designers are looking for that special found piece to add the industrial feel to residential kitchen design, like drafting stools, recessed door and drawer hardware, wooden sewing drawers, or metal rolling carts .
Here are some specific elements you can use to build Industrial Chic design into your space: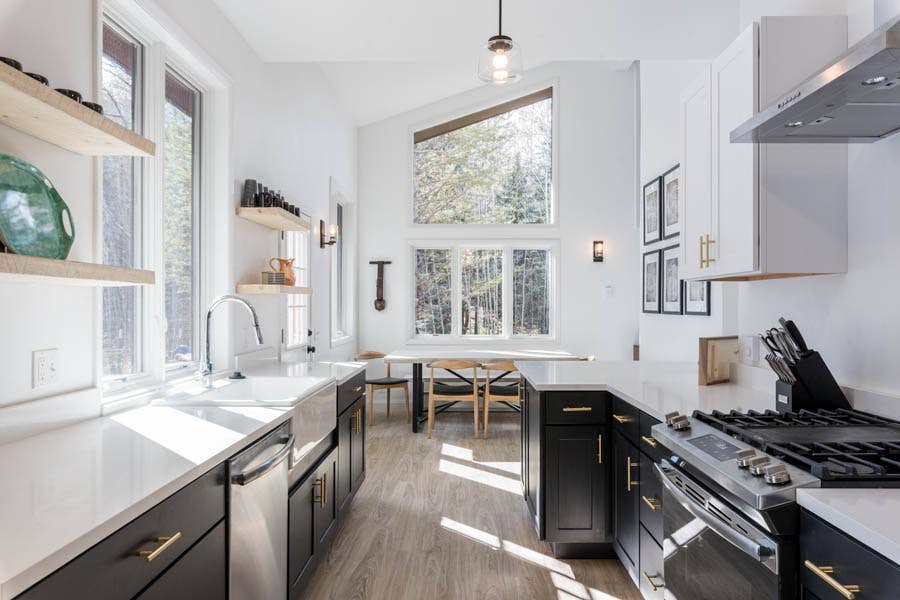 Stainless Steel
Stainless Steel is far and away the most popular appliance finish. While you could go a different route, an industrial chic kitchen needs one foot planted firmly in this century and the other in century's past. Stainless Steel will help you from looking like you just have an outdated kitchen. Let the old school style shine through in more decorative elements.
Reclaimed Wood Surfaces
Using wood surfaces is a great way to add character and a little bit of age to a kitchen. Try using reclaimed wood or butcher block on counter tops, islands, or for flooring. In this kitchen, open shelving is wooden.
Cabinets and Coloring
CliqStudios has several cabinets that will help build an industrial chic kitchen. For example, this kitchen uses the Shaker style in Black for all the lower cabinets.
Historic Elements
The trick to the industrial chic is to blend eras together. In the example above, black cabinets and stainless steel keep the kitchen more modern, while white brick and exposed air ducts feel older.
Unique Lighting
Personal Touches can make or break the industrial chic look. Without any of the older looking pieces, Industrial chic simply becomes modern. This look adds a pendant light and sconces in a re-imagined string lights. More polished than their coffee house partners, these lights really pull together the industrial chic look. Look for your own rustic accent pieces at antique stores, salvage yards and local retailers such as Restoration Hardware or World Market stores.