At CliqStudios, we see a growing interest in the light and airy, almost magical effect of floating shelves in an kitchen design. Uninterrupted by brackets or sidewalls, the floating shelf has a strong horizontal line, an element associated with restfulness and balance.
Used to store and display everyday items, the shelves represent the essence of minimalist function. For example, the shelves, paired with slab door cabinets, are installed on a contrasting wall to create a sleek, modern kitchen.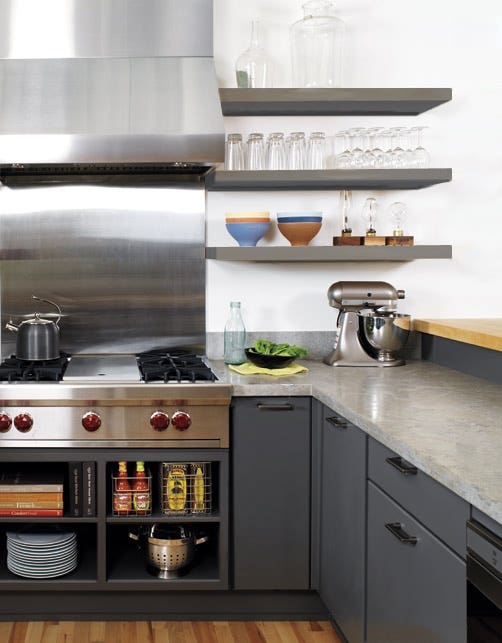 Opening Up the Space
In the modern kitchen pictured above, the floating shelves finished in gray paint match the slab door cabinets and complement the stainless hearth.
But floating shelves are not restricted to modern interiors. Our designers often use a wall of floating shelves as a light, contemporary feature in a transitional or traditional kitchen. Furthermore, the shelves create a display space for art, dishware or other items without competing with those items for attention. When using wall cabinets, floating shelves are perfect for any small or awkward space.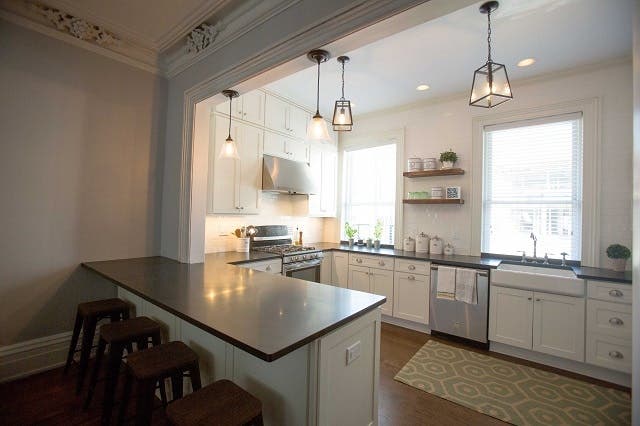 Right for You
In this brownstone, floating shelves in an oak finish complement white Shaker cabinets. The floating shelves combined with an island peninsula and unobstructed windows, the room feels bigger and brighter.
Floating shelves can do a lot for any kitchen design, however, it is not for everyone. Floating shelves provide a beautiful location for displaying your favorite plants or decorative pieces. But, floating shelves take away prime storage space in your kitchen. Talk to your designer about other storage options or if floating shelves are right for you!
CliqStudios now offers floating shelves in paints and stains to match all CliqStudios cabinet finishes. If you have any questions about adding floating shelves to your kitchen design or looking for other storage options, contact us by email at customerservice@cliqstudios.com or call toll free at 800-576-7930.