A Classic Brownstone Presents Interesting Challenges for Designer AJ
In a wood frame house, a remodeler has almost no boundaries. Moving windows and doors and redirecting plumbing and wiring through new or existing walls is doable. Not so in this classic Hoboken, New Jersey brownstone. Therefore, creating a modern kitchen for a 100-year-old townhouse presented some distinct challenges. Designer AJ Johnson and architect Rob Hegedus were up to the job.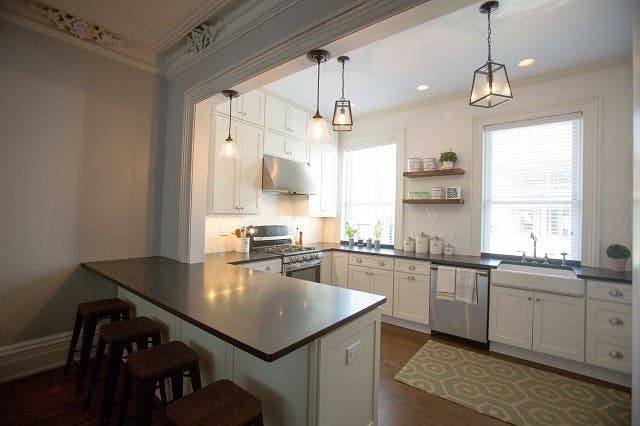 Matching the Molding
In the adjacent dining room, ornate crown molding decorated the ceiling perimeter. Therefore, matching the trim required custom millwork or crafted in plaster. The remodel budget was tight, so, those options were not on the table. AJ was pleased that CliqStudios offered a style of crown molding, seen throughout the kitchen, that coordinated well with the original trim.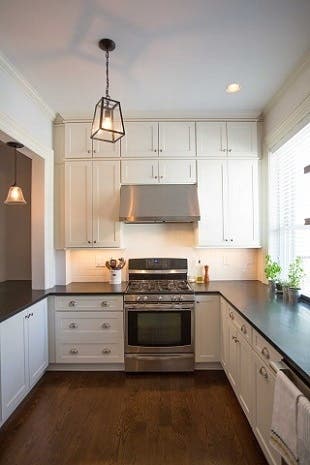 Working Around the Window
The biggest challenge was the window wall. It presented two problems. In order to create an effective working kitchen, the wall would have to be lined with base cabinets and countertop. The outside profile of the building could not be changed, including the low, deep windows (just 24 inches from the floor with 10-inch sills). And, the builder needed to run a chase along that wall to carry plumbing to the sink and dishwasher.
After scratching her head, AJ came up with a plan. The cabinets would bump forward, allowing room for the chase. The counter would run in a line with the wall, leaving a cavity between counter and window glass.
To let the design flow uninterrupted, no backsplash would be used the kitchen, with one exception. A low backsplash in front of the windows prevents objects on the counter from rolling over into the window cavity. The light and bright effect of the large windows was preserved by leaving the wall open except for open shelves built from wood reclaimed from the house itself.
Last Minute Fix
The wall shown on the left, carrying the only upper cabinets in the kitchen, presented a last-minute design crisis. The given measurement for the space between window and corner didn't include the 5-1/2″ trim! And late in the project it became clear a chase would have to run behind that wall to accommodate a gas line. AJ rose to the challenge beautifully, bumping the wall of cabinets forward and wrapping it in crown molding to create the effect of a built-in buffet.
To reinforce the open theme, AJ designed the refrigerator enclosure with open shelves rather than cabinets above, great display storage for special serving pieces.
AJ comments that the architect, Rob Hegedus of was great to work with. "Rob's renderings and plans were clear and easy to work with, even as the measurements kept changing and the design worked through several iterations."
Do you have a special renovation challenge? Share your thoughts with our readers.