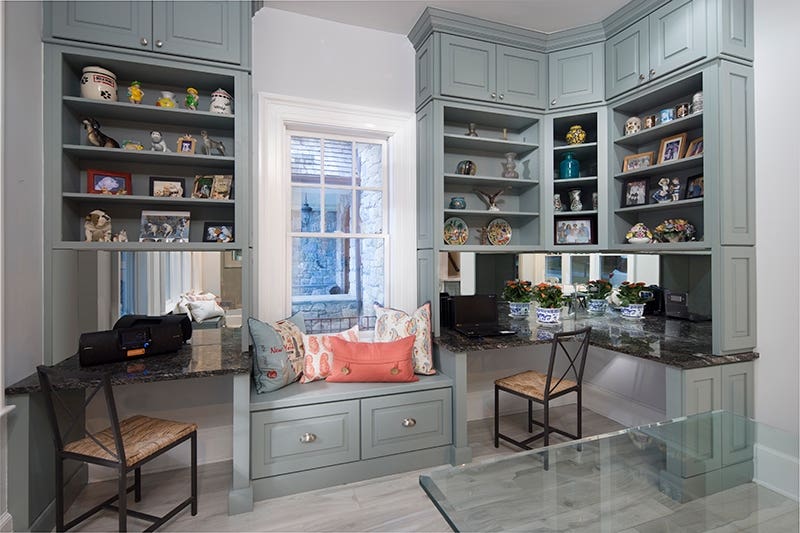 The home office is becoming a standard feature in home design. When creating an office space in your home, consider what role it will play. Will it be command central for a small business? A space for an occasional work-from-home day? An organized space for paying bills and keeping up on correspondence? Maybe you are looking for a quiet place to work on a literary project. Your design will depend on your requirements, resources, and style.
Meeting Clients
If you will meet with clients in your home office, consider the route they will take from the door to the office. Can you keep it clear of pets and toys? Where will a guest hang a coat or use the restroom? Do you want to include a beverage station and sink?
Needing Privacy
If you need privacy and quiet, a guest bedroom may be the perfect space. Build a Murphy bed (foldaway bed) into a book case wall and you will still have a guest space when you need it. Another space to consider is your formal dining room. If you haven't been in there for a while, dust off the table and sell it on eBay. Then add a door to create a home office. No unused room in the house? Consider taking over a large closet, the corner under the stairs, or a rarely used entryway.
Designating Space
Dedicate a corner of the kitchen island to paying bills, sorting mail, and homework. Build mail slots and desk drawers into the cabinetry. Now the mail has a designated destination, you may actually have more usable counter space, and the stapler, paper clips and other supplies that have been clogging your kitchen junk drawer will have a home.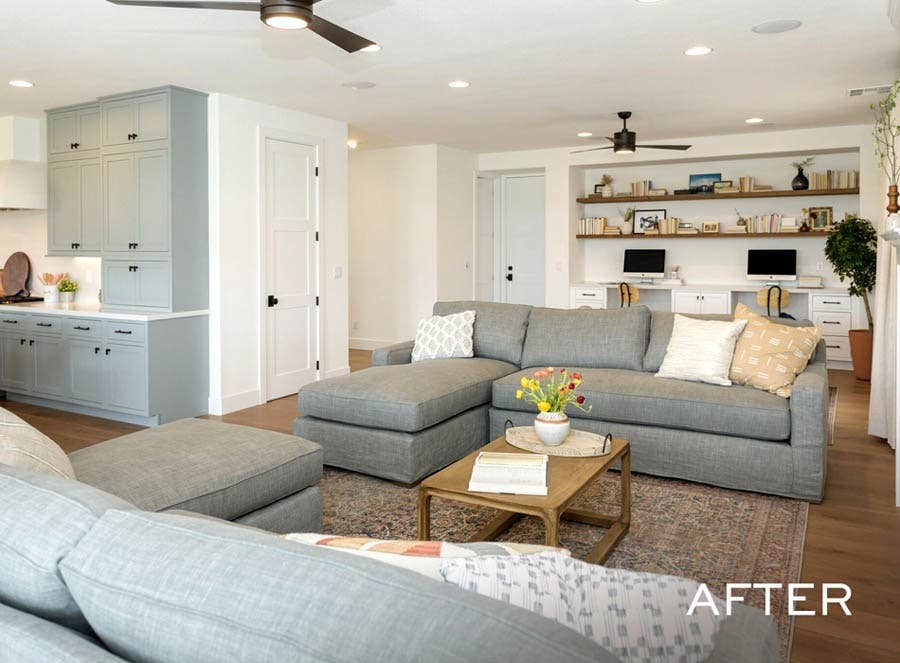 Charging Area
Incorporate a charging station for phone, laptop and tablet. This should be handy to the door, but safely away from food and beverages. Include multiple outlets and a drawer or box for cords. Go wireless for as many devices as you can, and capture remaining cords in a fabric sleeve.
Furnishing Your Office
Office furniture and cabinetry should complement the style of the house. An effective and economical way to accomplish that is to build custom bookshelves, desk and console out of stock cabinets. CliqStudios will customize cabinets to the size of your space. Ask your designer how to use decorative elements such as ogee molding, decorative door panels and crown molding to create a custom furniture effect. And of course, invest in a good desk chair.
Decorating the Space
What will make your work station feel like home? Some natural light is great, but directly across from your monitor screen it will glare. Position your desk so you see a window or favorite piece of art or furniture. Choose a color scheme that will help you stay alert but relaxed. Have a little fun with desk accessories. Use a favorite mug for a pencil cup, and that preschool clay sculpture for a paper weight. Keep a picture of a special person or place on the desk to remind you of what you are working for.
Our CliqStudios designers have created wonderful home offices, customizing cabinetry to meet their customers' unique needs and personal styles. Feel free to call our Design Studio at 888-350-1242 for help in creating a kitchen or office design.
What does a home office mean to you? Do you have any tips for our readers? Share your thoughts in a comment below.