The Transformation Begins
This series follows one of our CliqStudios kitchen designers through her remodel project, from start to finish. This post describes the phase where Tessa and Jake's cabinets were delivered and the old ones torn out.
An important rule of kitchen remodeling: do not tear out your cabinets until everything is ready to go. This means the new cabinets have been delivered, counted and inspected, and you have a temporary kitchen in place. It was an exciting day when Tessa took this picture. The transformation was finally about to begin!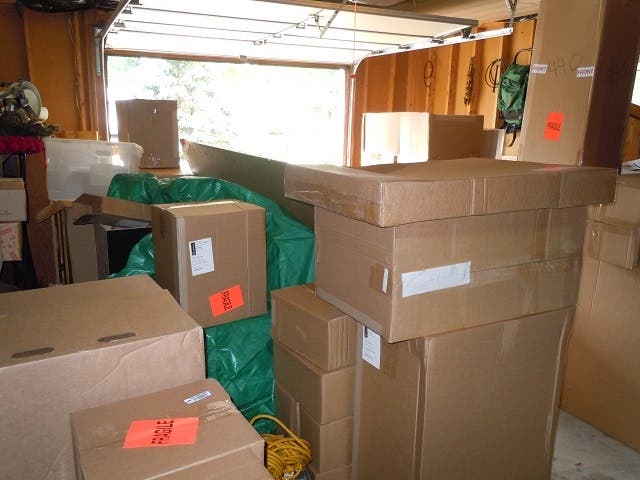 Temporary Kitchen
Tessa and Jake kept their temporary kitchen plan to a minimum. They only had a Pizzaz pizza cooker on a small living room table. They also left the sink hooked up until the last minute, and the refrigerator plugged in. We'll check in with them post-project to see how that worked out. Last word from Tessa was that she is really, really looking forward to having countertops again!
Kitchen Archaeology
A fun surprise awaited them behind the cabinetry—tickets to a Boy Scout Jamboree and old family pictures. Now Tessa is working on returning those items to the original owners.
A kitchen tear out is the reverse of the building process. First, empty the cabinets (since they had moved in a few months before, this process wasn't too bad). After emptying the cabinets, remove the doors and drawers. Then disconnect the water and electricity. Finally, remove the cabinet boxes, lower cabinets first.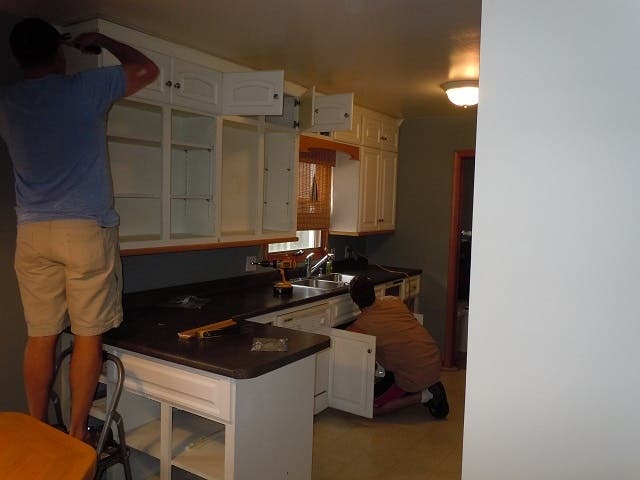 Used Cabinets Find a New Home
Getting rid of the cabinets would require a six-yard dumpster. Not only would that be expensive, but wouldn't align with Tessa and Jake's goal of reusing and recycling. After seeing the cabinets, Jake's cousin saw a future for the cabinets in his garage. Off to their new home they went!
And finally, the cleared space was ready for new cabinetry, countertops and flooring. Check in next week to see how the cabinet install process goes with these capable do-it-yourselfers!

Follow the links below to follow Tessa and Jake's experience and see the finished product.
Have you found any treasures during a remodel? Let us know how your tear out went.