Personalizing Their Space
In this series, I am following one of our CliqStudios kitchen designers through her remodel project, from start to finish. This post describes how Tessa created a design that is both functional and personal.
When Tessa and Jake decided to go forward with a new kitchen, they knew it would be the one and only time they would remodel that space, so it was important to get it right. Tessa has a passion for cooking and feels strongly that the kitchen is the heart of the home. It was time to for her to apply her talents to her own design.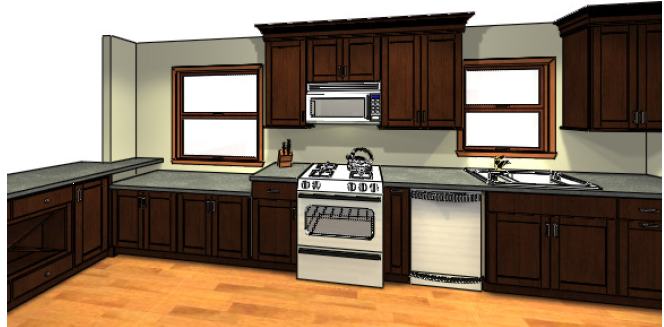 When laying out the design, Tessa began with fundamentals—landing spaces next to the cooktop and refrigerator, a good work triangle, and carefully planned storage. She chose Shaker cabinets, a Shaker-inspired style, as the basis for a modern transitional theme. The finish, Dark Wood Stain, will reflect dark streaks in the home's beautiful woodwork, complementing without competing.
She and Jake decided to sacrifice a little-used breakfast booth to extend the working kitchen to the peninsula. Lowered cabinets and countertop in that area will accommodate the existing window and provide visual interest and an alternative height work space. A wine rack integrated into the peninsula reinforces the concept of the kitchen as the center of hospitality. Furniture drawers above and below the wine rack will hold bar ware and utensils.
Then Tessa created a unique and personal feature—a beverage center next to the refrigerator. The workspace has extra height between the counter and the upper cabinet to provide easy access to the coffee maker and margarita machine. The corner will also serve as a showcase for art from Gaytee-Palmer Stained Glass, where Jake works as a glazer. Stained glass will also be used for doors in matching cabinetry in another area of the house.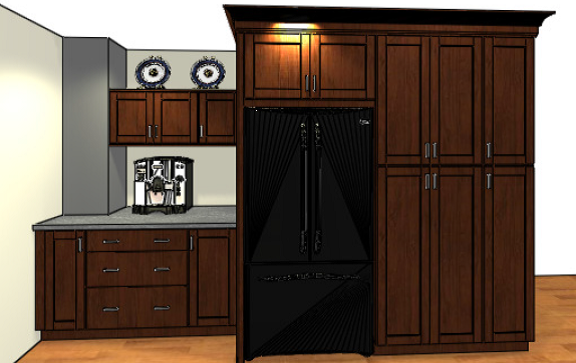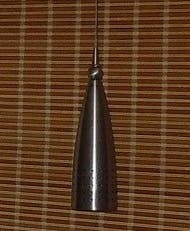 Fitting the Budget
A thorough assessment of their needs allowed Tessa and Jake to save money on appliances while getting all the features they will actually use. The Samsung French door refrigerator has a flex-zone snack drawer. Tessa realized their use of a pro range with five-burner cooktop would not justify the cost. Instead, she chose a standard gas range with continuous grates to facilitate use of four burners.
Lighting will reinforce the transitional concept, preserving the original stainless light fixture over the sink while adding under-cabinet task lighting and track lighting. The flooring will be an easy-install click-together floating laminate that blends well with the original hardwood floors found throughout the rest of the home.
Follow the links below to follow Tessa and Jake's experience and see the finished product.
What design feature makes your kitchen special? Share your thoughts below.