Your list of must-haves in a new kitchen may include a lazy susan, shaker cabinets, or a six-burner pro range, but don't overlook the basic design rules of balance and symmetry. Achieved by balancing similar objects across the room, these intangible properties create a sense of beauty, well-being, and a relaxed atmosphere. Here are some tools you can use in your design to acheive this look.
Smooth Lines
---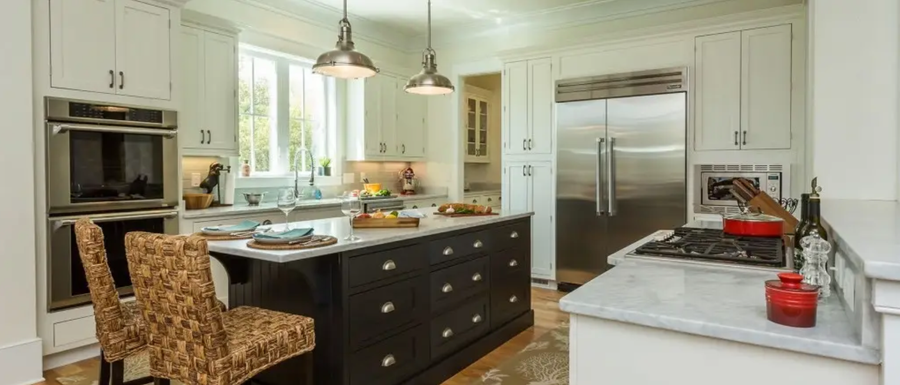 ---
The island above is symmetrically designed with three drawer bases, a 36-inch center unit flanked by 24-inch units on the ends. As a result, the horizontal lines flow smoothly across the bank of cabinets. In the background, one wall holds the built-in refrigerator and tall pantry while the opposite wall holds the double-oven cabinet. Reflecting these tall pieces across the kitchen maintains soft lines while preventing an uneven, cluttered look.
Focal Points
---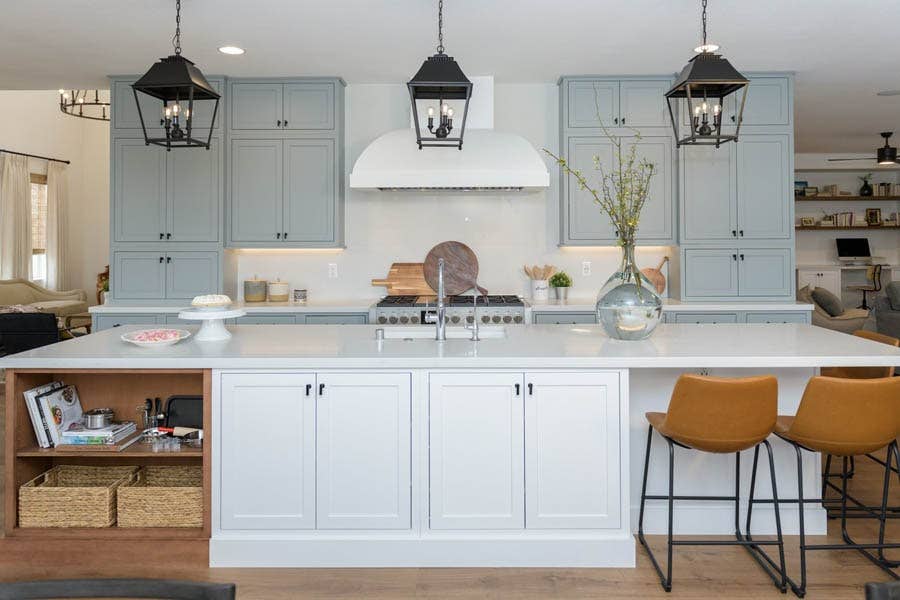 ---
One approach to symmetry is to choose a natural feature such as a wood kitchen hood or window and create balance around it. This provides a sense of rhythm. In the kitchen above, the wood hood becomes the focal point, beautifully lined by tall furniture cabinets on each side, and complimented by symmetrical black farmhouse pendants.
Eye-Catching Details
---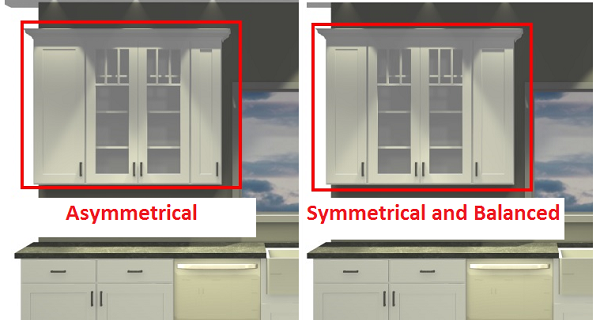 ---
Only an experienced designer will notice the problem in the design below. The image on the left demonstrates a common error- a wall of cabinets with varying widths. This is often the result of misguided attempts to align cabinet sizes vertically. Since the eye primarily tracks horizontally, irregular-width base cabinets are less of a concern than irregular widths at eye level. You can see what a difference a simple change will make. What was once an awkward run of cabinets became a graceful eye-catching feature.
---
Other design elements that affect the symmetry of a kitchen include pendant lighting, floating shelves, decor, and staggered wall cabinetry.
Pendant lighting is based on your space, but try to group them in odd numbers since it's more appealing to the eye. Floating shelves can be hit or miss, so do your best to balance them around a window or in a coffee bar. For decor, if you purchase a big accessory, try to add another 2-3 medium sized accessories on the opposite side to balance it out. Just make sure the kitchen's not cluttered with knick-knacks in the end. Finally, stacked cabinetry is a great tool to create a grand look in your kitchen. During the design process, pay attention to the taller points so they are balanced and you will end up with a beautiful kitchen.
Do you need help designing your kitchen? Schedule a Complimentary Design Consultation now!