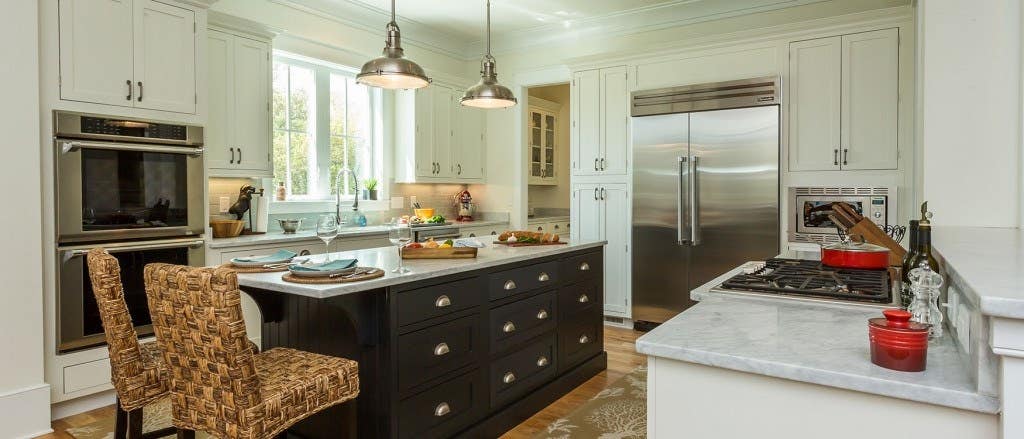 Your list of must-haves in a new kitchen may include a Lazy Susan, traditional raised-panel cabinets, or a six-burner pro range. While planning a remodel, do not overlook the design basics of proportion and symmetry. Achieved by balancing similar-weight objects across the space, these intangible properties create a sense of beauty and well-being.
Smooth Lines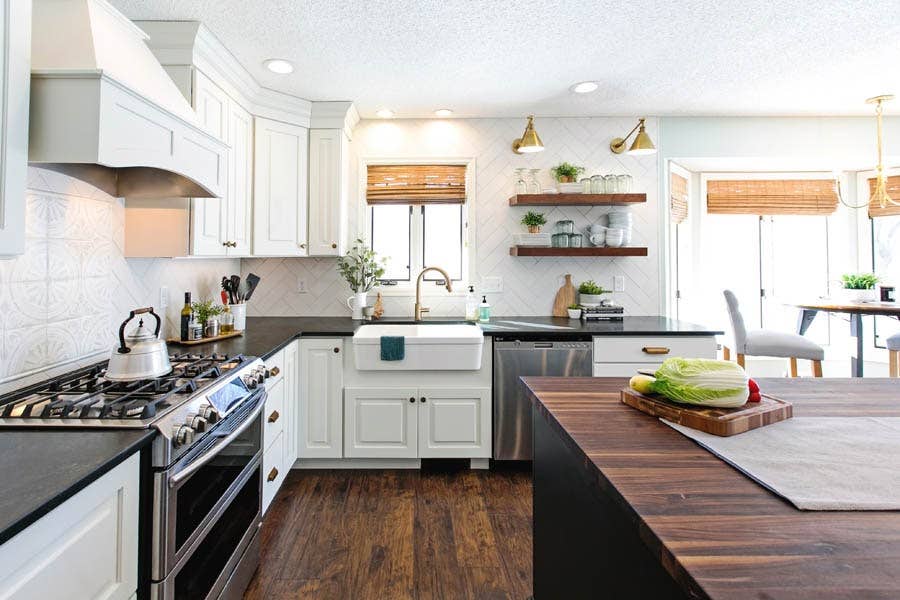 The island above is symmetrically constructed of three drawer bases, a 36-inch center unit flanked by 24-inch units. As a result, the horizontal lines flow smoothly across the bank of cabinets. In the background one wall holds the built-in refrigerator, pantry and oven cabinets. Blocking those elements together maintains a smooth line while preventing a choppy look.
Focal Points
One approach to symmetry is to choose a natural feature such as a range or window and balance around it. This creates a sense of rhythm. In the kitchen above, the farmhouse sink becomes a focal point, beautifully highlighted by open shelving and natural light.
Catching Your Eye
Only an experienced designer will notice the problem in the design below. The image on the left demonstrates a common error, a wall of cabinets of varying widths. This is often the result of misguided attempts to align cabinet sizes vertically. Since the eye primarily tracks horizontally, irregular-width base cabinets are less of a concern than irregular widths at eye level. What a difference simple changes make in the effect! Consequently, an awkward run of cabinets became a graceful stand-alone feature.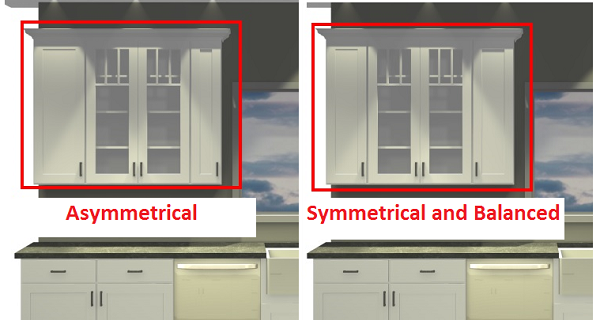 Other elements that affect the symmetry of a kitchen design include pendant lights and items placed on countertops, and an irregular line across the top of cabinets. Even open shelving and extra space between a vaulted ceiling and cabinets, affect a kitchen's symmetry. Our design team will be happy to help with any questions.