From vibrant colors and dashes of pattern to renewed vintage spirit, we're facing a future of exciting new trends. If you are looking to make your kitchen stand out this year, keep reading to find out CliqStudios favorite design home trends.
Pops of Color
Adding color to your space can bring your kitchen design to life. The kitchen below uses bright blue island cabinets, patterned chairs, and turquoise decor to offset its white Shaker cabinets and white backsplash. The homeowner also extended the blue theme throughout the home, furthermore, tying the whole space together.
When adding color to your kitchen, avoid bursts of standard mainstream colors. Instead, boost your kitchen with brighter variations of the color wheel. For example, a splash of a deep Merlot or flowery fuchsia will add more flair than a standard red. Previously, we at CliqStudios have highlighted colors such as emerald and variations of blues and purples. These colors are all gender-neutral and have strength and confidence with a touch of wonder. They also trend in the latest fashion and branding to art and home. It's clear that more obscure, less conservative colors are the way to go.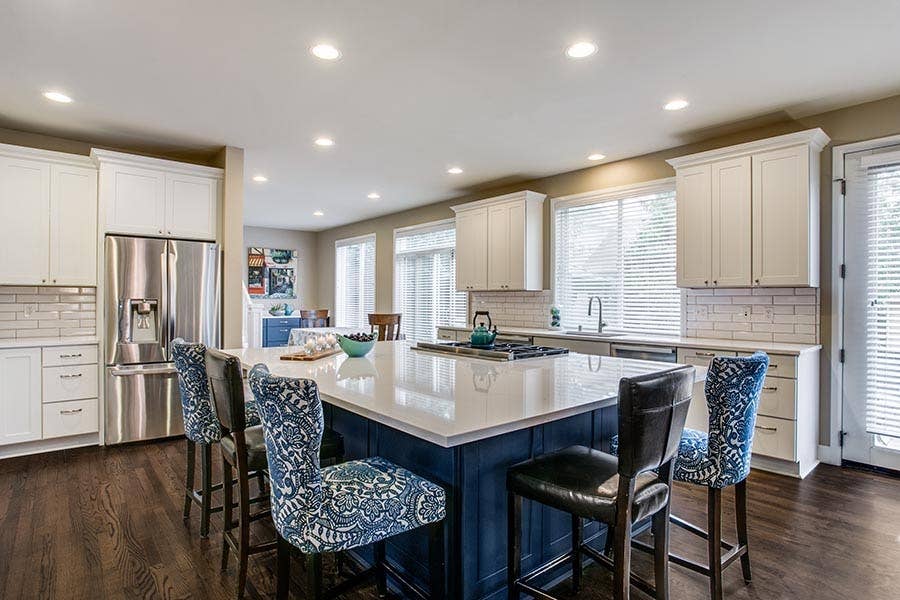 Novel Neutrals
Used as a base throughout the home, neutral colors are still important. However, they are moving beyond tired, almost colorless whites, creams and beiges. Instead, soothing blue-grays, fresh yellows, and richer, fuller tones of the usual suspects (creams and beiges) are being sought.
The key to making the most of any neutral color is, warmth. Keep cold and off-putting colors out of the home. Paint trends in longer cycles, so even if you're picking a more unusual, trendy neutral, you won't have to worry about painting any time soon.
In the two-tone kitchen pictured below, cabinets painted in Cream and blue-gray Gray combine to create a welcoming space that's contemporary and relaxed. The island's countertop and bar stools, along with the flooring, lend a rustic touch.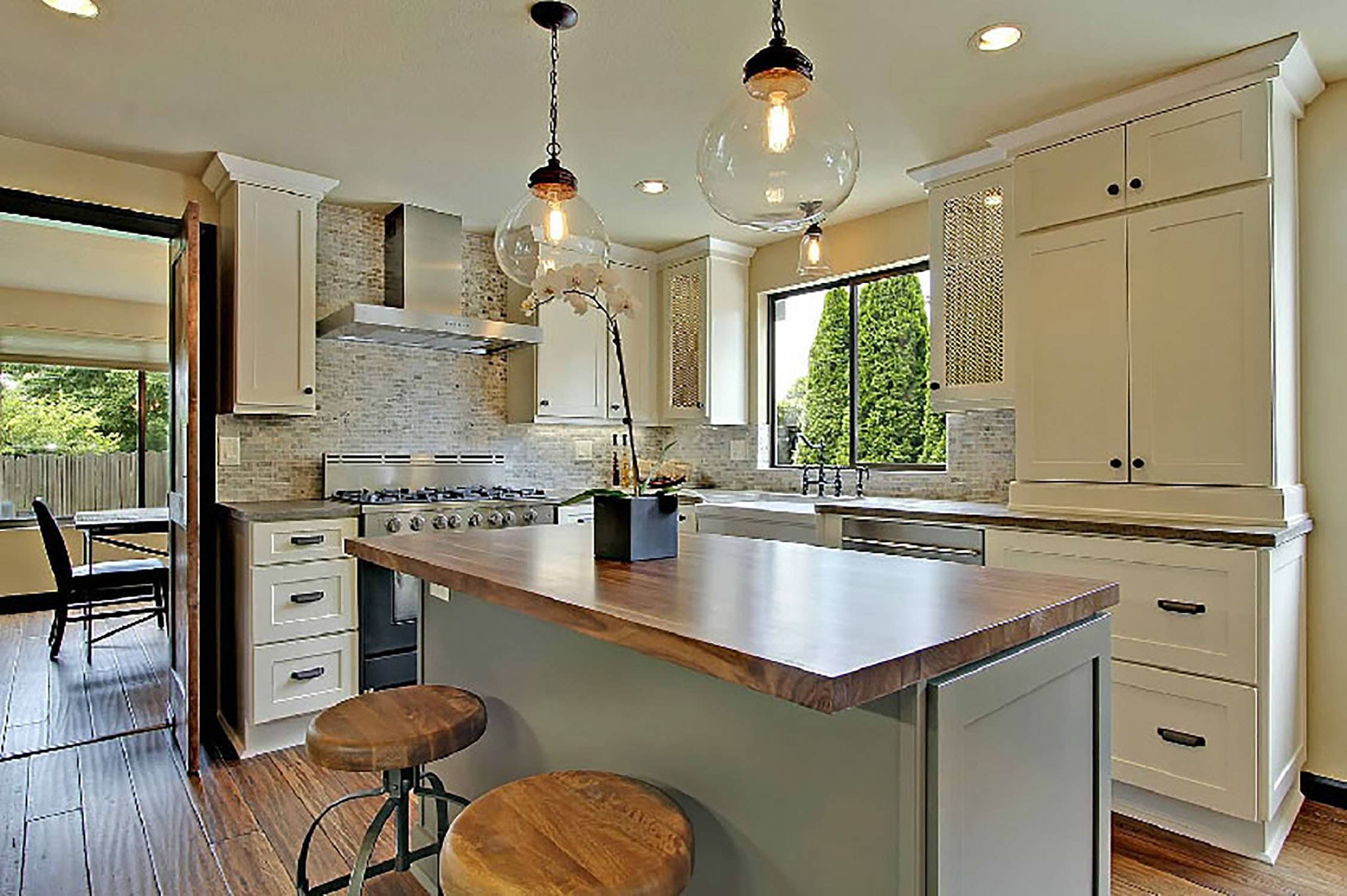 Patterns & Themes
Many textures, patterns, and angular design choices can make your kitchen stand out. In the past, patterns such as herringbone and houndstooth have been the go-to. However, they are well on their way out. In more recent years, bold and "exotic" features take their place.
The kitchen below presents seating with a daring pattern choice. Leaning toward the "exotic " trend, these cheetah patterned stools become a unique focal point in the modern kitchen.
Maybe it was the royal wedding or the popularity of Downton Abbey, but the elegance of European flavors is also trending. You might even spot a resurgence of art decor from the 1920's or traditional furniture looks.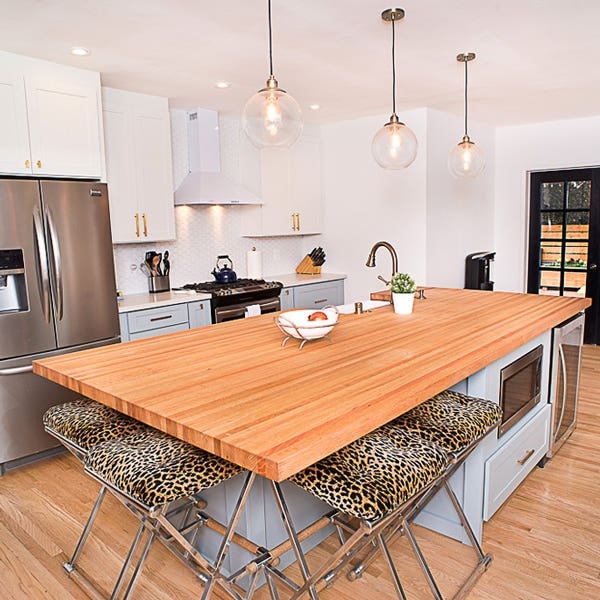 Personalized Decor
Your kitchen design should reflect you and your style. Don't be shy adding bold elements and materials to your kitchen design that speak to your personality. In many cases, this may include making room to showcase your china pieces or highlighting the natural light with a minimalist design. However, cluttering your kitchen with a variety of decor and bold pieces, takes away from the natural beauty of your kitchen design. Make sure to leave open counterspace to increase functionality of your kitchen and keep aimless objects to a minimum.
In this kitchen, vintage, time-worn furniture forms a welcoming feel. The pops of color add a fun, eclectic look to this design. Creating a DIY project is also a great way to incorporate a personalized element to your kitchen. The possibilities are endless!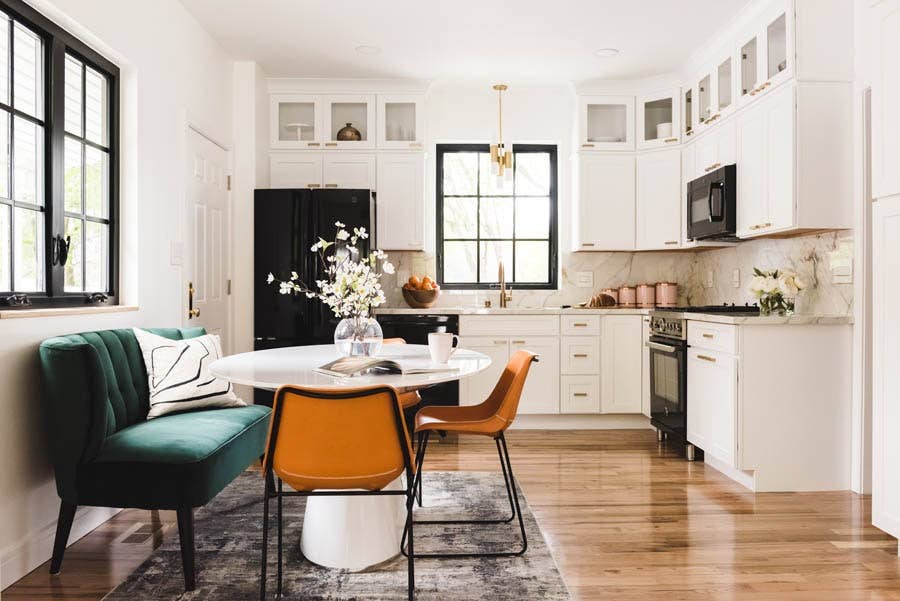 Tailored Furniture
What may be the aftereffects of a down economy and an upgrowth in demand for smaller homes is a desire for a home that makes efficient use of space and is light on decor. Large, chunky furniture is on the way out. In its place, try more minimal, compact furniture. For example, replace your large sectional couch with an elegant Lawson style sofa, raised off the ground for a lighter feel.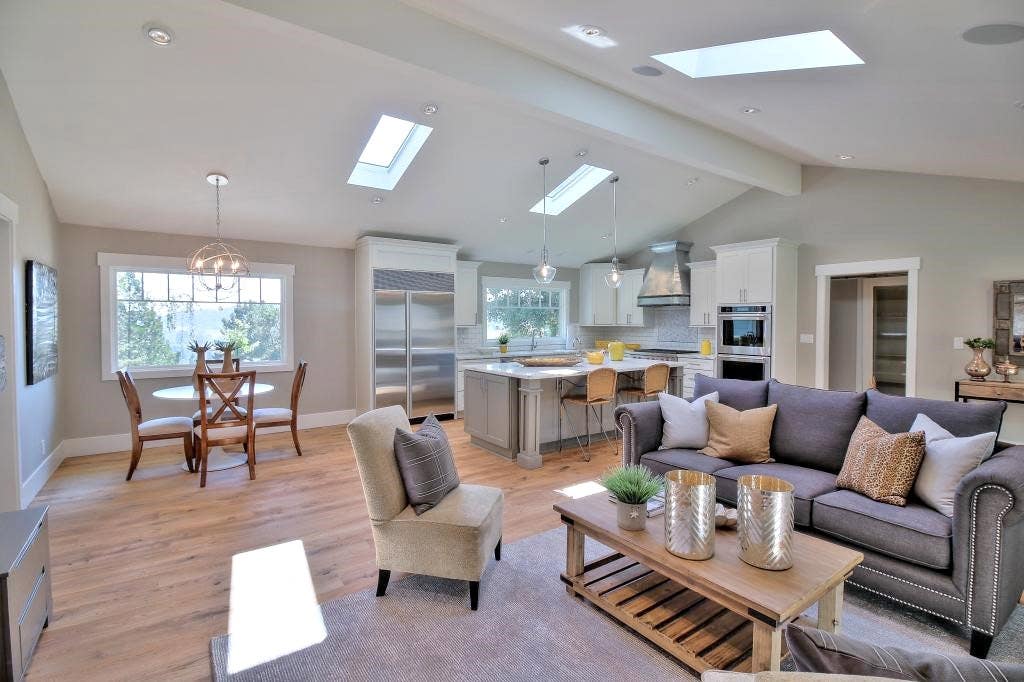 Blending Dark & Light Finishes
While maple and cherry finishes provide a warm traditional look, painted finishes are staking center stage. Align your space with today's trends by trying bold painted finishes and creating a transitional style. Two tone kitchens often combine white washed cabinets with a strong accent color. For example, in the kitchen below, the black and white finishes complement one another against the beautiful hardwood floors and exposed brick. It also allows for vibrant pops of color in the kitchen decor.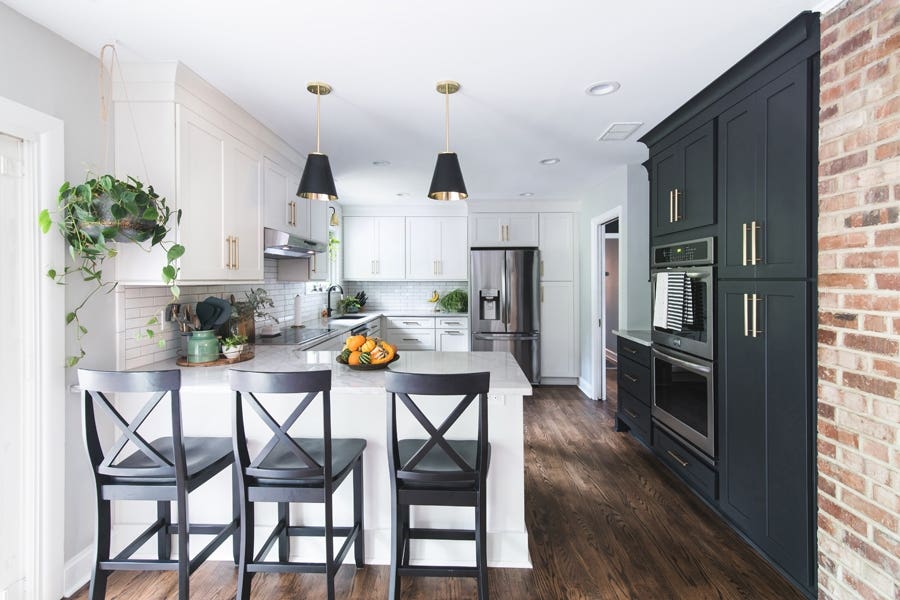 Your decisions should reflect your personality, not what the magazines and blogs say. Remember, staying true to your tastes and wallet will truly make your dream kitchen.
What home trends have caught your eye? Or, what design would you like to see? Leave your thoughts and insight in the comments below!