4 Min. Read
Installing your own cabinets is a big task, and great resources are important to guide you through the process. If you have no experience installing cabinets or with other home projects, this may not be something you want to do. It's much better to call installers for quotes rather than guess your way through a permanent home project. However, if you're prepared, experienced, and have the necessary tools, here are some indispensable tips and resources for kitchen cabinet installation.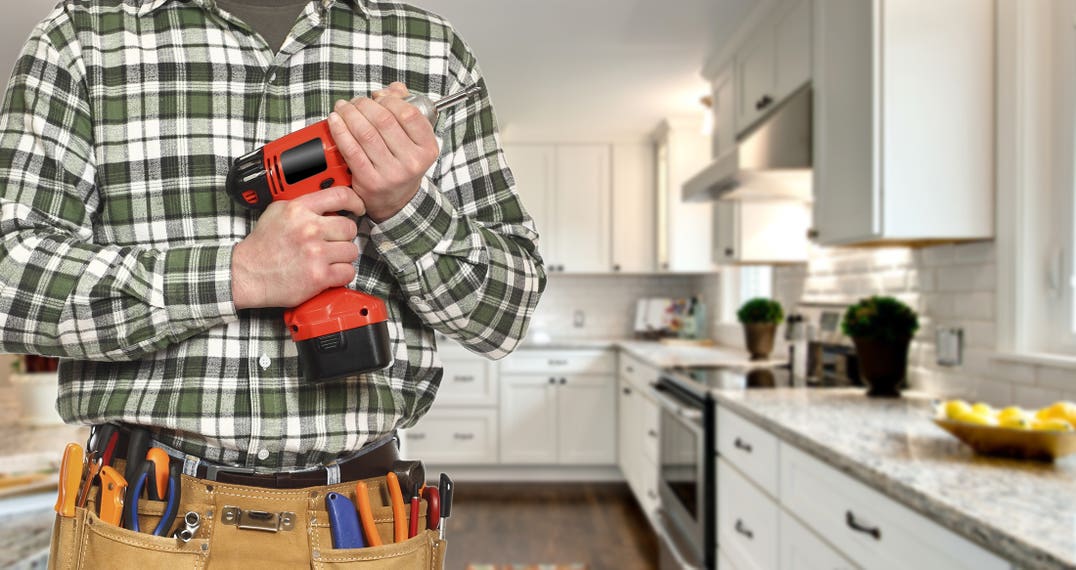 Demolition & Prep
Tip #1
Before demolition starts, make sure you've inspected the entire kitchen cabinet order and taken inventory. Don't tear anything out until you're confident that every piece is ready to go.
Tip #2
Allow the cabinets to acclimate in your temperature-controlled space. It's best to have the order in the same area of the house where it will be installed.
Tip #3
Turn off all gas, water, and electricity prior to swinging any sledgehammers. Double-check everything has been turned off and review house plans prior to demo to know what's in each wall.
Tip #4
Make sure you have all the necessary tools to complete the job. If you have to buy a whole garage full of tools to start, it may end up costing you much more in the long run when you could hire a professional instead.
Tip #5
Create a temporary kitchen that can be used while yours is out of commission. This will help ease the stresses of remodeling, so you don't need to eat out for every meal.
Cabinet Installation
Tip #1
Avoid using nails or drywall screws to install cabinets. They lack the holding power needed to secure cabinets tightly to each other and the wall. Use #8 x 2-1/2" trim screws (wood frame construction only).
Tip #2
Use a laser level to save time so you can easily mark your cabinet installation heights on the wall. This is much less time-consuming, and it helps installation get started more quickly.
Tip #3
Leave all cabinet doors, drawer boxes, and interior accessories out of the kitchen cabinets until the boxes are installed. This allows you to access tight areas a little easier for installation without worrying about hitting or damaging interior components.
Tip #4
Shim where necessary with the wall, base, and tall cabinets to ensure surfaces are level and face frames are plumb.
Tip #5
Coat the #8 x 2-1/2" trim screws in beeswax. Since you will experience resistance screwing cabinets together, this will help alleviate tension while preventing cracks in the face frames.
Tip #6
Use C-clamps to hold face frames together and drill pilot holes for screws. The clamps will keep cabinetry steady while you drill holes and secure cabinets together.
Tip #7
Install wall cabinets first starting with the corner. Then, when it comes time to install base cabinets, you won't have to strain yourself putting up wall cabinets.
Tip #8
Place the base cabinetry according to the floor plan and start with the corner and sink base cabinets to ensure everything aligns properly.
Tip #9
Wait to completely tighten all screws until you check once more that everything is level and plumb.
Cabinet Touch-ups
Tip #1
Adjust every door and drawer before decorative hardware goes on. It will be easier to level the hardware once adjustments have been made.
Tip #2
For touch-ups, start in a discrete area to test your skills. Once you have developed a rhythm, move to other areas of the kitchen, and work carefully.
Tip #3
Use the fill putty stick more easily by warming it up in your hands, or briefly in a microwave. Work in smooth back-and-forth motions to fill small knicks.
Tip #4
Avoid paint accumulation from the paint or stain pen. Apply it to any scratches and wipe excess off so it blends in.
Tip #5
Download the Product Care & Maintenance Guide from the support page of the CliqStudios website for more help with adjustments.
---
As you can see, there's a lot that goes into kitchen cabinet installation and much more. The best way to succeed in any remodel is by checking and double-checking everything. That means double-checking your cabinet sizes, inventory from delivery, measurements and tools as you install, and levelness. It's easy to think you have the hang of it after some time, but always confirm first. In the end, your project will be better because of it.
To get started, Explore Cabinets now!