As a kitchen designer, I've been a part of many remodels. I know the intricacies of the design process and what it takes to bring a remodel from beginning to completion. But with as much experience as I've had, I've never before had the opportunity to eat, sleep and breathe a remodel!
Recently, I did just that. The kitchen I helped remodel was none other than the one I grew up in at my mom's house! This was so exciting for me! Not only was it gratifying to give her something she has wanted for a long time, but it was also rewarding for me to be hands-on, directly at the work site. That's surely something I don't get every day working online!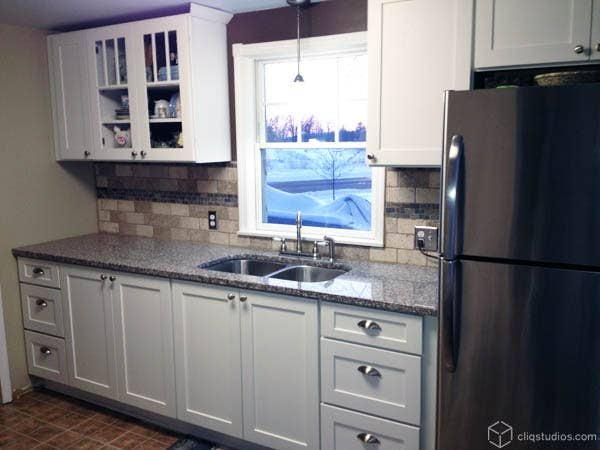 Working with Mom
As you can expect, I was very familiar with my mom's kitchen. I knew its strengths as well as its weaknesses, so I approached this project with a pretty good idea of what needed to be done. But my mom had her ideas too. I needed to make sure the new kitchen design fit her lifestyle. There were points during the process where I had to take off my "daughter" hat and put on my "designer" hat to make the right decisions for this project.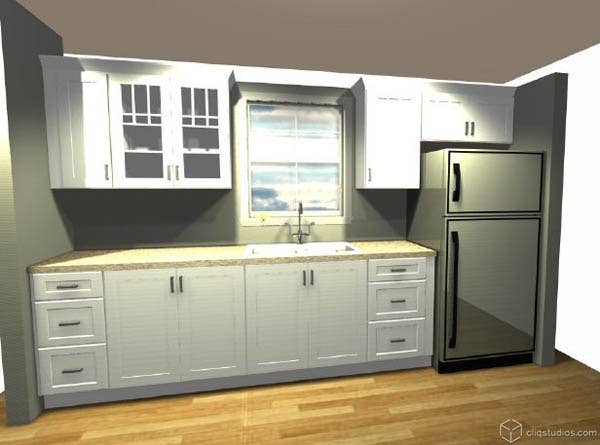 Project Goals
My mom's kitchen is pretty small, so it needed to be purposefully redesigned in order to get the maximum visual and functional impact. Looking back, we tackled this project hoping to achieve the following;
1. New kitchen cabinets.The original cabinets had been painted over many times and were beginning to fall apart.
2. Stay on budget. Keeping on budget is always important!
3. Function, function, function. With a small kitchen, every cabinet needs to be placed with a specific use in mind.
4. Better flow. The refrigerator wasn't in an ideal spot, and the range was free-standing. We knew we could make a few adjustments to make the space easier to work in.
5. Added style. Of course a cute, little colonial home needs a beautiful kitchen to match!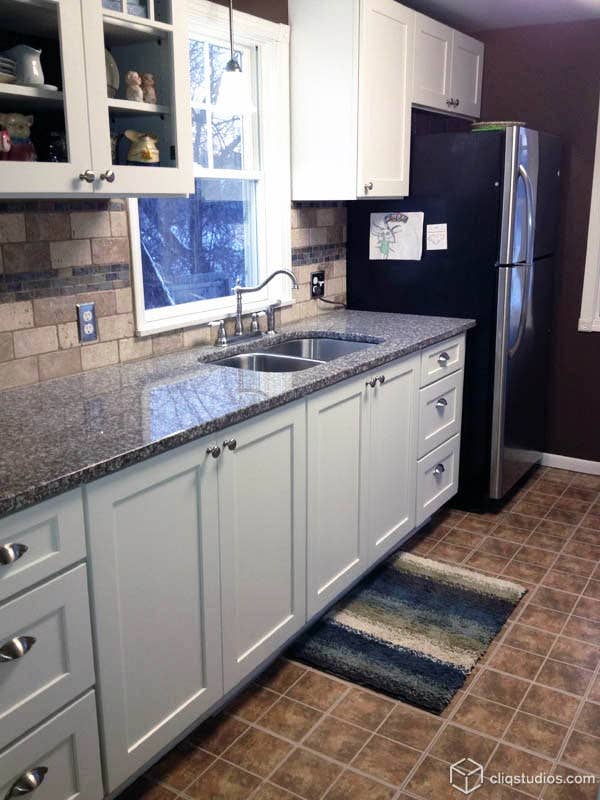 The New Design
It's safe to say the new kitchen is a huge improvement! Mom chose the Shaker cabinets in Painted White for a classic look to reflect the style of her home. We brought in detail with the mullion doors next to the sink and angle crown molding, which helped tie the space together. She had previously looked into cabinets from a competitor, but their prices were more than double. For the price point and the quality, CliqStudios really was a no-brainer for her.
In a small space, designing for how the space will be used is crucial. To address the need for function, we used roll-out trays in the base cabinets. Roll-out trays makes it much easier to access what's stored inside the cabinets. We also placed a wastebasket cabinet next to the stove to keep the trash bin out of sight.
Creating a better flow in the kitchen was pretty straight forward. In the original space, the refrigerator and the range were across from each other, making walkways and work areas easily blocked by open doors. We were able to move the refrigerator to the other side of the kitchen, so it wouldn't interfere with the doorway. We kept the range in the same spot. However, because it was free-standing, it was a little difficult to work on — not to mention somewhat of a risk. We remedied this by adding a short run of cabinets above the range and some much-need counter space next to it. This also created a much more finished look.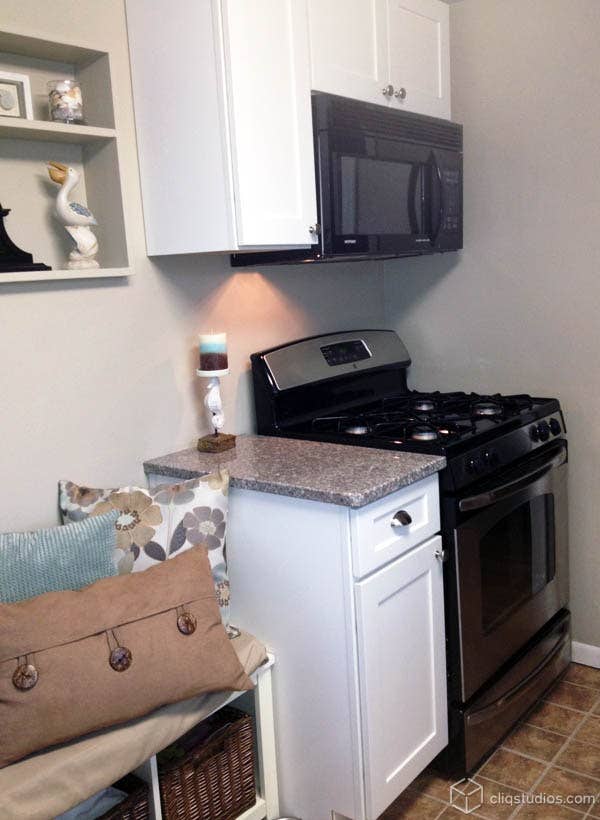 One Happy Customer
When my mom received the cabinets, she emailed me right away and said they were absolutely gorgeous. The kitchen transformation truly is fantastic. It was great to be a see a kitchen renovation from beginning to end, and I'm beyond happy I was able to help my mom with her new space!