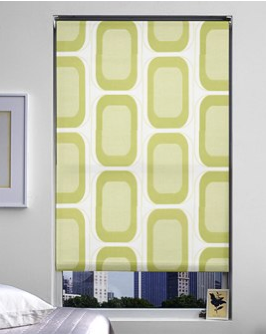 In a recent issue of People magazine, the Kitchen Cousins Anthony Carrino and John Colaneri listed a few of their favorite kitchen items. The New Jersey duo own a construction company that remodels East Coast homes featured on HGTV. Most of their projects involve major construction issues, but they have some suggestions for quickly updating your kitchen design. Bstylehome added the resources to find the materials for your update:
1. Add pattern by hanging "roller shades in fun textures and bold patterns."
This is a great tip to add color. That bright, almost neon yellow-green color is popular this season.
2. Change a ceramic back splash color
Instead of ripping out good tile, choose a color and paint over the ceramic for a completely new look. Explore more about CliqStudios backsplash ideas here
3. Add patterned plates to shelves
The cousins like to add patterned plates to shelves in the kitchen for another punch of pattern and color. Check out the seasonal isle at Target for brightly patterned ceramic or plastic plate options. Think about leaning them or hanging them in your open cupboards for some added visual interest.
4. Bold rug patterns
A bold rug can add much needed color or texture to a room. The Kitchen Cousins look for larger patterns to add scale to the room.
5. Add colorful counter top appliances.
Look for your favorite color to add that fun, personal element in your kitchen. For example, a coffee maker, bean grinder, toaster or just about any countertop appliance.
6. Feature accent pieces with bright color.
Adding color can be a quick and optional update if you are feeling tired of the neutral backgrounds at home. Even a bowl of fruit can bring cheer and life back to the heart of the home — our kitchen.