Why Plan a Remodel During the Summer?
When planning your remodel, you will be shopping for cabinets, hiring a contractor, and selecting appliances. And, you will want to develop a plan for a temporary kitchen during construction. If you time the project to take place during prime outdoor living weather, your patio and grill will greatly enhance your options.
Consider your budget—will you have to add a line item for restaurant meals? How long will you be able to eat out of a microwave before you crave a grilled hot dog or steak? You will appreciate a place to sit and eat that is out of the central construction zone. Are you going to be doing some of the work yourself? Then you'll want to be able to take a meal break without taking a shower.
Depending on your family's routine, there may be other benefits to a summer remodel. If you have school-age children, their schedules may be less demanding. The wedding and graduation event season is winding down, the long days make it easy to work outside when you need to. And, it will be easier to receive deliveries and store products in outdoor spaces.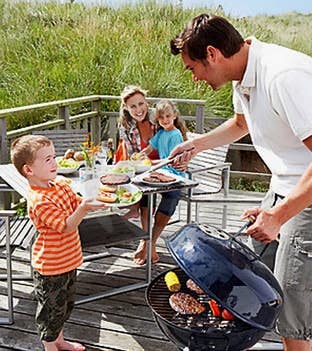 How to Plan for a Summer Remodel
Try to locate the refrigerator close to the grill area. This way you won't have to go into a construction zone just to grab dinner. You'll also need easy access to water, so consider setting up an inexpensive laundry tub nearby, fed by a hose. Your contractor may be able to plumb water to the tub for a few dollars. Have a stockpile of disposable tableware, plates and cups handy, along with several rolls of paper towels.
Plan ahead, and your kitchen remodel will be exciting and as stress-free as possible. To ensure you get the kitchen of your dreams, consult with a professional kitchen designer early in the process. Have fun!