You could lose yourself for a few hours watching "how to organize your home" videos. They can be quite hypnotic and calming, especially those where someone like Marie Kondo shows you how to fold a shirt or a fitted sheet. There's nothing quite like having a calm, organized house. Naturally, our focus is on the kitchen, especially cabinet drawer organization ideas.
Speaking of Marie Kondo, her KonMari Method is built around the minimalist idea that if an object doesn't "spark joy" within you, then you should release it into the world. If it's broken, either fix it or trash it. If it's fine but you just no longer love it, then you should sell it or donate it.
Overall, the method makes sense. But if you have a ton of utensils and stuff, you could spend days just holding items one-by-one and asking yourself if a spatula, wooden spoon or that coffee mug you got on a trip to Hoboken in the '90s makes you joyful enough to hang onto it.
So, once you've pared down and decluttered your kitchen cabinet drawers — keeping only the joyful items — how do you organize them? To help you get that well-organized kitchen feeling, we've gathered together a few ideas.
SMALL DRAWER ORGANIZERS
Knife Block Drawer Insert
If you cook or do any sort of food prep, sharp knives are invaluable tools. But keeping them stashed loose in a drawer can dull them pretty quickly. Keep your knives organized, sharp, and out of sight with the knife block drawer insert. The dividers in our inserts are made of 1/2″ solid hardwood with melamine veneer.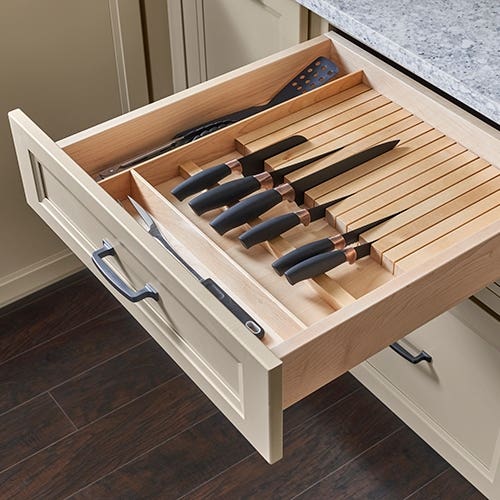 Tiered Storage Drawer Insert
It's like having a secret compartment in your kitchen drawer. The two-tiered insert doubles the storage surface of a single drawer box for silverware and utensils. The top tray glides independently on side-mounted steel slides, providing three-quarter access to the bottom tray.
Spice Drawer Insert
If you use a lot of herbs and spices in your cooking, this is one of the best kitchen cabinet organization ideas for you. This handy insert will keep those tiny jars from tumbling out of your cabinet when all you need is the dried basil. The spice drawer insert conveniently organizes everything you need into a dedicated drawer close to your cooking area. The tiered layout reduces clutter and makes each and every container easy to see and easy to reach.