This Tennessee home was well overdue for a functional and stylistic update. However, my client wanted to incorporate some of the vintage kitchen treasures she had acquired over the years. I think we did a great job of achieving all three goals.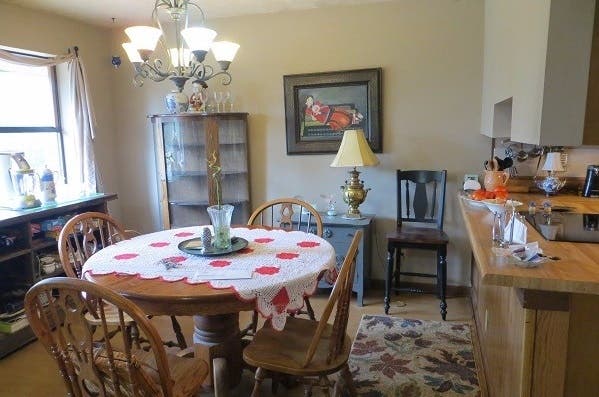 Opening the Space
A peek-a-boo peninsula separated the kitchen and living room in classic 1970's design. As a result, the layout was ineffective for communication and unattractive as a divider. We needed to open up and lighten up the space. Therefore, giving the space room to breathe without losing storage or countertop space.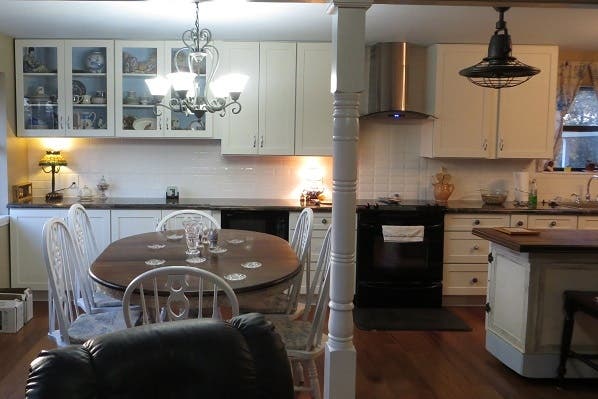 Shaker Cabinets
The new design unites the kitchen and dining areas with a long wall of white cabinets in a classic Shaker style. Installing a more decorative cabinet would have competed with the vintage decor. The simple Shaker cabinets provides a neutral backdrop for an eclectic assortment of elements. This includes the clients vintage ceiling fan and chandelier. Additionally, a bank of glass-door cabinets provides a neat and trim display space for china and dolls. Therefore, preserving the counter below for prep and serving. With the peninsula gone, the wide span of ceiling stands supported by a single turned post.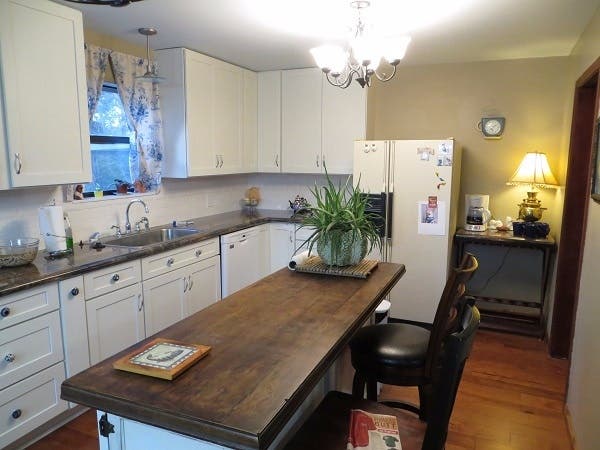 Updated Features
The new kitchen incorporates that must-have cabinet, a drawer base for pot and pan storage, and a pull-out spice cabinet and lazy Susan. A thick, solid hardwood slap countertop finishes off the island composed of a recycled glass-door display case. The dark tones of the island countertop are reflected in the granite countertop on the kitchen's perimeter.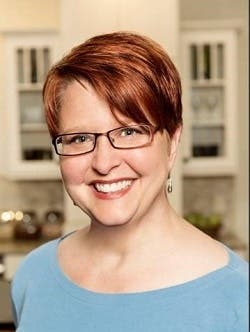 "One of the things I enjoy most about my work is helping each customer create a uniquely personalized space, one that works well and projects their personality." Kitchen Designer Rachel Brune
We will send you our style catalog – 60 pages of photos and information on cabinet styles, storage options, specialty cabinets and accessories, and a remodel planning guide. GET YOUR CATALOG »