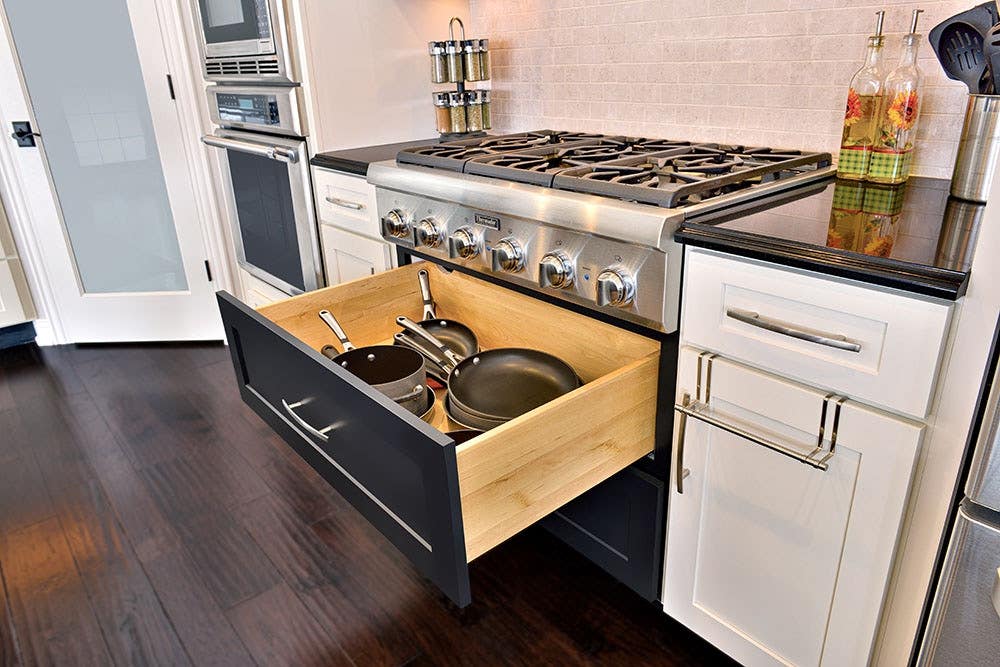 Everybody wants a modern home, but that can mean different things to different people. To some, the word 'modern' may mean clean and crisp lines with minimal decoration and subtle, neutral colors. While many other homeowners are looking for a slightly warmer, old-world feel with 'modern' amenities and functionality. No matter what your tastes, here are some ways to upgrade your kitchen for 2022.
1. LED Lights
LED lights were once a luxury for the rich and environmentally-conscious, but prices are rapidly descending. It's now possible to buy a standard LED light bulb for as low as $2! With longer lifespans and lower energy consumption, LED lights help you save on your utility bill while still keeping your home brightly illuminated.
2. Solar Panels
Kitchen appliances, like ovens and dishwashers, can be a huge contributor to your monthly electricity bill. Solar panels help your home generate its own power, thereby saving you money, and helping you feel better about your carbon footprint. Even if you cannot afford a full solar panel power system, it is possible to get a smaller one for small appliances and lighting systems.
3. Flood Sensors
A flood sensor helps you to detect leaks before they become a problem—perfect for placing under sinks, dishwashers, and in utility rooms. Even if you're not concerned about plumbing issues, a flood sensor is still a smart choice.
4. Small Appliances
A modern kitchen has the latest—if somewhat quirky—appliances and tools. Aside from creating the ultimate modern aesthetic, meal prep will become easier than ever before! You may want to consider new gadgets such as the Instant Pot digital pressure cooker that can make a pot roast in about an hour, The Sushi Bazooka that takes the hassle out of creating sushi rolls, or the Zera Food Recycler which turns food scraps into rich, dark, healthy compost in about 24 hours!
5. Essential Oil Diffuser
With modern research revealing the dangers of artificial room fresheners, essential oils have become the go-to method for keeping a pleasant-smelling home without sacrificing one's health. In fact, some essential oils are reported to have health benefits.
6. Houseplants
Greenhouses are something of an urban fantasy for those of us who adore fresh produce. But since not all of us have the space or resources for a full-blown greenhouse, consider investing in an indoor garden kit. You can't grow as much as a greenhouse can, but it can still help you eat healthier while looking lovely.
If you're tight on counter space, consider houseplants. Houseplants lend simple elegance to any space, while also purifying your air. Plus, many fragrant herbs grow well in sunny windowsills.
7. Clean Floors
Aside from considering new carpet or linoleum, you might not equate your floors with a modern home aesthetic. Full-on replacement can be nice, but quality maintenance is better—and more affordable. If you have pets or small children, it may be well worth the investment in a robot vacuum or mop for everyday sweeps. You'll still likely need to do a monthly or quarterly "deep clean" with good ol' elbow grease, but your robot army's daily efforts will give you a good head start.
8. Remote Controlled Window Shades
A modern home is full of natural light. However, opening and closing your shades every morning and evening can be inconvenient. This can be especially true if your windows are high to reach or behind a couch or other furniture. Today's remote control window shades can not only be activated by a push button similar to a light switch, but some can even be controlled via an app on your smart phone!
9. Cabinetry
Depending on their style and color, kitchen cabinets can easily age a home. Even if you upgrade to the latest black stainless steel appliances, they may even make your old cabinets look even more dated when sitting side-by-side.
Modern kitchen cabinets come in just about any style and color to match your tastes, whether that's sleek, modern and minimalist, or something more traditional. CliqStudios also offers many options take your kitchen organization to the next level with cabinet storage solutions. Our professional kitchen designers also understand the function and flow of today's kitchens, and will create a custom kitchen layout just for you!