CliqStudios' RTA cabinet line is expanding to fit a wider range of preferences. This quality built and ready-to-assemble line is now offering 5 new door styles in 6 finishes. You will find some of our most requested door styles, finishes, and even wood types, are now available and ready to order. Here's the complete list of new doors and finishes accessible to you now.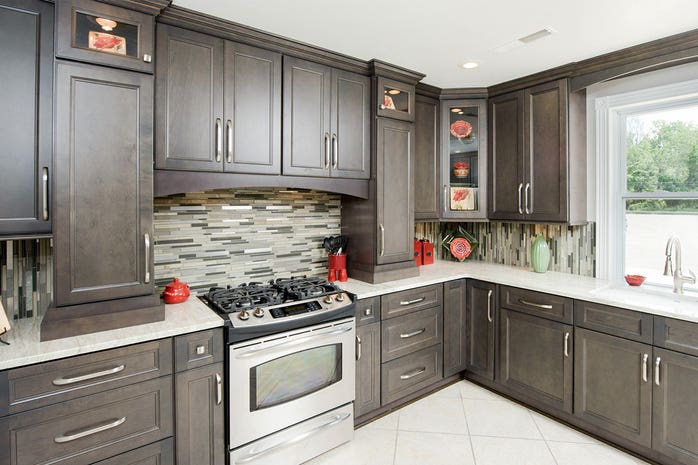 New Cabinet Door Styles & Finishes
Preston
Preston is a defined shaker cabinet with wider, chunky stiles. This door is versatile and will pair nicely with any transitional, modern, or eclectic space. It's the only door available in two painted finishes, Snow and Steel.
Afton
Afton is the only raised panel door style available in the RTA cabinet line. With sharp edges and defined features, this offers an updated take on traditional style. It has a matching 5-piece raised drawer front to really dress up any space and comes in Iris, a painted finish.
Franklin
Franklin is a decorative shaker door style with an angled molding inside the recessed panel. Including the line detail on the outer edge of the door creates an upscale or dressy look that doesn't come with other styles. This door comes in the Sterling stain.
Pioneer
Pioneer is a chunky shaker-style cabinet door with a slab drawer front. Coming only in Hickory wood with a natural stain, it provides an earthy feel which is great for any modern or rustic kitchen. This door comes in the Hickory stain.
Dawson
Dawson is a decorative shaker door style and matching 5-piece drawer with a graceful, beaded detail on the inner edge. This style is ideal for the craftsman-style home or a warm transitional kitchen. This door comes in the Taupe stain.
The Same Great Quality
High-quality cabinet features from the initial RTA line are standard with the new styles:
Standard Features
Soft-close under-mount stainless steel glides

Dovetail hardwood drawer box construction

Soft-close doors and drawers
Samples & Color Chips
Receive up to 2 free color chips or purchase a full-size door sample for just $45. There is no order limit on door samples.
Delivery & Warranty
The original 5-year limited warranty applies to all cabinets, and they remain assembled in the USA. All deliveries are shipped LTL (less than truckload) on pallets.
Ready-to-Assemble or Factory Built
Every cabinet style comes with the option to assemble it yourself, or, with a 15% upcharge, have them assembled for you. The RTA cabinet line offers quality combined with affordability. As with all the CliqStudios cabinet lines, this line offers a quality-built product that will be the perfect foundation for your kitchen.
Frequently Asked Questions (FAQs)
Can I use a different finish from the original RTA line on the new RTA door Styles?
No, the original finishes cannot be mixed with the newly released doors and finishes.
How is the finish applied on RTA cabinets?
All door finishes are hand-applied creating a strong and durable cabinet coating.
What is the lead time on RTA cabinets?
Lead times are always fluctuating. It's best to consult your designer for the most up-to-date timeline.
Can I purchase RTA cabinets and semi-custom cabinets in the same order?
Yes. During checkout the entire order will be paid for together, however, each line will be delivered separately.
Are RTA cabinets a good idea for a new DIY homeowner?
RTA cabinets are a large project to take on when you're new to DIY. If you don't have experience installing cabinets or a large tool collection, we recommend finding a reputable contractor to install your cabinets.
Does the RTA cabinet line have as many storage options as the semi-custom lines?
This cabinet line is more limited than the semi-custom lines. We recommend using this line if your cabinet accessory needs are not as vast as what other lines offer.
Can my designer give me tips on combining two different door styles?
Of course! Our designers love helping homeowners find exactly what they need to create their dream cabinet design.
Have more questions?
Explore more of what the RTA cabinet line has to offer you by scheduling a Complimentary Design Consultation now!