---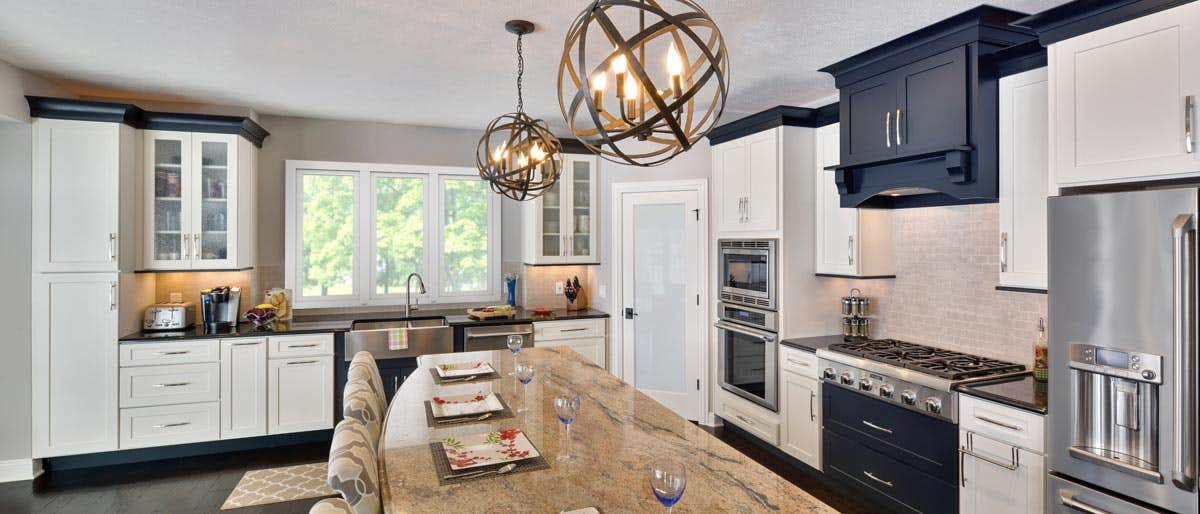 ---
3 Min. Read
Thinking about a wall oven for your kitchen remodel? It seems like every Instagram dream kitchen has a wall oven or oven-microwave combo. Even industry sales confirm that using separate appliances is a growing trend. So, should you include a wall oven in your new kitchen? Before making that decision, start by evaluating your kitchen, the way you use it, and your budget.
Does Your Kitchen Have Space for a Wall Oven?
Take into account whether or not your kitchen has enough space for a wall oven. Standard kitchen ranges are typically around 30" wide, but a wall oven of the same size needs a 33" wide cabinet. It's possible to get smaller wall ovens, but this could also impact your ability to cook larger dishes. Make sure you have enough space to accommodate a larger cabinet and flexibility to work it into the floor plan where it would make the most sense.
Can You Afford to Lose Counter Space?
The tall wall oven cabinet can be overbearing in small kitchens and will limits countertop space. If you're kitchen is still spacious and you're not lacking in countertop, go for it! However, in smaller kitchens, if you find your workspace is tighter than ever with a wall oven worked into the floor plan, it might be best to stick with a range.
Do You Have Landing Space for Hot Food?
Some kitchen designs fill an entire wall with an oven cabinet, refrigerator and tall pantry. If your oven is not next to a counter, be sure to identify a safe place to set hot foods. You don't want to carry a heavy roaster 4-5' to an island or cross a high-traffic walkway with a tray of cookies.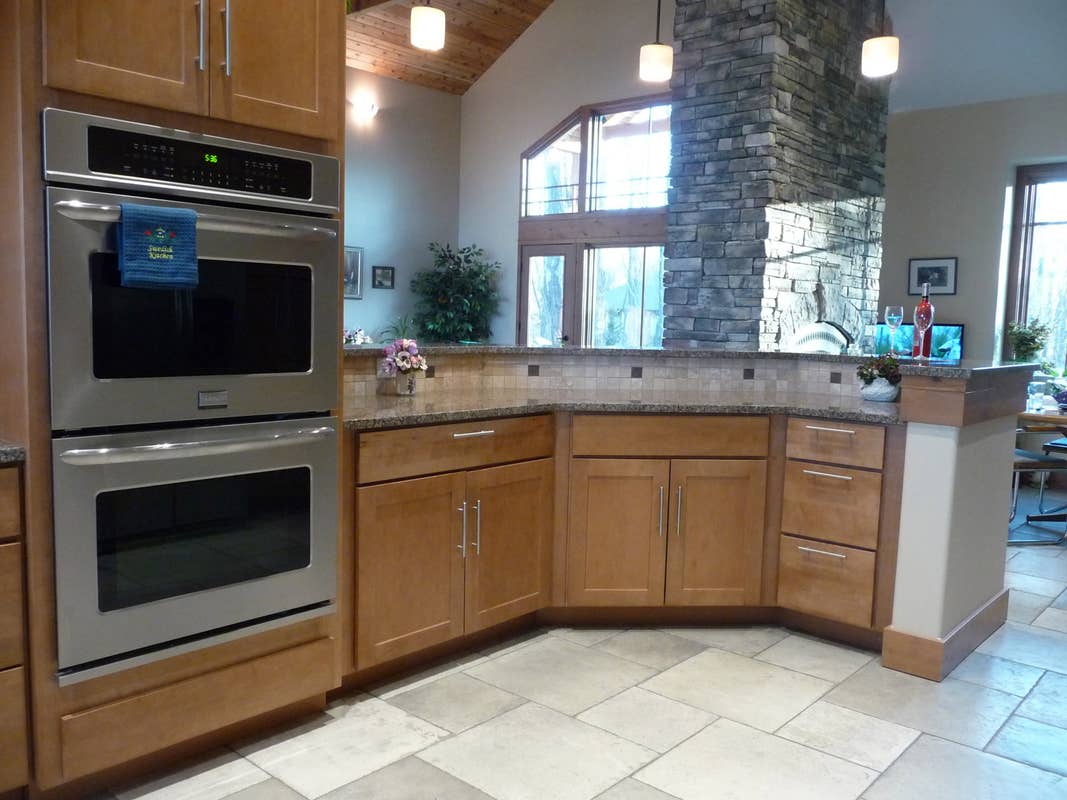 Is a Wall Oven Worth the Extra Money?
Separate cooktops and wall ovens will cost more than a range that combines both functions. Upgrade to a double wall oven or wall oven-microwave combo, and the price rises again. Depending on your cooking style and other goals, the extra money may be well worth it. If your budget is tight, but you want a second oven, a double oven range may provide the extra function you really need.
Why Do You Want a Double Oven?
If you enjoy entertaining, have multiple cooks in the kitchen, or need several ovens for your gourmet explorations, it may be a near requirement. Is it primarily for holiday meals twice a year? Are you trying to get teens (who will move on in a few years) out of your cooking space? If it will be a challenge to incorporate the wall oven into your plan, your designer may suggest another way to handle occasional or short-term needs.
Who Is Installing the Cabinets and Appliances?
Wall oven additions will involve on-site customization. It can be one of the trickiest installations in your kitchen and it's not for the average do-it-yourselfer. The cabinet opening will have to be customized to the appliance and the cabinet reinforced to support the appliance. Our wall oven cabinet has that reinforcement built in. There are also gas and electrical hook-ups to think about (and pay for). This may be one place in your project to hire skilled help rather than risk ruining a cabinet.
When to Discuss Wall Ovens With Your Designer?
Since the first requirement for a wall oven is space, you need to discuss it with an experienced professional at the very beginning of your remodel planning. Not only will the pro help you determine whether your layout will handle a wall oven, but whether it's the best option for your situation.
CliqStudios kitchen designers average 10 years of experience in the field. They are true kitchen experts, and there is no charge and no obligation for their services.
Ready to get started? Schedule a Complimentary Design Consultation today!
Frequently Asked Questions
Are wall ovens still popular?
Yes, wall ovens are still relevant and quite popular as well. They are available from many manufacturers and add value to homes that have the space for them. To discuss the basics of design and wall ovens, as well as the available options in the market, talk to your CliqStudios designer.
Which is the best wall oven to buy?
There are multitudes of wall oven model options that are available on the market, from many assorted brands. From KitchenAid to Frigidaire, there are several reliable brands that manufacture beautiful and high-quality wall ovens. If you need help choosing a brand, model, or which will look best with your kitchen design, talk to your designer.
Do wall ovens need a vent?
No, modern wall ovens are designed with an internal vent. This vent allows steam to be released at the bottom of the oven itself along with a quiet fan to help dissipate it quickly. The heat is directly transferred through the device, so there is no need for a separate vent to be installed.