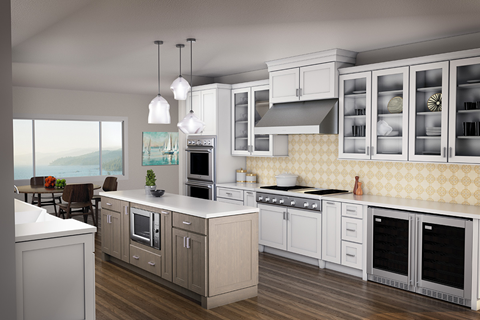 Kitchen Remodeling
Undertaking a kitchen renovation can be intimidating. There are numerous factors to consider from the initial kitchen design to project completion like choosing the layout, kitchen cabinets, and finishes. At CliqStudios, our team of designers works 1-on-1 with clients to make sure everything runs smoothly and that the finished product is exactly what was requested. They provide a free 3D walkthrough of the design they create just for you, offer a price match guarantee, and assist with every decision made during the remodeling process.
Fresh & Inspiring Looks
Often when clients choose to commit to a full kitchen remodel, they're seeking a fresh look to mix things up. When we spend an extended period in the same place, such as a kitchen, it can start to feel dull and uninspiring. To spice up your space and find a renewed sense of excitement about your kitchen, check out these modern kitchen remodel ideas.
Explore even more possibilities with a CliqStudios kitchen designer today!
Modern Kitchen Remodel Ideas
There are many aspects of a kitchen remodel that kitchen designers can play with to express the style and add a modern touch to the space. The chosen design elements will determine the modern kitchen remodel cost. Here are a few ideas to help add unique flair while maximizing the space in your kitchen.
Play with Pops of Color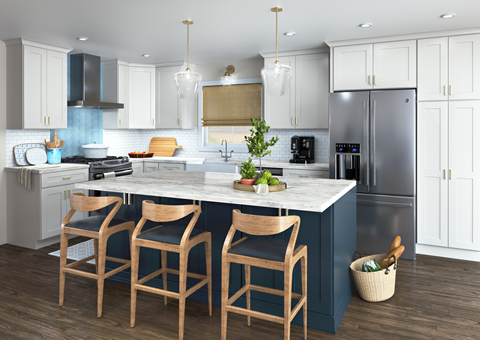 A fresh coat of paint in a fun color can really transform any space. The same is true in a kitchen renovation, especially when the client has chosen to go for a modern style throughout the design. Both light and dark color palettes can create a modern look and will be incredibly popular throughout the entirety of 2022. Lighter shades of paint such as pale blues, nature-inspired greens, and light grays are trending, particularly when paired with gold finishes such as sink faucets and cabinet hardware. Cabinet knobs or pulls are usually complimentary in a design such as this.
Conversely, bold colors in darker hues are trending in modern kitchens. This isn't exclusive solely to wall color and can be more of an accent in the kitchen design like the kitchen island or a walk-in pantry. Another way to draw more attention is to install darker colored countertops such as black marble on the kitchen island. No matter which end of the color spectrum you're more drawn to, adding pops of color throughout the kitchen creates contrast and a dynamic design.
Discover Color Selections with a Kitchen Designer!
Smart Storage Solutions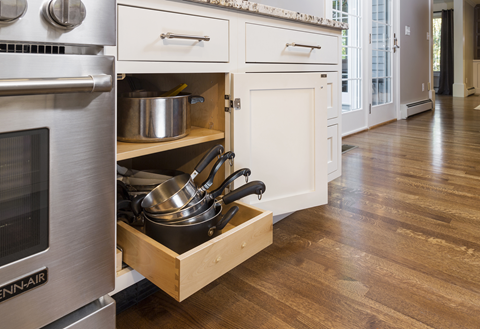 Ample storage space is key in any kitchen design, but especially in a modern kitchen renovation. The modern style is known for its sleek and minimal look, but it can be hindered by the presence of clutter such as cooking utensils, pots, and pans. Trending storage solutions this year include things such as butler's pantries, walk-in pantries, kitchen islands with built-in shelves, and much more. Other than these large storage solutions, smaller items such as built-in shelving within kitchen drawers will also be seen in kitchens across the globe this year. This type of cabinet is ideal for storing items such as cooking spices and other dried goods. Pot and pan dividers are also trending, and typically installed in base cabinets which keeps them out of the way when not in use making them easily accessible to the homeowners.
Additional storage in the form of transparent bins is also immensely popular and has been for several years now. These clear storage bins are perfect for organizing anything from snacks to cereal, pasta noodles, and rice. It rids the cabinets of excessive clutter and makes items much easier to organize and find when they're needed. These are a very affordable storage solutions and won't hinder the overall modern kitchen remodel cost by much.
Explore Storage Solutions Now!
Built-In Coffee Bar
Most people wake up with one thing in mind, a freshly brewed cup of coffee to energize them for the day. Whether their go-to coffee-making method is drip, coffee pods, french press, etc., a built-in coffee bar is a wonderful modern kitchen remodel idea. Instead of equipment taking up prime countertop space, these items can be tucked away and kept out of sight until they're needed in the morning or afternoon. There are many design possibilities depending on your preferences in both design and coffee prep. From the coffee machine to ceramic coffee mugs, espresso cups, flavored syrups, milk frothers, blenders, and whatever else is needed to craft that perfect morning cup of joe. Some people are even going as far as to request that appliance cabinets or pantries be added into the kitchen design, complete with electrical outlets so the appliances, like coffee machines, aren't visible.
Additionally, if you prefer to have your coffee essentials easy to access, you could install custom shelving. The finish of the shelving can go one of two ways, subtle or bold. One option is to have the shelves painted to match the kitchen backsplash or kitchen cabinets, or to keep the natural wood finish. On the other hand, you can let the designer play with color and finish the shelves a complementary shade to the kitchen cabinets.
Explore Coffee Bar Designs with a Designer!
Custom Range Hoods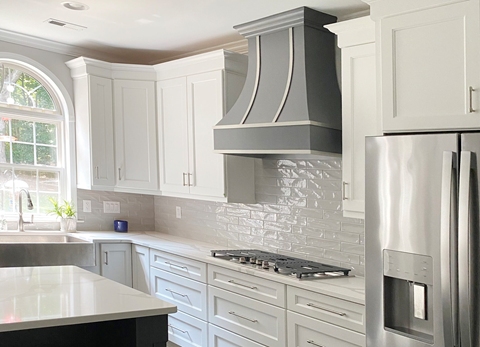 Both a useful and aesthetically pleasing modern kitchen remodel idea is to use a custom range hood. There are multiple styles of range hoods to choose from including arched, sloped, angled, curved, tapered, and box. The most common materials used to craft these range hoods are metals such as steel and brass, and high-quality wood. A range hood's purpose is to clear out lingering odors, smoke, or grease that can accumulate while cooking. Plus, professionally installed range hoods make the clean-up process after cooking much easier since grease was removed from the air.
Custom range hoods are a wonderful way to add a sophisticated focal point to a modern kitchen design. CliqStudios has a wide range of hood styles, finishes, and embellishments to choose from when creating your custom range hood. They are completely unique to your order and design. Embellishment options include strapping in the following materials: wood, steel, and brass. One of our talented kitchen designers is happy to work 1-on-1 with you to determine the best style, options, and finish to fit your overall design and preferences.
Create Your Custom Hood with a Designer Today!
Personalized Appliances
Appliances are a key component of any beautiful kitchen and add personal style to any modern kitchen renovation. Depending on the client's preferences, the finishes can be subtly chic or glitzy and bold. Try a customizable line from Samsung, called Bespoke. This line offers unique colors and interchangeable appliance panels that instantly transform the entire kitchen without forcing commitment to a specific color scheme long-term. From glossy white and rose gold, to matte black, navy blue, and grey glass panels, there is something to fit everyone's unique style and taste.
Multi-Purpose Spaces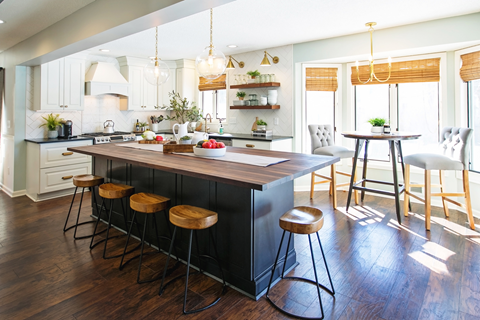 Over the past few years, especially due to worldwide changes, multi-purpose spaces have become a trend. Kitchens are a great space to incorporate multi-functional design choices. This will make your home more efficient and effective. More and more people are working from their homes, cooking home-made meals, and kids are transitioning to online schooling. Multi-purpose kitchens have become the catch-all for these various activities. To accommodate all of this change, a few elements are crucial to include in a modern kitchen design, including a large kitchen island, a walk-in pantry, extra seating, and large refrigerator.
Kitchen islands can be used as a prep area for cooking your favorite dishes, space for kids' homework after school, and a spacious place to run meetings from the comfort of your home. If you choose a marble countertop or go with bold colors, it will become a fabulous focal point of your home. Additionally, walk-in pantries are perfect for storing dry goods needed to make mouth-watering recipes and can even act as a hide and seek spot for the kids. Extra seating is a must and easily accomplished without adding clutter to the space by adding pull-up bar stools. Lastly, large refrigerators are needed to store leftovers and perishable foods. Families that love to gather and spend time breaking bread will benefit from this necessity.
Contact an Expert Designer Today!
Mixing Metal Finishes
It can be difficult to choose a metal finish, but why settle for just one? In fact, the concept of mixed metals started trending in recent years and will be a big trend throughout modern kitchens in 2022. This is a particularly fun modern kitchen remodel idea because it allows the homeowner and kitchen designer to play around with different finishes. This can include the faucet, cabinet pulls and knobs, as well as light fixtures. From matte black and brass to rose gold, nickel, and brushed gold, there are numerous finish options to mix and match that will create the perfect look for anyone.
For instance, if you're really drawn to stainless steel appliances, mix things up by adding matte black finishes for the kitchen faucet, light fixtures, and cabinet hardware. On the opposite end of the spectrum, if you love the look of matte black appliances, either brass or brushed nickel finishes for drawer pulls, cabinet knobs, faucets, and light fixtures will add dimension and trendy modern touches to the space.
Get Design Advice Today!
Funky Tile Backsplash
One of the easiest ways to make a bold statement in a modern kitchen is to choose a backsplash that adds a pop of color or features a cool pattern. This creates a powerful accent if the rest of the kitchen design is very minimal and features mostly neutral colors such as bright whites and deep black shades. Green subway tiles, a bold pattern from floor to ceiling behind the stovetop and range hood, herringbone with colored grout, and mosaic tiles in a range of blue shades are all beautiful backsplash options to make a significant impact in a neutral space.
Get Design Advice Today!
Unique Lighting
Playing around with lighting choices has a similar effect to backsplashes in a modern kitchen. This adds flare and unique touches to an otherwise minimalist design. From lighting above the stovetop, to sconces and chic pendants above the kitchen island, there are so many opportunities with this design element in a modern kitchen.
If your style is glam, add a large chandelier above the island. Not only will it add great lighting to your space, but it also becomes the centerpiece and catches the eye. Linear lighting is another stunning modern kitchen remodel idea. It the sleek and modern interior design aesthetic, while simultaneously adding dimension and drawing the eye across the room as well. Depending on the options available, either matte black or brushed gold linear lighting would pair beautifully with a modern kitchen layout. This is an excellent choice for someone who prefers a more minimal look. For a bohemian touch to a modern space, choose lighting fixtures with texture to accomplish this style. One example of this is rattan pendants, which will add a cozy glow to the room.
Get Designer Assistance on Kitchen Finishes!
Spacious Pantries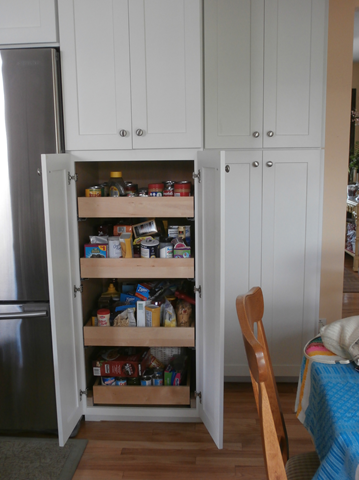 One larger trending kitchen remodel cost is a roomy pantry with lots of storage space for dry goods. This kind of improvement is incredibly versatile and can accommodate larger kitchen items such as small appliances that may not be used on a daily basis. This can include items such as an air fryer or a large mixer for baking. There are numerous types of organizational tools that can be used to make the most out of this large open space such as clear bins and storage solutions like lazy susans and spice racks that attach to the back of the door.
There are of course several ways to style a large, walk-in pantry as well. The best practice is to continue the styling choices of the kitchen into the pantry. In the case of a modern kitchen layout with minimal styling, clear storage containers are a great option. On the other hand, if textured and bohemian touches are sprinkled throughout the renovated kitchen, then those same selections can be brought into the pantry in the form of rattan storage bins or pops of color as well.
Start Your Walk-In Pantry Design Today!
CliqStudios Modern Kitchen Remodel Projects
Since our company began 10 years ago, CliqStudios designers have overseen over 30,000 remodeling projects to completion. Regardless of the interior design style, how many items are on the wish list, or what budget they have to work with, CliqStudios' kitchen designers are extremely prepared and happy to assist in creating a beautiful and functional space for everyone. From contemporary to farmhouse and everything in between, the CliqStudios design team will bring any vision to life.
Sleek and Sophisticated One-Room Challenge
One wonderful example of a well-executed kitchen remodel is one that was done for a CliqStudios client named Mary. Mary's home was built back in 1901 and the home only spanned 850 square feet. This posed a great challenge, but CliqStudios designers combatted it head-on with innovative and unique ideas. Instead of focusing their efforts on altering the actual layout of the kitchen, Mary along with Kevin her designer chose to put all of their efforts into brightening the space with bright white cabinets, a white marble backsplash, sleek brass cabinet hardware that gave the space a high-end look and feel, as well as shiny black appliances. Mary really wanted an open concept that was bright and featured clean, contemporary lines throughout the design. These design elements truly brought the home into this century and created a modern and airy space for Mary to enjoy. This kitchen renovation project took approximately 6 weeks to complete and resulted in an incredibly happy client with a much more open, usable space.
Explore Mary's Kitchen Remodel Here!
Coastal Kitchen with Blue and White Island
This next project was completed alongside the talented team of Nicole and Mike, the people behind The House That Social Media Made. The CliqStudios team had the privilege of working with them to transform a rundown, dated house into a peaceful nautical escape. They went for a white coastal style with a pop of blue on the kitchen island. Sleek stainless-steel appliances were installed alongside white shaker cabinets to create a sophisticated, clean look throughout the kitchen while the pop of blue in the island kept the nautical theme intact, adding a whimsical feel to the space. In fact, Nicole and Mike actually had their followers decide on the kitchen island accent color, and blue won by a landslide complimenting the nautical tile and overall kitchen design perfectly. Speaking of the kitchen island, the color isn't the only remarkable thing about the design. Mike wanted to add ample storage to this space and did so by crafting open shelving and drawer storage into the piece. These shelves are great for highlighting decorative cookbooks and special items. More storage was added throughout the kitchen, including a pull-out trash cabinet, as well as tray dividers for storing baking sheets and muffin pans.
Check Out The House That Social Media Made!
Industrial and Spacious Farmhouse Kitchen
Another wonderful example of what can be accomplished with CliqStudios experts is the beautiful industrial farmhouse kitchen renovation. Pay special attention to every detail of this design because this spacious layout has everything a homeowner could want. This remodel has a wine refrigerator to chill their favorite bottles at the perfect temperature, a large kitchen island with bar stool seating to accommodate 6 guests, a commercial-sized refrigerator and a cooktop, plus an oven built right into the kitchen island. The color palette consisting of light grey and white shades created an incredibly cozy and aesthetically pleasing space that has sprinkled in farmhouse design elements. The layout itself is an open concept. It leads right into the main dining room and is incredibly spacious with generous storage and countertop space throughout the room. This kitchen also features a large window seat that stretches along the entirety of the wall opposite the kitchen island. The window seat's base is made from cabinets, so there is additional storage space underneath each seat within the bench.
Explore the Industrial Farmhouse Kitchen Now!
Frequently Asked Questions
What will be the quality of material used in our kitchen remodeling?
At CliqStudios, we pride ourselves on offering the best quality kitchen cabinets to our clients. No matter which line or style of kitchen cabinets you choose for your
kitchen remodeling
project, you can be sure that you are getting the best of the best when you work with CliqStudios. Some of the most common materials used in our cabinets include plywood construction, hardwood dovetail drawer boxes, and long-lasting soft close drawer glides. Plus, prior to placing your order with CliqStudios, you have the option of ordering cabinet samples to see what the color and feel of the kitchen cabinets are before you commit to a style and shade for your new kitchen remodel. Additionally, one of our
CliqStudios designers
will provide you with a personalized, complimentary kitchen design that will cover the layout, cabinet recommendation, and styling, which you will approve before moving forward in the process.
How much time will it take to complete kitchen remodeling?
The total time needed to create and install your dream kitchen design and complete the remodeling process will be completely unique to your project. The size of kitchen, client requests and changes, cabinets chosen (including customizations), and the budget will all affect the timeline of your renovation. The CliqStudios designer you're working with on the kitchen remodel will be able to give you a more educated time estimate on your renovation given the specific details of your design and budget. If you have any questions, feel free to contact your specific designer or speak with a member of our
customer support team
who would be happy to assist you.
Will Cliqstudios team help in choosing the best kitchen designs?
Of course! When you decide to work with CliqStudios, you are paired with an extremely talented and experienced kitchen designer. They will take you step-by-step through the entire remodeling process and assist you in choosing all the details from kitchen cabinets to countertops and cabinet hardware. Anything you need or questions you may have along the way can be answered by your personal CliqStudios kitchen designer. Your designer will also provide you with a free kitchen design and 3D walkthrough of the space they design for you which will include all the design elements you add to your wish list. Ready to get started? Get your
free kitchen design
from the CliqStudios design team!
Does Cliqstudios offer customer support after kitchen remodeling is completed?
Yes, the CliqStudios customer support team is happy to help answer any questions during any part of the kitchen design and remodeling process. If you find that extra support is needed following the completion of your kitchen renovation, then the same applies. The customer support team is here to help, whether it is requesting a claim, reporting any issues, or just answering a simple question. If you need assistance,
contact our team
through phone or email.