Search out the dark spaces in your kitchen. None, you say? How about that corner base carousel? Does the counter-top task lighting stop short of the corner, leaving a shadow in the back? In new construction, remodeling, or updating of a kitchen, careful attention to task and access lighting will generally provide high value for a modest investment. Below are some suggestions on how and where to brighten up your space.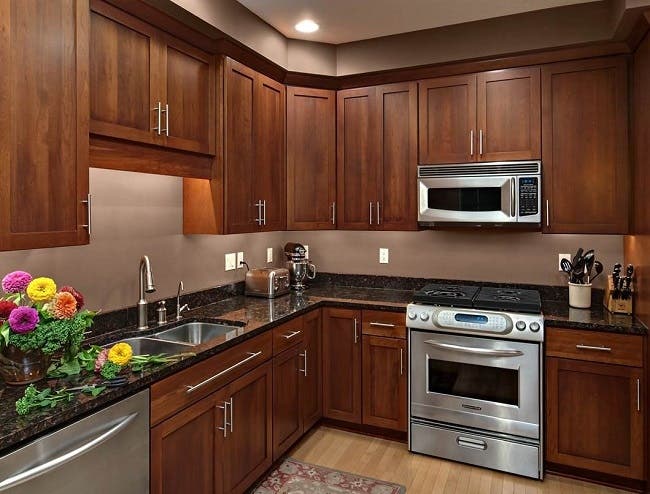 Dimmer Switches Mean Dual-Duty
Add a dimmer switch to your under-cabinet lights or island pendant. You'll gain a warm, inviting ambient glow for dining or evening hours.
Direct Counter Lights Toward the Wall
Under-cabinet or track spots are a great way to illuminate counter-top work spaces. But, the glare can be irritating to those seated nearby. Position the track at the front of the cabinet facing back toward the wall. It will give you better coverage and prevent glare. Conceal under-cabinet lights with molding for a finished look. If the counter-top surface is shiny, use frosted lights to reduce glare. A black counter-top may require a higher luminosity solution.
Light Toekicks and Under-Counter Spaces
A string of peel-and-stick low-voltage lights under the island counter edge or toekick will call attention to beautiful cabinetry.
Light the Interior of Your Pantry and Corner Base Cabinet
Shadows live in pantries and corners, making it difficult to find what you need. The solution? Low-voltage bulbs above the shelves, along the back or around the perimeter of the door. Incorporate a door-jamb switch or a motion sensor and timer so they come on automatically when you open the door and turn off when you are done. You don't need experience in wiring—there are good battery-operated solutions systems. Read how, for less than $4, Kelly added interior lights to her pantry.
Flexible Track Lighting Offers a Host of Opportunities
Need light where there is no fixture? Need to soften up an angular space? Curved track lighting is the answer. Try combining spots and pendants on a single track for a unique effect.
Research Your Options
According to Research Institute in Cooking and Kitchen Intelligence (RICKI), the #1 homeowner interest in kitchen technologies is light-emitting diode (LED) bulbs. LEDs are the latest thing, but other options to consider include halogen, xenon, and compact fluorescent. Under-cabinet and cabinet interior lights come in peel-and-stick strips, bars, pucks and mini-tracks. They provide a range of warm to cool colors, and as much as 90% of energy may be lost in heat. Visit a lighting specialty store or research each option online before buying. This article from Better Homes and Gardens provides a good overview.
Read more CliqStudios lighting solutions!
What is the best lighting solution you have seen? Do you have a problem area you need help with? Share with our readers by commenting on this article.