When planning to remodel your kitchen, it's important to consider many factors. Some are obvious, such as updating appliances to ones with modern appearance and greater energy efficiency. Other factors may be less obvious to those not in the industry, such as appliance placement to maximize utility and traffic flow.
You can rest assured that when you work with a professional CliqStudios kitchen designer, all the straight-forward and esoteric consideration will be looked after. Our designers are experts at maximizing even the smallest areas while utilizing "quirky" spaces and angles to create the most efficient kitchen possible.
As you're preparing for your remodeling project, here are three potential mistakes to avoid when envisioning your new kitchen.
Open Shelving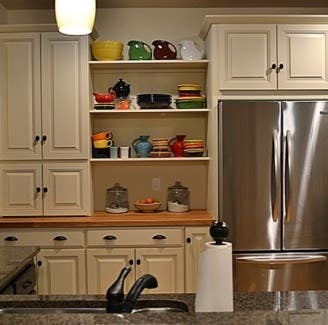 There are many current trendsetters that will recommend open shelving, which look much like a bookshelf. This may lend a space modern, casual, or even "industrial" appearance. However, caution should be taken to not over-do the use of open shelves.
These exposed shelves do a great job of showing off collectibles and valuable antiques. However, they quickly fall short when you simply need a space to hide your pots, pans, lids, tools, utensils, and all the other things that enable you to actually cook in your kitchen.
Your best bet is to use open shelves sparingly and with purpose. Know why, where, and how you're going to use them, and stick with doors and drawers for the rest. That will help to make your kitchen look tidy, keep dust at bay, and hide any messy areas.
Low-Hanging Uppers
One very common mistake is hanging upper or wall cabinets too low. Make sure you have plenty of space in between your counters and upper cabinets to prep and cook meals. Get your tape measure and look at any appliances that you plan to keep on the counter. When you open up your coffee pot, how much room does the lid need when you fill it with water? Will you have enough room to tip the pitcher into the pot?
Hanging cabinets too low can also leave an unsightly gap at the top. This space between the cabinets is usually only successful in catching dust bunnies. Instead, consider extending your cabinets all the way to the ceiling for a truly custom look. Many CliqStudios customers choose to add small glass-front cabinets. These make the whole room feel taller, and add lots of additional storage space.
Color for the Ages
Kitchens are very busy places. It's the place where we cook, where many of us dine, and where everyone seems to congregate at a party. There are so many competing colors and patterns that add to the visual noise in kitchens. Appliances, food packaging, dinnerware designs, and let's not forget the kid's latest artwork prominently displayed on the family art gallery space, aka your fridge.
When deciding on kitchen cabinet colors, think simple, think harmony, and think long term.
Whether you're choosing to go with a darker hue, a lighter, or neutral shade cabinets, stick to that same color palette when planning the rest of your kitchen design. When the majority of your accessories come from the same color family, the room will come together and feel unified. Then, when you're ready to add (or change!) how colorful your kitchen is, consider a few key pieces and what will make them "pop" against your existing colors. A couple new stools, rug, window treatments, or even cabinet drawer and door pulls in complimentary or contrasting colors can dramatically alter the overall feeling of your kitchen!