Great kitchen organization isn't always about how many storage accessories you can pack in. It's about well thought out, careful planning to make sure the pull-outs you do have solve problems and are in locations that make sense. It's also about making use of space that would otherwise go unused. If you're ready to utilize your kitchen in a way you never thought possible, check out these smart tips on how to organize your kitchen.
Tip #1: Use Storage Accessories
Start by making a list of the pull-outs and dividers you would like in your kitchen. After you've done that, number them from highest priority to least. Once you have a floor plan, you can incorporate the kitchen cabinet organizers you want most and try to work in the rest. Think about the accessories that will bring the biggest impact, like a super sink base, to help you stay more organized. Whether it's a corner lazy susan, tray dividers for your cookie sheets, or peg drawers for plates and bowls, it's worth it.
Tip #2: Stay Mindful of Work Zones
This may sound contradictory: you can have all the organizers in the world, but if they aren't near the related work zone, they're merely accessories. To be more productive in the kitchen and save time cooking, place a tray divider cabinet near your oven or a knife block near your food prep area. You can partner with a designer to plan out what type of organization you need and where, and the best part? Design is complimentary.
Tip #3: Take Advantage of Extra Space
A lot of hidden space can go unused in a kitchen, but with a little creativity, you can take advantage of it. Rather than using regular chairs in a dining room nook, build in a custom bench with drawers or a flip-up top. This is a perfect place to store items for entertaining like serving dishes, or seasonal kitchen décor. If you have extra space in your island, add some open shelves for storing away cookbooks. Lastly, with spacious dining rooms or breakfast nooks, build in a buffet, beverage bar, or custom hutch.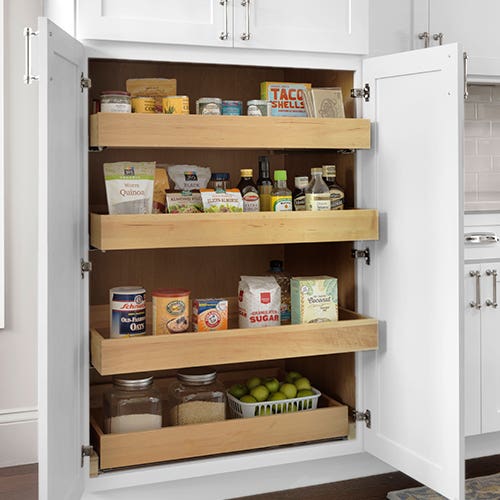 When remodeling, use every inch you have with a purpose. Since you have access to professional kitchen designers at no cost, use their expertise so you can get the most for your money. When all the dust settles, you won't regret it.
Schedule your Complimentary Design Consultation now!