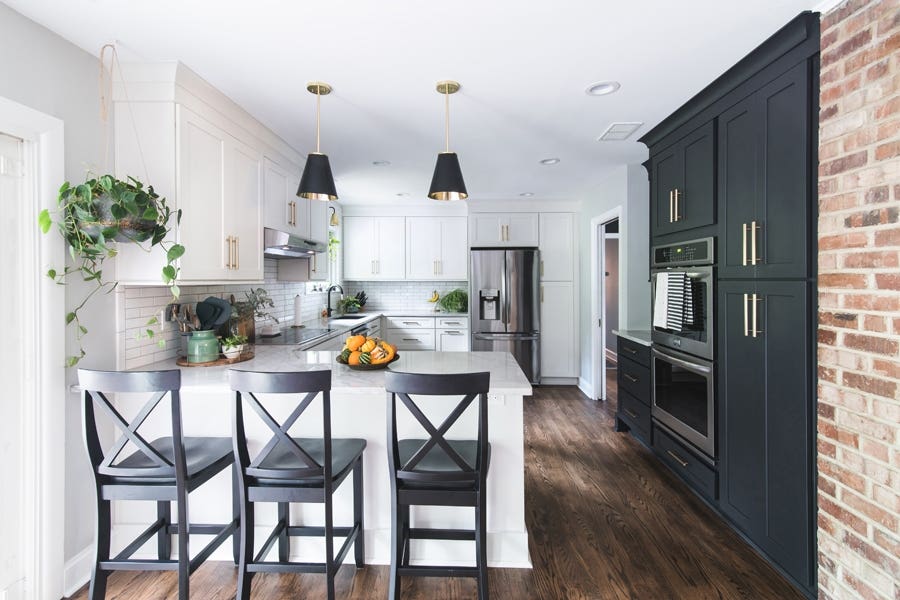 Not sure how to decide between a kitchen peninsula and an island? Both have their advantages, but it all comes down to space and flow in the kitchen design. Here are some things to consider to help you decide:
1. Are you short on space?
If you are, then consider a peninsula to add storage, display, and possibly bar seating. This is one of the most effective ways to add functionality in a small area.
2. Too tight for a permanent peninsula?
Try a moving or retractable surface for prep and eating. Design a surface that can roll away during kitchen prep or pull out when you need extra seating. This allows for surface space when you need it, and room for something else when you don't.
3. Have room for either a peninsula or a free standing table?
Consider a movable peninsula (see pictured). A revolutionary idea, CliqStudios designed a movable peninsula for an apartment that didn't have space for both a table and a peninsula. The apartment had an incredible view and the owners wanted to take advantage of it for dining. The peninsula slides out from the other kitchen cabinets for more prep space and provides seating for two to four people.
4. Have lots of space?
If this is the case, then always opt for an island. Why? Because it gives the chef room to roam and a gallery for spectators. Our favorite kitchen designs are open to the family or living room with a convertible table or island for gatherings. Build it in permanently or as a furniture piece, these islands or farm tables become well-loved and well-used over the life of the home.
To learn more about how to choose a peninsula or island, visit our pages: