Is your cabinet hardware an afterthought? Don't let it be — here are some tips to ask yourself the right questions for selection of the finishing touch for the heart of your home.
Sample Your Hardware
Right now, Rachel and I are designing four kitchens. Each one also has it's own style and feel. Every one of them needs a different hardware to complete the look. The best tip we can give you is to order a sample and look at it next to your kitchen cabinets. Scale is everything when choosing hardware. However, if the hardware is too small it looks less expensive or even worse, it makes doors and drawers more difficult to open.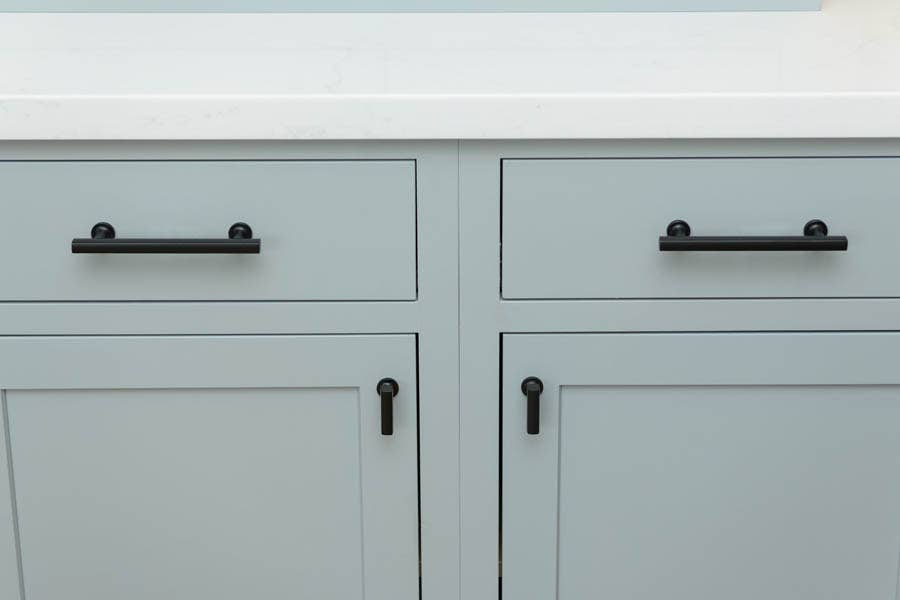 Determine Your Style
Don't be afraid to oversize your hardware for a more modern and industrial look. These are the two most important style trends in kitchens right now. Remember, you will be touching this hardware every single day. Therefore, it is important to try it out in your hand. Hold it up to the cabinet and see if it makes sense with the size of doors and drawers.
Here's what we've selected for each kitchen:
1) Industrial: Mix and Match
We've chosen Rejuvenation Hardware's Bevel Edge Bin Pulls for our drawers, as well as their Mission D Drawer Pulls with Backplate for the outer cabinets. We decided to mix another style onto the island with the Square Bin Pull on the drawers, all in Brushed Nickel. Mixing hardware styles gives the kitchen more of a "found look."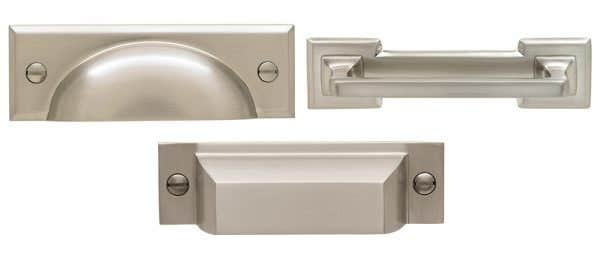 2) Rustic: Artisan
In our Zen Contemporary kitchen, we chose the Old World Collection in the rust finish from Atlas Hardware. This finish is unique and gives our contemporary kitchen an artisanal feel. The pulls are rustic and industrial looking so we stay on trend.
3) Traditional: Furniture Pulls
Our third kitchen is very traditional with modern touches to feel updated. We have chosen Hafele's Hampton Collection in the pewter finish. Our custom cabinetry is so refined that we need a detailed pull that looks like it could be featured on fine furniture.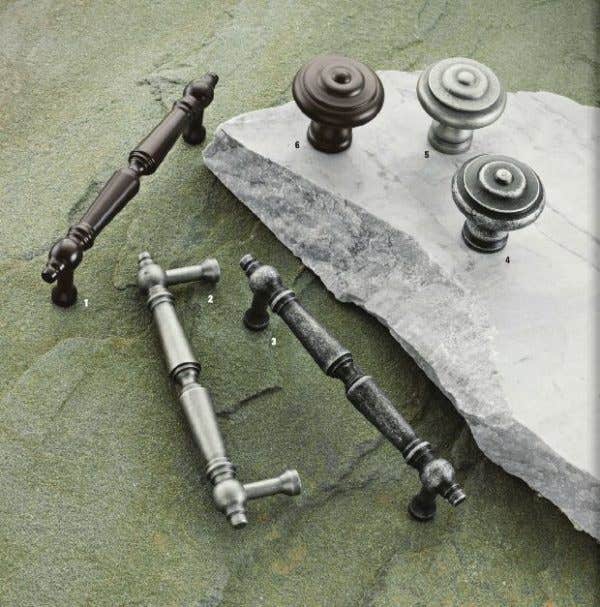 4) Modern: No Cabinet Pulls
Our fourth kitchen is so super modern it has no pulls at all. Each of the cabinets is routed out on the edge where the pull would be. The entire kitchen is black and white with glossy finishes to complete the super modern look.
Appliance Pulls First
If you are concealing your appliances behind custom panels, it is important to consider your appliance pulls first because there are only select cabinet hardware lines that carry matching appliance pulls. These pulls have a lot more heft to them and come in longer sizes. In the case of our Zen Contemporary kitchen design, we are using appliance pulls as the pantry door pulls because of the larger door size.
Fine Finishes
With our kitchen designs, we were looking for specific finishes to enhance the look of the hardware. Most hardware has chrome and brushed nickel types of finishes, but we also wanted some more rustic options and some that were more luxurious. We found them and more, and as the hardware is installed this week, we are excited to see the finished results!