One of the industry's leading publications, Kitchen & Bath Design News, recently wrote about kitchen cabinet trends they're starting this year. We are seeing many of these same trends at CliqStudios, and we'd like to highlight a few of our favorites.
–Once viewed as trendy, gray has grown solid legs. It has expanded its reach with new shades ranging from deep charcoal to gray-toned browns and everything in between.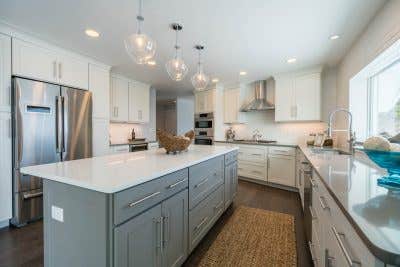 Featured Finish
We're seeing more and more of our customers choose gray cabinetry. Lighter gray cabinets can have the same timeless appeal as the more traditional white finishes. If you are lucky enough to have a kitchen with big windows and lots of natural light, all-white cabinets may make the space too bright and antiseptic. A painted finish with a slightly darker hue will bring a touch of neutral warmth to such a space. Moreover, it won't leave you searching for your sunglasses.
One striking color that was relatively recently added to our offering is what we call "Studio Gray." It's a shade of gray that's not too dark and not too light. Our Studio Gray painted finish has become a very popular color choice on kitchen islands, where it can still act as a prominent design element in spaces where all-gray cabinetry would create a space that's too dark.
–Tight-grained species like maple and cherry continue to dominate, though oak and hickory have been trending more for their ability to lend interesting textural notes to the space.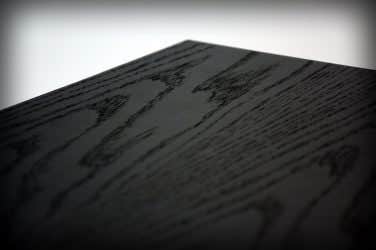 Gorgeous Grain
Oak has been a staple in cabinetry and carpentry since before records were kept! Long prized for its strength and beautiful grain, the appeal of oak furniture is timeless. We are, however, happy to say that long gone are the days of "honey oak" cabinets, which dominated kitchen design for many, many years. Today's homeowners still want the gorgeous grain that only oak offers, but they demand something fun, new, and exciting.
If you're looking for a bold choice in oak, look no further! "dark wood stain" is a finish available exclusively on CliqStudios Slab modern slab door cabinets. Appearing almost completely black at first glance, and only reveals its rich wooden texture when admired up close. The oak grain that catches light, and sparkles almost like sending a wink to those in the know.
––What's inside the box continues to play a key role with structured interiors highlighting customizable, accessible storage.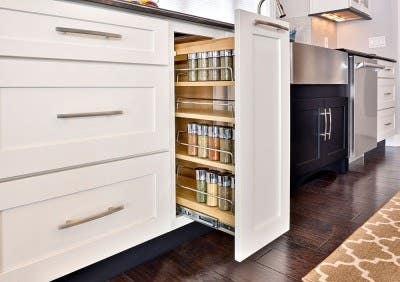 Specialty Storage
Even though many have called us innovators of the cabinet industry, we're always thinking inside the box. In fact, we start with what the box is made of! As a result, our cabinet box construction is second to none. In fact, we've heard from countless contractors and installers that our craftsmanship goes toe-to-toe with the best fully custom cabinetry.
We're also proud to offer an extensive of storage options that go "in the box." With dozens of specialty cabinet variations, CliqStudios customers enjoy various and innovative storage options. One such popular option is the pull-out spice rack that has more than enough room for all those flavor-packed little jars. Another unique option is the tip-out sink tray, which stores all of your brushes, sponges, and scrubbies, but hides them neatly away in the little space between the sink and front of the cabinet.