From suits to furnishings, if you're going for classic elegance, blue paired with crisp white is a smart and sophisticated look. But is a blue and white kitchen right for your home? While white kitchens are still the overwhelming choice for most homeowners, you can go bolder. That doesn't mean you have to fill your kitchen with dark wall and base cabinets. Two-tone kitchen designs have been and continue to be popular alternatives. A recent HGTV article even recommends different shades of blue, further upping the trend ante.
Mixing Dark and Light
The amount of natural and artificial lighting you have will play a part as well. When incorporating darker cabinet colors, be sure to choose backsplashes, countertops and walls in lighter or neutral colors for balance. Lighter colors will influence how dark a blue kitchen would feel.
If choosing a darker cabinet color seems like too much of a commitment, try highlighting a single piece such as an island or pantry wall cabinet.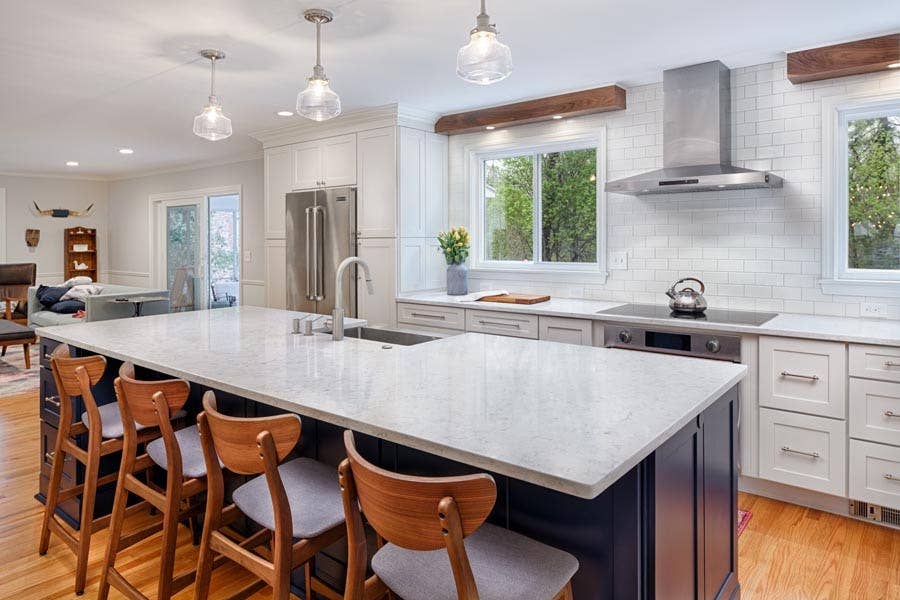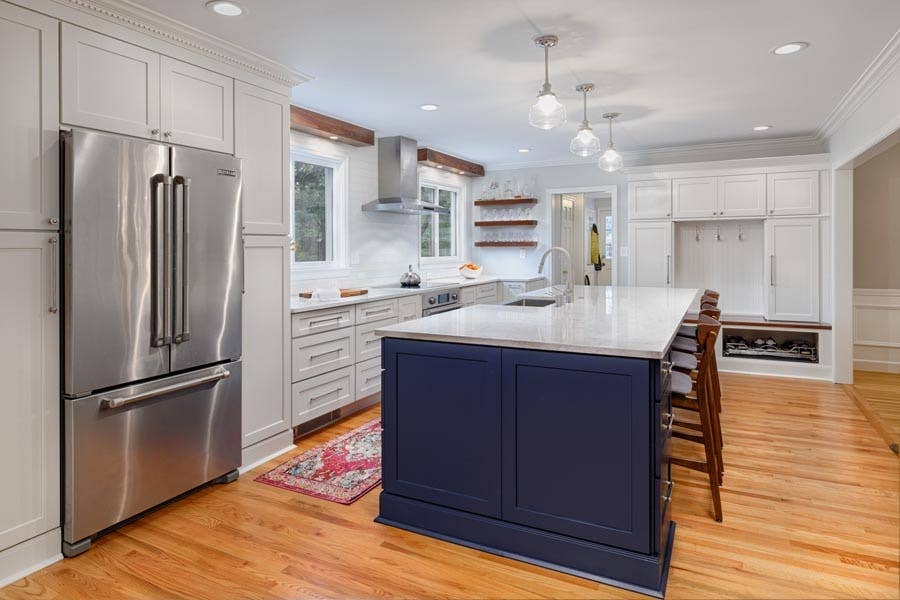 Highlight an Island or Peninsula
In this update to a 1970s kitchen, the homeowners opened up the space choosing white cabinets and countertops, and a large island in blue. Since the design incorporated fewer upper cabinets, the island provided an opportunity for additional storage of items not used every day.
Another renovation of a cramped and dark kitchen featured a peninsula and beverage center. Both utilized blue base cabinets with white wall cabinets to further lighten the space.
To be sure, trends like two-tone kitchen designs come and go. Blue cabinets, however, can make a beautiful statement, but they're not for everyone and might not work in every situation. Will they work for your kitchen? You be the judge. If you need assistance, reach out to one of our kitchen designers. They can help you explore the design options that work best for your unique situation.