The Kitchen at Center Stage
Konstantin, Yuliya and their children are what he describes as 'kitchen abusers'. The kitchen is the most lived-in room in their house; the place they spend 80% of their waking hours and cook three meals a day. So when they purchased a home, the low-quality oak cabinets (new) were a disappointment. It was 12 years before they could justify remodeling. The new kitchen would have the same basic layout. However, they needed a designer's help with a solution for the awkward desk and pantry wall.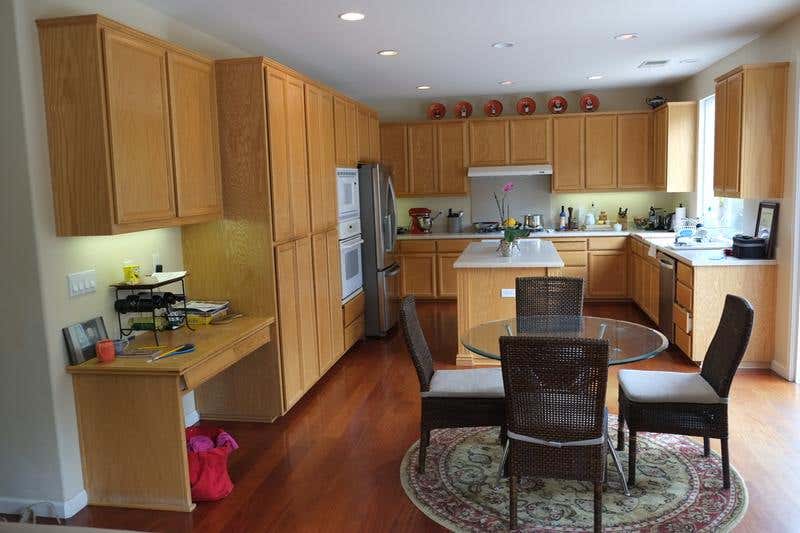 Finding the Right Design Service
Konstantin described his frustration working with local designers. "We spent a year – that's ridiculous – finding a kitchen design." They began by taking their photos and measurements to a local studio. The studio's estimate would replace the existing cabinets with new – at a cost of $40,000, without glass doors or any other specialty features. The couple then tried Ikea, Home Depot and Lowes. None offered a design with any improvements on the current kitchen layout.
Disappointed and nearly ready to shelve the project, Konstantin and Yuliya decided to give CliqStudios' free online design service a try. "I had my doubts," said Konstantin, "but working with the remote designer was very easy; right away we came up with our dream kitchen design. After a little back-and-forth, it was final." He describes the finished kitchen as "absolutely amazing."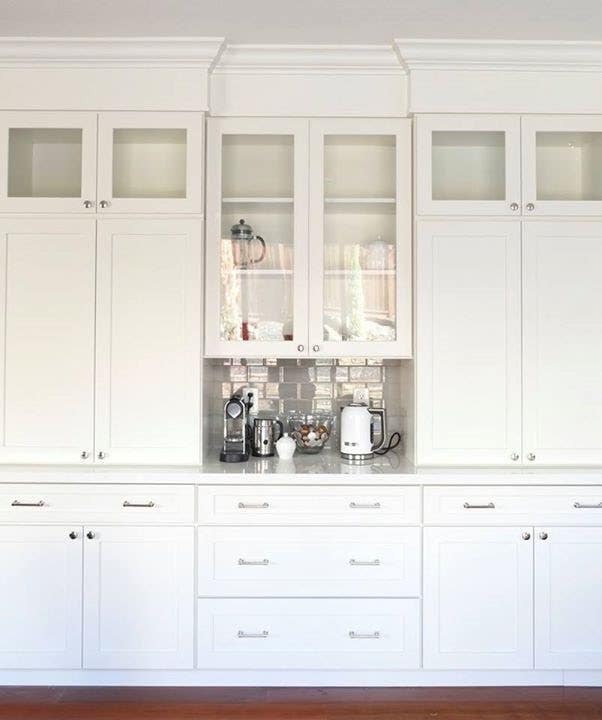 Working With the Space
Firstly, a beautiful built-in buffet stands in place of the awkward desk and pantry previously there. The buffet is complete with Euro-style countertop cabinets, glass doors and a coffee station. Classic Shaker cabinets are elegantly finished with broad, ceiling-height crown molding throughout the space. Specialty cabinets – corner lazy Susans, a pull-out trash bin, and Konstantin's favorites – roll-out trays and deep drawer bases – optimize functionality.
The total cabinet cost? $15,326.79. Konstantin commented, "At a local shop we would have paid twice what we paid at CliqStudios, without getting any of the extras, like glass doors and Euro-style [countertop] cabinets." He added, "I didn't expect the quality to be this good. Everything is plywood construction and solid wood, no MDF!" The order was delivered in four weeks as promised, with no delays and in perfect condition.
Aware of the impact details have on the look and life span of a kitchen, the couple shopped carefully but did not skimp on quality when selecting finishing materials. Industrial-luxe stainless Harmon Pendant lights and Lugarno cabinet hardware from Restoration Hardware, quartz countertops (Ariel by Silestone) and Lucente Morning Fog backsplash tile will deliver years of stylish service.
CliqStudios designer Angela Nguyen gives Konstantin and Yuliya much of the credit for the beautiful result. "I believe design is a collaborative process, so it was a delight to work with customers who are so involved from start to finish and understand the importance of details such as crown molding. The buffet was essentially his inspiration. Since CliqStudios cabinets are semi-custom, it was easy to modify them to create the custom design and high-style look."
Read Konstantin's review here and see more photos of this industrial luxe kitchen.