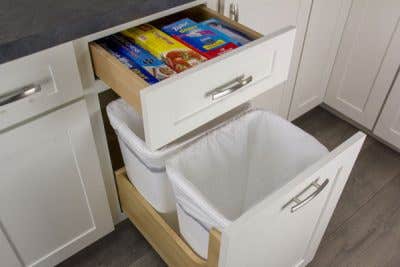 We surveyed our kitchen designers to find out which specialty or storage cabinet they feel should be in every kitchen. What they said? As pros with tens of thousands of projects under their collective belt, they agreed: the must-have specialty cabinet is:
The Pull-Out Trash Cabinet!
Several of the designers surveyed, felt the 18-inch pull-out trash can and recycling center is so important. They recommend it in every kitchen, including those being built on tight budgets. Primary reasons cited:
There is rarely a good place near the kitchen work zone and out of traffic for one trash can. Moreover, a separate wastebasket and recycling bin.
A free-standing garbage can full of food scraps is an invitation to pets and toddlers. It creates a major mess when tipped over and may contain dangerous materials. For example, sharp can lids, bones, choking hazards, glass, raw meat and spoiled food.
Furthermore, even the most elegant and expensive trash can is still a garbage can, not a work of art.
Runners Up?
The designers consider a two- or three-drawer base so essential they didn't mention it as a specialty cabinet. If it is included, however, it would take first place. Other than that, the pull-out garbage and recycle bins had no close competition. The designers' nice-to-have category included, the Super Lazy Susan and the tall pantry cabinet with pull-out shelves.
Trust your designer
Our kitchen designers have literally tens of thousands of kitchens under their collective belt. And they take pride in helping our customers avoid common problems and create beautiful, functional kitchens. If you are planning a remodel, please feel free to contact our Design Studio at 888-350-1242 and request a consultation. We are sure you will be glad you worked with a pro.