It is common for a customer to send us a kitchen layout with a small but significant error. In a corner where a door, drawer or appliance will not open freely, big problems arise. When building a kitchen with this problem, correcting it is often impossible. Furthermore, you may end up having to tear out the new cabinets and countertop and start over.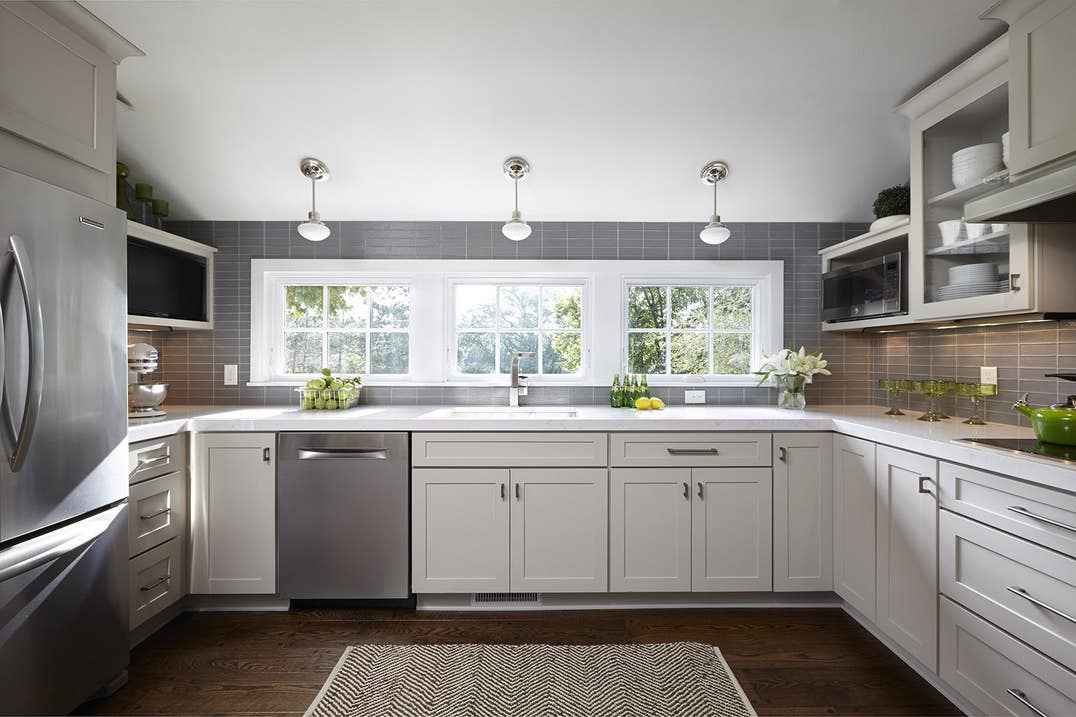 Inside Corners
Typically this issue arises in a corner or where a cabinet or appliance is next to a wall. In watching for obstructions, a designer considers not only cabinets, but the style of cabinet hardware and appliance specifications. The U-shaped kitchen above has two inside corners – at each, there is the risk of obstruction, made greater by projecting cabinet hardware.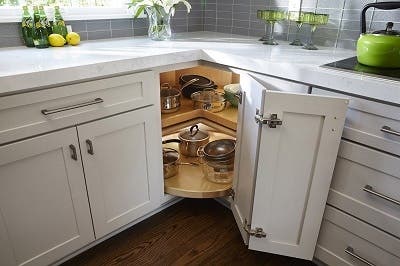 In the corner near the cooktop, we used a corner storage solution, the lazy Susan cabinet with a bifold door. Note that our Super Susan cabinet has no center post, so large items fit easily on the rotating trays.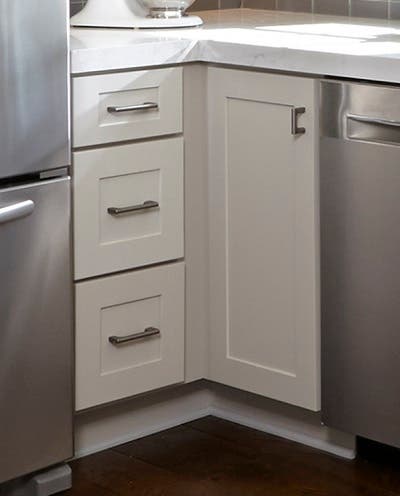 The corner near the refrigerator presented a challenge. Inside of the corner, the floor rises to accommodate the basement stairway, eliminating the lazy Susan as an option. So we used two base cabinets. A spacer between the drawer base and the corner provides clearance for drawers to open without obstruction. On the right, a door-only cabinet with roll-out trays eliminates the need for a second spacer.
Don't Forget About Appliance Clearance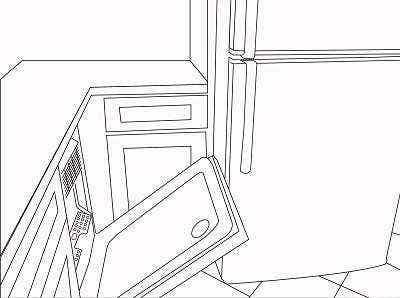 Refrigerators can vary as much as four inches in depth from one model to another, and dishwashers and ovens vary in the clearance needed to open a door. Your designer will need the exact models and measurements of your appliances to visualize all movement in the kitchen and ensure you don't run into a problem like the one in the sketch above.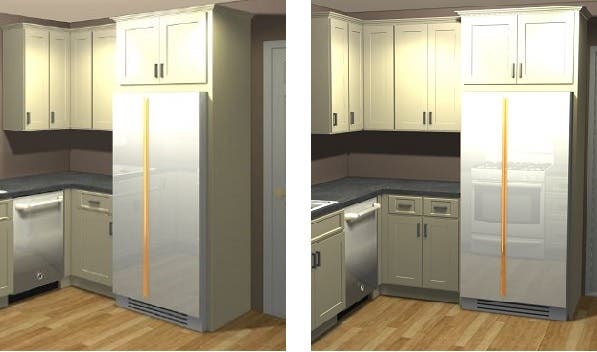 The design on the left failed to take into account cabinet clearance required by the over-sized door on the tall dishwasher. Luckily, the error was caught before cabinets were built. An easy fix, corrected by moving the refrigerator to the right and using a wider cabinet in the corner.
Let Us Review Your Kitchen Design – No Charge
If you have a design – one you've drawn or received from a studio or cabinet retailer – and you would like it reviewed, please send it to our design studio at designteam@cliqstudios.com or call 888-350-1242. One of our pros will examine it for errors and missed opportunities. Our design service is always free, with no obligation to buy. We just want you to get the best kitchen possible.