4 Min. Read
Does the thought of pairing wood finishes make you cringe? This is something that causes a lot of confusion and disappointment for many homeowners. Coordinating wood finishes to create a cohesive kitchen remodel, or any other space for that matter, is an art form. To prevent any post remodel regrets, here are some invaluable tips to help you put together a kitchen that any designer would applaud.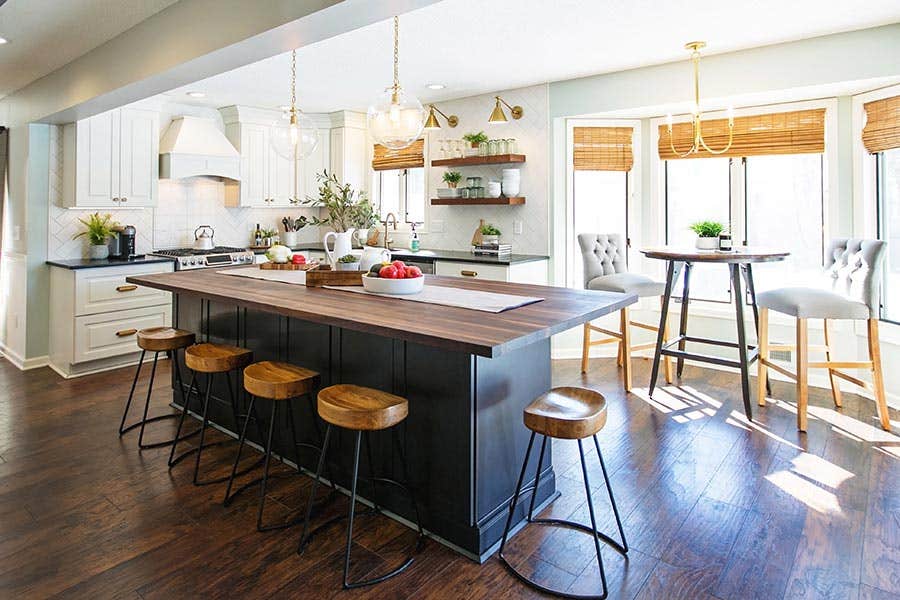 Check the Undertones
When deciding on the wood tones for your kitchen, one way to make sure they will go together is by looking at the undertones. Light wood tones or gray stains are considered cool colors. And red and rich brown stains are considered warm. In most cases, it's best not to mix the two because if not done right, the space can feel overwhelming.
Bring Your Samples
Any seasoned home improver will know that when it's time to make product selections, always bring your samples. No matter if it's paint, flooring, or tile samples, they will help you choose kitchen colors that coordinate with the existing color scheme. Online photos are never accurate, so CliqStudios offers every customer 2 free samples to help you start pairing like a professional.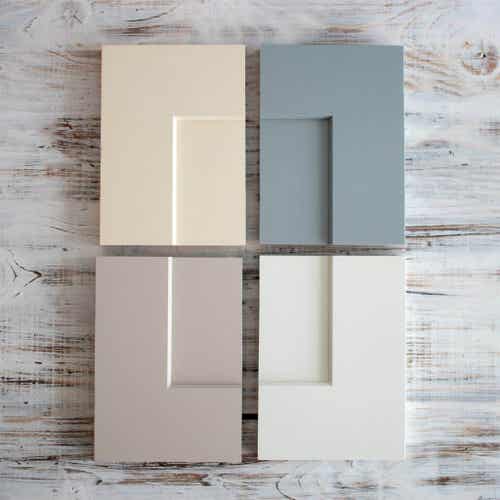 Wood Grain: Choose a Variation
Depending on the style of your kitchen, try to use a variation of wood grain patterns. Selecting too much cabinetry and flooring in the same grain style will start to look bland. It's okay to focus more on one than the other, for instance, cabins tend to have a lot of large grain patterns. And vice versa, clean and elegant designs tend to have more small and minimal grain patterns. Try mixing multiple grains and your space will feel more dynamic, balanced, and welcoming.
Pick the Focal Point
Like typical color schemes are based on a few colors, you need to select one main tone to create a foundation for the design. Whether you're doing two wood stains for your cabinetry or pairing one wood finish with wood flooring, something needs to be the star of the show. Select one large piece of the room for the main wood tone like an island or the main wall of cabinetry, then base everything else off that.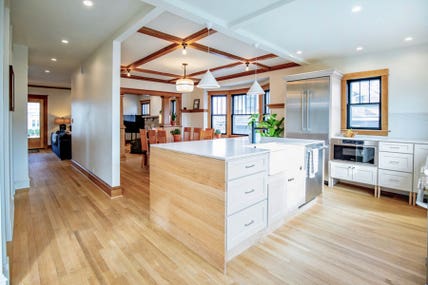 Carry the Tones Throughout
For continuity's sake, every wood tone you choose for the kitchen should be balanced by using the same finish somewhere else at least once. This will tie the room's design together and make your selections appear more purposeful. When a wood finish or color is only used once, it looks like a mistake. Get creative by accessorizing with matching vases, or pillows on your eat-in bench.
Mix in Different Finishes
When you feel like wood is starting to get overwhelming, switch up your materials. Add in complementary metal finishes, glass, mirror, or acrylic to create more interest. These could take the form of metal bar stools, a mirrored buffet table, or acrylic chandeliers. Don't be afraid to mix in other materials, just remember to compliment the surrounding undertones.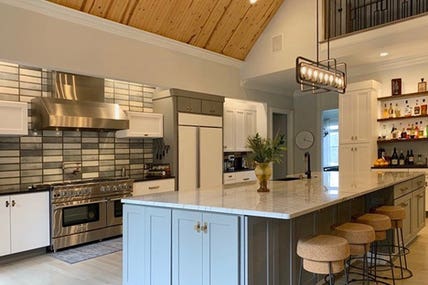 Integrate Fabrics
Colorful fabric has a way of setting the right atmosphere. It can soften or bring much-needed vibrance into a design. Much like adding metal or glass, this material can help kitchens in desperate need of transitions. With so much wood going on, a vibrant or warm drapery over the sink window, or a nice table runner can do a lot to pull your selections together.
---
These are a few great tips to help you pair wood finishes in your kitchen remodel but remember, don't go overboard. Any space can quickly become hard to look at if there are more than 2-3 wood finishes and grains going on. Start slow and work your way towards mixing and matching. The result will be a more stylish, designer kitchen than you ever dreamed of.
Want help with your design? Book a Complimentary Design Consultation now!