You've been considering a full kitchen remodel for some time now. You've pinned all sorts of photos to your Dream Kitchen Pinterest board, and you've liked even more photos on Instagram. (Thank you, Kitchens of Instagram for all those jaw-dropping designer kitchen photos.) But what about the cost of a kitchen remodel? Can you afford all the items you've envisioned for the heart of your home? If you're ready to move forward, now's the time to sit down and plan how to achieve a budget-friendly kitchen remodel.
Your kitchen is most likely the central gathering place for your family, the place where most of the action happens on a daily basis. But think about everything else that converges in your kitchen. Major appliances and the electricity or gas they need to function. Plumbing for your sink and dishwasher. Cabinets and drawers for pantry items, dishes, glassware, utensils, pots and pans. Places for trash and recycling bins.
Now, think about the reasons why you want to remodel your kitchen – what's your motivation? What are your goals? Write them down and share them with everyone in your household. Consider the space you have. Will all the things you want fit? What is necessary and what is a luxury you can do without? Make no mistake, a kitchen remodel is a big expense, but one you'll likely do only once if you plan to spend 10-15 years in once place. However, depending on your needs and by shopping around, you can make your kitchen remodel budget a manageable one.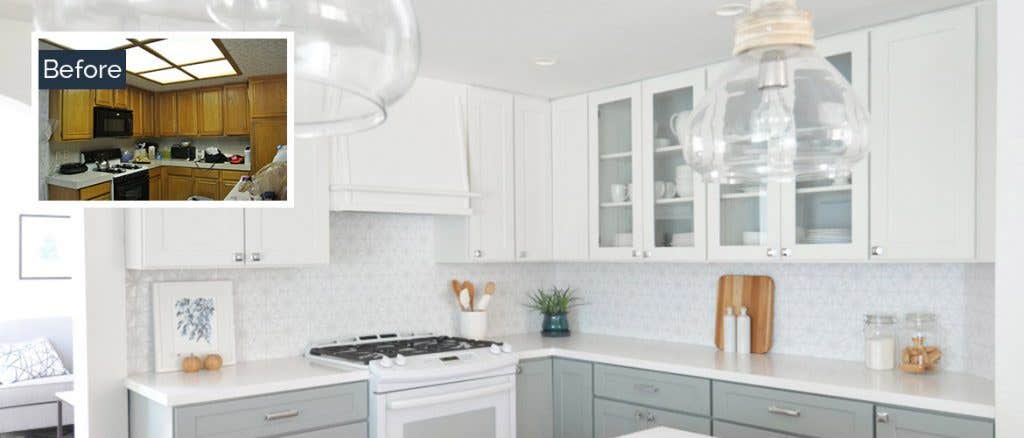 Determining Your Kitchen Remodel Budget
"What's your budget?" This is one of the first questions a remodeling professional or kitchen designer will ask you. But you won't be able to confidently set a budget until you've shopped and compared different product options. Setting a remodeling budget depends on what you have, what you're willing to spend, as well as your financing options.
According to HomeAdvisor, as of 2020 the average cost of a kitchen remodel is $25,257 or $150 per square foot. Most homeowners spend between $13,271 and $37,512 or $75 to $250 per square foot. High-end kitchen remodels can cost much more. Generally, cabinets are about 29% of the remodeling budget. HomeAdvisor also reports that professional kitchen designers charge an average of $100 to $200 per hour, while the National Kitchen and Bath Association (NKBA) suggests 4% of your budget will go to design fees. This includes 3D renderings, material and color selection, start-to-finish support and project management.
The cost to update a small kitchen (70 square feet or smaller) is between $5,000 and $20,000, depending on what you install, repair or upgrade. Obviously, doing some of the work yourself will save time and money. Most importantly, you should set aside at least 20% of your budget to cover unexpected expenses that might crop up during your remodeling project.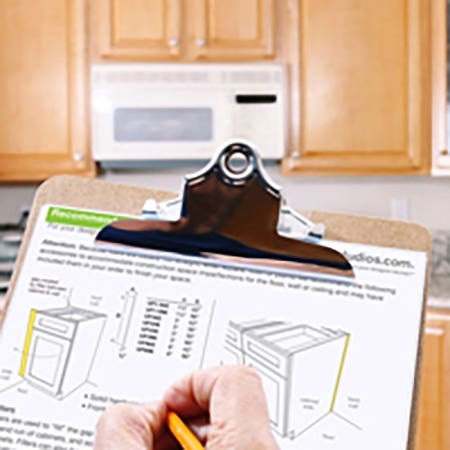 What Are Your Goals?
Your goals might include appliance, countertop or cabinet updates to increase your home's resale value if you plan to sell within a few years. Or you may want to open up your kitchen's current space without major changes to its footprint. Where could you simplify? You might want to focus on base cabinets and pull-out storage, while installing more open shelving with fewer wall cabinets. If your goal is to increase your storage space or make your kitchen more organized, take a good hard look at your current situation to evaluate its effectiveness.
Go old-school and get pen and paper to make a running list of your ultimate kitchen remodel goals. Post a master copy where everyone can see it, and make changes as you streamline and zero in on what matters most. This list will help you focus on your core goals when the myriad of distractions clamor for your attention.
Assessment: Must-Haves vs. Nice-to-Haves
Assess your wants and needs by observing how your existing kitchen works. If you do a lot of cooking, center your needs around the people who do most of it. Keep in mind the kitchen equipment you use most often. Take note of those items you rarely, if ever, use and consider ditching them to free up storage space. Besides cooking, what other activities take place in your kitchen? This could include household paperwork, school or office work. If you have room for an island or workspace in a corner, go for it.
You might want a massive island with seating for six like those you've seen online. But do you have the room in your kitchen as well as in your budget? Asking yourself the right questions is important.
How easy is it to reach and access storage space? Do you need more storage?
Do you have too much stuff and need to minimize? Or do you just need smarter organization and storage options?
How easy is it to access the trash? Do you store recyclables in the kitchen?
Do you need more counter space? Will you have to build out to get it?
What do you like about your kitchen? What don't you like?
It pays to be thorough. The more clearly you can talk about your wants and needs, the easier it will be to get kitchen designers and contractors to follow your specific vision.
Moving Forward with Your Kitchen Remodel
Tackling a project as important as creating a new and improved kitchen can seem daunting, and with good reason. You're spending a big chunk of money to alter the most important space in one of your biggest investments: Your house! But with proper planning, honest discussions and realistic expectations, a budget-friendly kitchen remodel is within your grasp.
It helps to have a team of professionals on your side. That's why CliqStudios has a design team that works on every project at no charge to you. Providing design services is part of our goal to make kitchen remodels easier and better. We believe everyone should have the best layout possible in their new space. We also believe your time is valuable, so our designers help you plan your project on your time, from anywhere. Through email, phone calls and screen sharing our designers make dream kitchens a reality.