16 Min. Read
Kitchen design has come a long way over time, always evolving with the latest trends. As far as design goes, the range hood has also made tremendous strides in recent years, all while function is being simultaneously perfected. But why does that matter and what exactly is a range hood? A range hood is a piece of kitchen equipment that's installed above a kitchen range. It was designed with the purpose of removing unwanted odors, smoke, or steam from the area while the range is in use.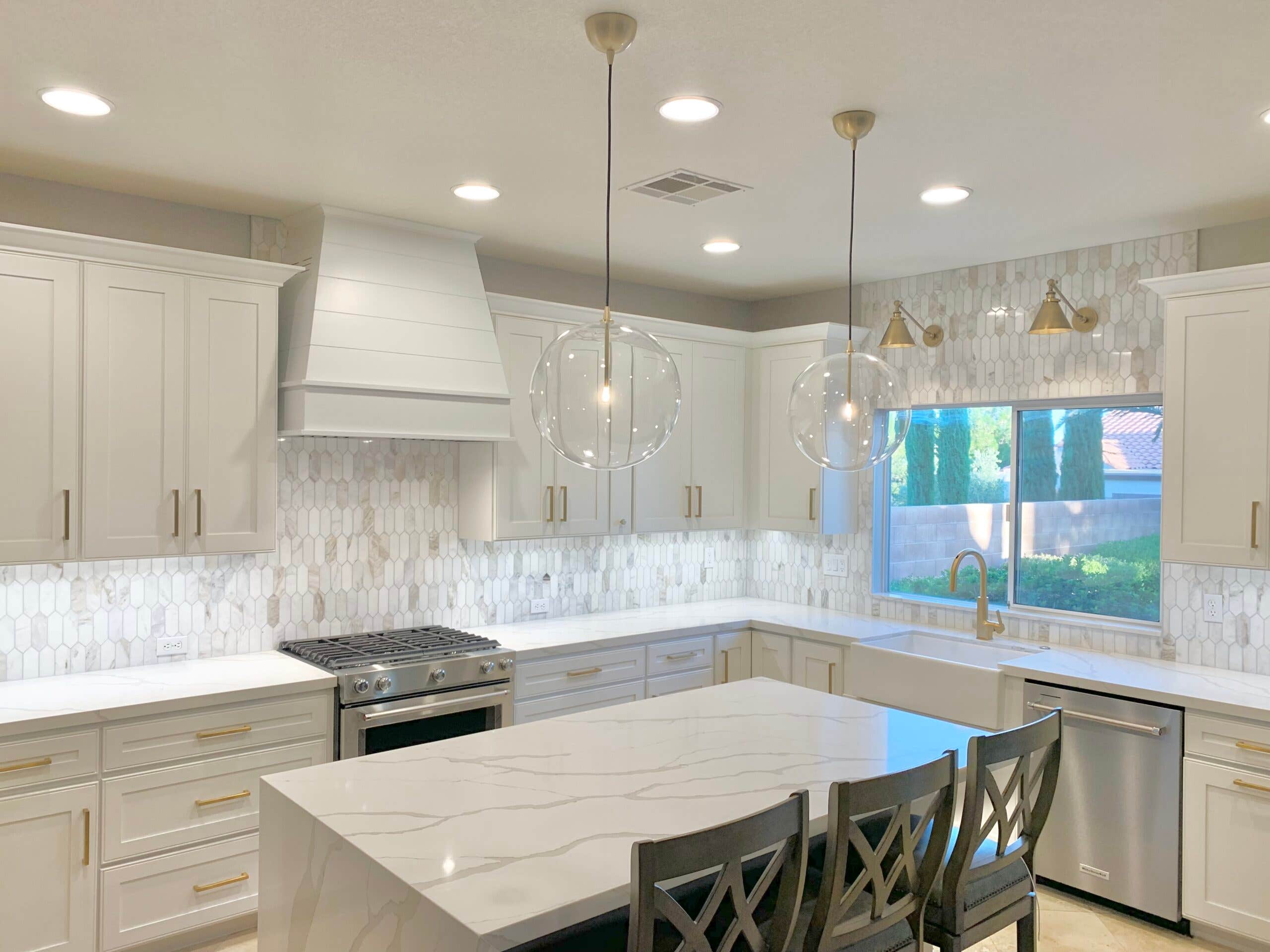 Brief History of Range Hoods
Kitchen design has come a long way over time, always evolving with the latest trends. As far as design goes, the range hood has also made tremendous strides in recent years, all while function is being simultaneously perfected. But why does that matter and what exactly is a range hood? A range hood is a piece of kitchen equipment that's installed above a kitchen range. It was designed with the purpose of removing unwanted odors, smoke, or steam from the area while the range is in use. Many inventors made the range hood what it is today, innovating and changing details until the range hood as we know it today was created. The first patent was applied for in 1928 by Llyod W. Ray. Years later in 1937, a company called Vent-a-Hood began manufacturing range hoods consistently for consumers out of Dallas, Texas. Brands like Modern-Air, Faber, and ProLine branched off this idea and began producing their own variations of range hoods. Today, many more companies have begun producing these incredibly useful appliances, including our team here at CliqStudios.
Explore today's top styles with Cliqstudios!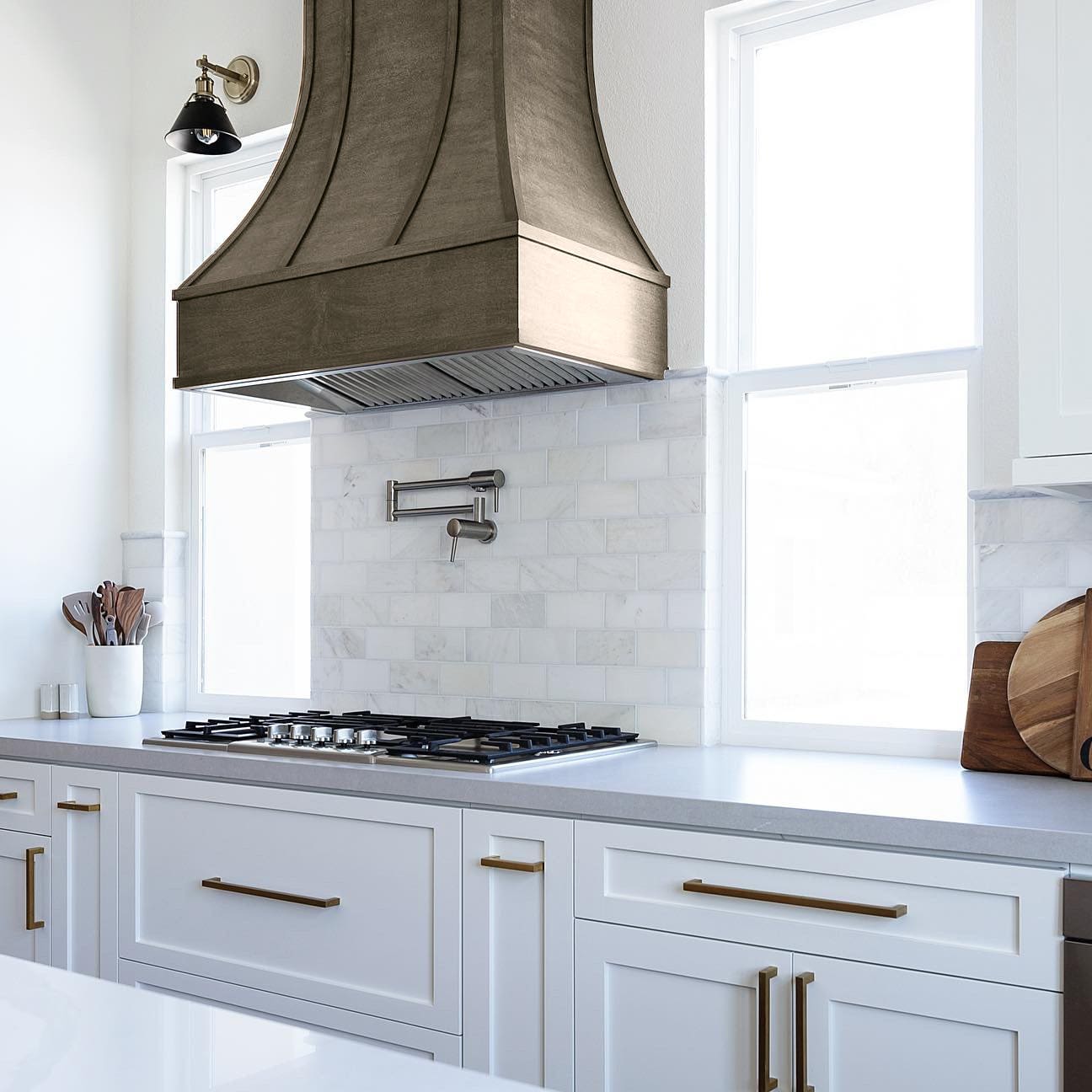 Wood Range Hood Basics
How important is it that a wood range hood is incorporated into your kitchen design? Well, if you or your client are planning on cooking often and want to maintain a clean space, then a wood range hood cover is key to include in the kitchen design. Beyond removing things like smoke and odors out of the air while cooking, it also helps minimize the clean-up process. If fumes, smoke, and odors are not removed during the cooking process, they will remain on the stove and surrounding countertops. These fumes then settle in and form a greasy residue which can be difficult to scrub clean even with some elbow grease. A range hood eliminates this obstacle and adds an element of sophistication to the overall design of the kitchen, especially if embellishments such as brass strapping are added to the wood range hood. Brass embellishments elevate the look of the entire range and allow it to serve as a focal point in the kitchen design itself.
View Cliqstudios' New Wood Range Hoods Today!
Wood Range Hood Cover Details
Range hoods are commonly covered with metals such as copper, stainless steel, bronze, or even glass. Wood range hood covers are the more traditional option which is what we specialize in at CliqStudios. These range hoods are constructed out of high-quality wood. Ventilation should be determined first which will dictate the style of range hood: under-mount, ceiling-mount, or wall-mount. Then, verify the dimensions so the range hood fits perfectly. Once that's completed, it can be installed and final changes, such as embellishments, can be added to the exterior. Your preferred design style can be achieved by choosing the right style of range hood. For example, if you or your client prefer farmhouse style, then either a curved or tapered shape will match beautifully when paired with a complementary finish.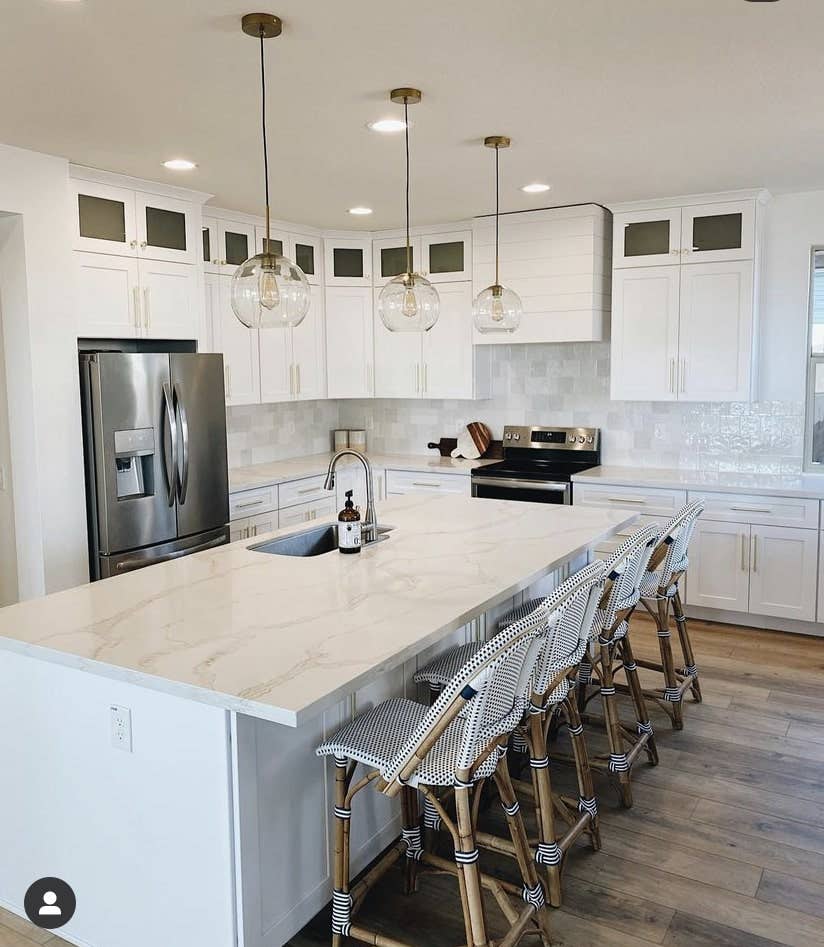 Assorted Wood Range Hood Styles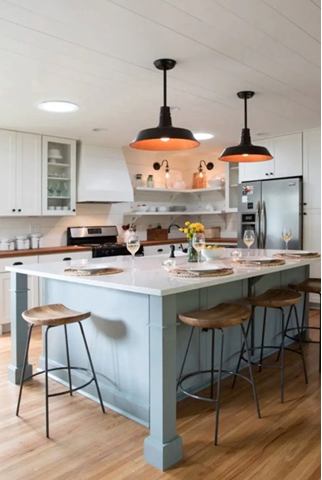 There are 3 main options when it comes to choosing a wood range hood style: under-mount, wall-mount, and ceiling-mount range hoods. As each of these names suggest, an under-mount range hood is attached to the bottom of kitchen wall cabinets, the wall-mount range hood is attached to the wall above the cooktop and the ceiling-mount range hood is attached to the ceiling above the stovetop. Of these 3 styles, an under-mount range hood is most commonly used in kitchen design. The size, style, and whether it is ductless or ducted all depend on the size of the kitchen in question. It's typically best practice to choose a range hood that's either the same size or slightly larger than the cooking surface, both for aesthetic and functional purposes. If the size of the range hood does not correlate with the size of the range, then it could cause a potential safety risk.
Explore Cliqstudios' Wood Range Hoods!
Cost, Height, & Other Details
There are many details, practices, and complex steps involved when designing custom wood range hoods. For safety reasons, a range hood is required to be installed at least 24" inches above the stovetop. If the stovetop is gas rather than electric, then the height requirement is a bit higher, approximately 25" at minimum. If venting is not installed high enough, it will interfere with proper functioning of the range hood, and cause potential safety risks to those using it.
As far as installation goes, CliqStudios uses a two-piece system. The apron and chimney. This type of installation system allows for the range hood to easily accommodate the recommended ventilation solutions that are offered to maintain industry standards.
Wood kitchen hood costs can vary depending on the quality of the fan installed within the range hood, the material it's constructed from, the size of the range hood, and the ventilation capabilities. This combination of variables will affect the overall cost. Average costs of a wood range hood are typically about $750, but it's possible to find range hoods that vary in price from as low as $40 to as high as $1,000. The range hood you or your client choose will depend on budget, frequency of use, level of cooking design preferences, and size of the current cooktop etc. There are certainly options to fit everyone's needs in low or high budget ranges.
Contact a Designer for Pricing and Styles Now!
Choose the Right Range Hood for You
Deciding which range hood is best for you or your client will depend on a few things. First, figure out the design style of the kitchen. This will help you decide which style range hood will best fit the space based on any wish lists. In the end, it will be a much more cohesive design. Next, decide if the hood will be a focal point, or if it will blend with the rest of the kitchen cabinetry. From curved to sloped, angled, tapered, and box style, there are several wood range hood options for you or your client to choose between.
View CliqStudios' Custom High-Quality Range Hoods!
Matching a Custom Range Hood to The Right Style
Everyone has their own design preferences, and each range hood will look best with a specific kitchen style. As of 2022, the top design styles are farmhouse, modern, cottage charm, and French country. The farmhouse style is all about rustic charm and straightforward design, so a curved range hood would match wonderfully. For a more modern kitchen design, a sleek choice like a sloped range hood with stainless steel strapping. On the other hand, cottage charm is associated with eclectic design, so a tapered wood range hood would play into that style well. If you lean more toward a French country style, which infuses both rustic and elegant elements, an angled or box range hood would be complimentary. At the end of the day, it's up to you. Each style of range hood can be embellished or finished to coordinate with any of these popular kitchen design styles. The ability to create a custom range hood makes this possible.
Discover CliqStudios Wood Range Hood Styles Now!
Wood Range Hood Embellishment Options
There are several embellishments to choose from for your wood hood. Strapping in brass, stainless steel, and wood is available, which add a sophisticated touch to the range hood. These embellishments can be added to curved, tapered, and sloped wood range hoods. You can also choose to incorporate shiplap into the design, which is simply wood that is installed horizontally. Create a timeless and cohesive look with hood accents that fit your kitchen.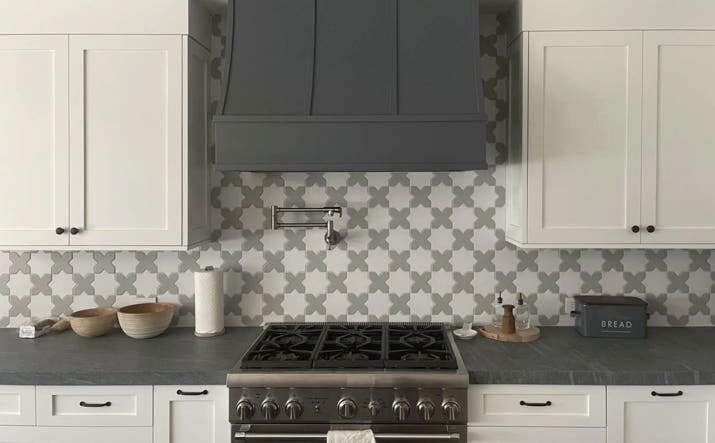 Finishing Touches for Wood Range Hoods
In addition to chic accents, you also select your paint or stain. This works to completely transform the look of a basic wood range hood. There are plenty of options to fit every style and color preference. Clients can pick any shade of paint from a wide range of 16 paint colors or a wood stain from a collection of 9 pigments. Trendy options like Ocean Blue to classics like cloud white and espresso provide something for everyone.
View all CliqStudios Wood Range Hood Finishes Now!
Get Inspired for your Next Project
A tremendous amount of the work that goes into perfecting your kitchen design lies in the inspiration phase. This portion of the design process is so much fun. It allows clients and their designers to play and show their creativity. Inspiration can be found almost anywhere, from lifestyle magazines to blogs, home renovation television shows, even simply scrolling through Pinterest. If you do find yourself hard-pressed for ideas, feel free to check out the CliqStudios' Gallery. The Gallery is a collection of kitchen cabinet design ideas, kitchen remodel project photos, and other great inspiration. Looking through these photos can help kickstart an idea for your next kitchen remodel, including a wood range hood that fits your personal style and the budget you set for this project.
The stunning photos in the gallery are separated into categories. The three categories are styles, room, and colors. This allows you to easily find what you're looking for. From modern to rustic, there are many styles to choose from. The styles represented in the gallery are shaker, slab, and decorative. As for rooms you can explore, that includes the kitchen, bath, and laundry room. Color ranges include gray, blue, white, black, medium wood tones, and light wood tones. CliqStudios' clients have the ability to choose any number of options. This narrows down the selection so that customers can filter through items that fit their requirements instead of searching the entire extensive catalog. The style categories that are included in the CliqStudios' gallery include the following: modern farmhouse, custom shaker, high-end, earthy and organic, minimalist, as well as several more. Various categories contain photos that fit each of these styles, including kitchen cabinets and wood range hoods.
If you find items that you would like for your own home, these selections can easily be added to a wish list on the CliqStudios website. This makes finding the perfect kitchen cabinets and wood range hood incredibly simple.
Check Out CliqStudios Gallery for Inspiration Now!
Why Choose to Work with Us?
What makes CliqStudios unique is our personal approach to design. We believe wholeheartedly that every family should be able to have a kitchen that is functional and meets their individual needs. Whether that's helping the kids with their homework, cooking a delicious meal, or conducting family meetings, our team ensures that the result supports all those activities. Our design team makes it easy to plan out your dream kitchen, not only in cosmetic choices but also in functionality. From kitchen cabinets to wood range hoods, at CliqStudios, we make sure you get the best quality products at optimal prices.
Learn More About CliqStudios!
CliqStudios Delivery Details
Wood range hoods will require 3-4 weeks for delivery. This includes both the construction of the custom wood hood and shipping. However, due to the unpredictability of the COVID-19 pandemic, you may experience slight delays and extended delivery times. Deliveries are made Monday through Friday, from 8 am to 5 pm, although this does not include holidays. A person who is 18 years old or older must be present at the time of delivery, which can be scheduled with the carrier. You'll receive a call and an email confirming the date and time of delivery. Any special delivery circumstances should be discussed with your designer before the order is placed. CliqStudios happily ships to 48 of 50 United States, this excludes Hawaii and Alaska.
Learn More About Delivery Here!
CliqStudios Warranty
All of CliqStudios' kitchen cabinets and wood range hoods include a warranty with purchase. It does not cover damage caused by improper handling or variations in natural wood color. However, it does include the replacement or repair of defective cabinets and range hoods. Please note that if the item is installed outside of the 48 states that CliqStudios ships to, the warranty is null and void.
Explore CliqStudios' Warranty.
Price Match Guarantee Policy
At CliqStudios, we pride ourselves on offering the best prices possible on kitchen cabinets and wood range hoods. That's why we created our price match guarantee. Our team will look over a similar cabinet quote and strive to beat that listed price by 5%. In order to qualify, the cabinets in question must be comparable to CliqStudios in both construction and level of quality. We reserve the right to verify the presented quote and the price match offer only applies to the total purchase only, not individual items. Please note that CliqStudios' price match guarantee does not apply to RTA (ready-to-assemble) cabinets. If any questions come up regarding this policy, please reach out to our customer support team.
Learn More About Price Matching Now!
CliqStudios Return Policy
Our return policy varies depending on the type of product. If it's cabinetry that's considered a part of the signature line, then a 30-day return window is allotted. Please note that returns must be requested within 30 days of the delivery date. Prior to a return being processed, it will be inspected in our facility. If the return is approved on our end, then a credit for the cost of the product, minus a 25% restocking fee, will be sent to the original payment method used for purchase.
In order to be accepted, a return must meet a few qualifications. Cabinets need to be returned in their original packaging and the customer must pay for shipping and return freight shipping arrangements.
If the cabinets aren't part of the CliqStudios' Signature Line, they won't be eligible for return. This includes products that have been taken out of the packaging and installed, custom orders, products with designer paint finishes, wood range hoods, RTA (ready-to-assemble), Signature Plus, and Craftsman cabinets.
Review CliqStudios' Return Policy.
100% Online, Every Time
CliqStudios makes choosing every aspect of your kitchen remodel as easy as possible. The entire process, from designing the layout to selecting kitchen cabinets, wood hood ranges, and cabinet finishes, is all done online with the help of our incredible CliqStudios' customer support team. By visiting the CliqStudios website, you have the ability to access everything you need. The website is incredibly easy to navigate, and if you need assistance, the CliqStudios' customer support team is happy to help during any part of the process. When you work with us, you will never have to leave the comfort of your home or office to see samples or meet with a designer. From start to finish, the entirety of any renovation project is completed online. Additionally, once the design is complete, everything is shipped directly to the address provided after the order is placed.
Get Started With CliqStudios Now!
Join the CliqStudios Pro Program
If you're a pro that's looking for high-quality kitchen cabinets with fast shipping times and discount programs then CliqStudios' Pro Program is for you. When you join the Pro Program, you receive benefits that no other customer gets. Not only will you receive the same, consistently high-quality wooden kitchen cabinets and range hoods, but you also qualify for a series of other benefits. On every single purchase, you will receive 5% of the total back. The rewards system is very straightforward. Every time you check out the CliqStudios website, you will earn 1 point for every $20 spent on that order. This excludes shipping costs, delivery fees, and taxes. In order to redeem your points, simply choose to redeem them during the checkout process. Each point is redeemable for a $1 discount on your purchase and does not transfer to the cash value.
This program allows you to earn rewards on every purchase you make with us. Plus, all CliqStudios Rewards members earn 10% off all cabinet purchases, but this does not include wood range hoods. Discounts can also be extended to the Pro Program members' clients as well. Beyond those already incredible benefits, members also get free shipping on all orders within the United States, professional selling tools, access to our talented design team, free personal design, and qualify for our price match guarantee. The professional selling tools that CliqStudios provides to every member are complimentary and include the following items: free sample kits to use in presentations to your clients, 2 free samples per client to use for their own design, professional presentation packets, as well as co-branded PDF brochures that feature both CliqStudios and your company name.
To join the CliqStudios' Pro Program and receive great discounts on kitchen cabinets and wood range hoods, as well as benefits, fill out an application form on CliqStudios.com. For the Pro Application, you will need to provide a few things: your personal information including first and last name, job title, email address, and phone number. Then, you will need to add your business information such as the business name, business website, street address, along with selecting the type of business you own from a drop-down menu. Once you have submitted that information, CliqStudios will begin the verification process. This will simply require you to attach one of the following documents along with your Pro Program application: your contractor license, state release certificate, or sole proprietorship or partnership. You can also use S Corporation, C Corporation, or LLC Documents as verification documents as well. You can upload up to 5 documents, including .jpg, .jpeg, .gif, .png, .doc and .pdf. Once you have submitted all this information, our team will look it over. After you're approved, you will be eligible for all Pro Program member benefits.
Explore the Pro Program Details Now!
Frequently Asked Questions
Which wood range hoods are available at CliqStudios?
CliqStudios offers a wide range of styles and shapes of
wood range hoods
. There are 5 available styles in total including curved, tapered, box, angled, and sloped. Extra embellishments are also available, including shiplap and strapping in steel, brass, and wood.
Wood range hoods from CliqStudios range from approximately $1,400 to a little over $2,000 depending on the style, shape, and any added embellishments.
What is the lead time to deliver a wood range hood?
Allow 3-4 weeks' time for construction and delivery of your new wood range hood. Due to the large size of range hoods, your delivery will be made using LTL (less than truckload) shipping. This delivery will be curbside due to the size of the package. You will receive a call from the freight company to schedule delivery to the address you provided during checkout.
Can I order a sample wood range hood?
No, sample wood range hoods are not available from CliqStudios. However, if you need assistance choosing the right range hood for your client, our designers and customer support team would be happy to assist you through this process.
Does CliqStudios offer customer support after the wood hood range is delivered?
Yes, CliqStudios does indeed offer customer support, even after the range is delivered to your door. If you have questions about your order or need to report an issue, please
contact our customer service team.