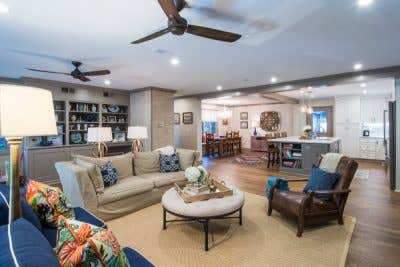 Want to design a room like a professional? Interior designers chooses furnishings and finishes over and over again, and as they say, practice makes perfect. Here is a few tips on how professional interior designers rethink and design spaces.
The Biggest Piece Goes First
Choose the main piece of furniture for the room first. The scale and dimension of the space will be determined by that piece of furniture. For the bedroom, choose the bed, for the dining room, choose the dining table, and for the living room, choose the sofa.
Understand the Room's Function
Determine the flow or function of the room. Make sure windows and walkways are taken into account. Consider the layout: does your seating area face the window, the fireplace, or the focal wall? Decide what works best, and position your main piece of furniture for the function of the room. The rest will fall into place.
Look Down
Make sure to determine your floor covering. A great rug can add some much needed color or texture to a room. However, rugs and floor coverings only come in certain sizes and colors. Make sure to choose one that fits correctly in the room and will blend with other pieces. A good rug or floor covering should add to a room, not distract from it.
Don't Hesitate to Try Something New
If you think that something could work in another spot, try it. The time to do this is what interior designers call installation day. We all have a plan on paper, but sometimes you'll come up with a new, better idea when your your working hands-on moving things around. Don't be afraid to try a piece in another location to see if works better there. You can always move it back if it doesn't work like you thought it would.