4 Min. Read
Designing your own DIY bookcase is much easier than you might think. Bookcases can be created by a variety of cabinets. The hardest part is choosing which features to include. Here are a few different types of bookcases and how they can be made to get your creative juices flowing.
*The following cabinet modifications are completed via kitchen design software through a CliqStudios kitchen designer.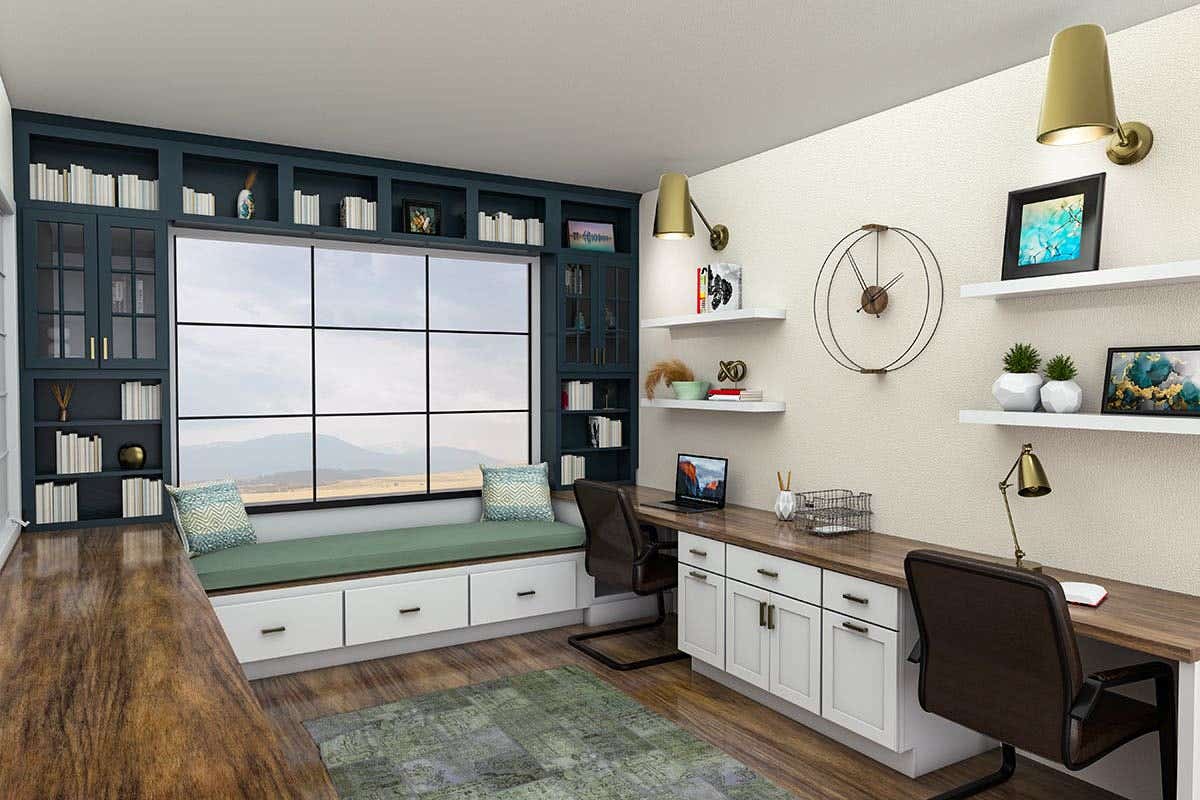 Idea #1
The large built-in bookcase in this office easily creates the focal point of this space. Painted in a dramatic Indigo blue, it instantly draws your eye. To create a look like this, all you need are wall cabinets. CliqStudios designers will need to help you with cabinet modifications and can assist with any size selections.
For the cabinets on either side, choose a mullion or glass cabinet that goes with your style. The cabinet below is made from another wall cabinet; remove the doors from it, then add matching interiors for a finished look. Create the bridge cabinets above by using shorter wall cabinets then remove the doors and add matching interiors.
Make sure you order finished panels in the correct sizes to cover up seams on the sides and bottom of the bridge cabinets. Scribe molding is recommended to cover up any uneven spaces where cabinets and walls should be flush. Finish with crown for a more decorative look.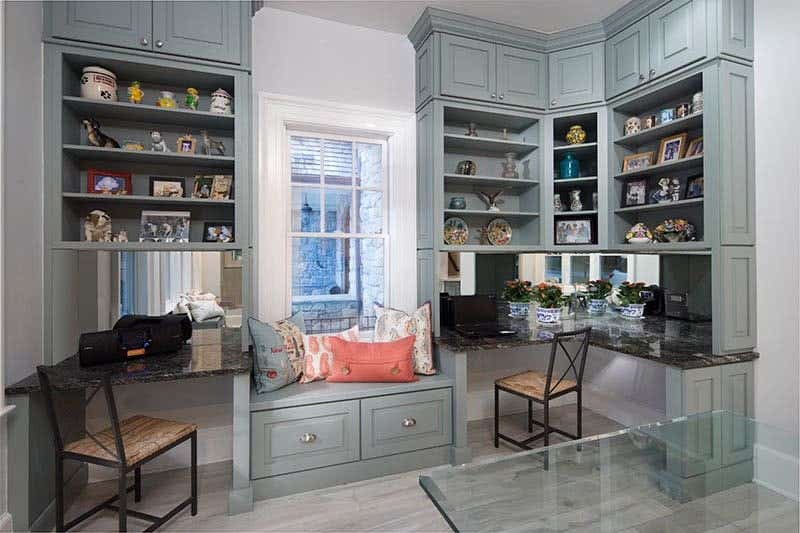 Idea #2
Much like the last office, this design includes stacked cabinets. Start by identifying the sizes you need. Once that's decided, remove those doors, and add matching interiors. Next, select the height of the stacked cabinets your space can accommodate. You can take the doors off or leave them on based on your aesthetic, just make sure to finish any exposed ends.
Place a small decorative molding between the stacked cabinets and add a long finished panel from the open bookcase cabinets down to the countertop to cover exposed seams. When paneling is in place, add the corresponding decorative doors to each side. If you would like to dress this bookcase up, add crown molding and a finished panel to the under-side of the open wall cabinets for a high-end look.
Kitchen Island Bookcases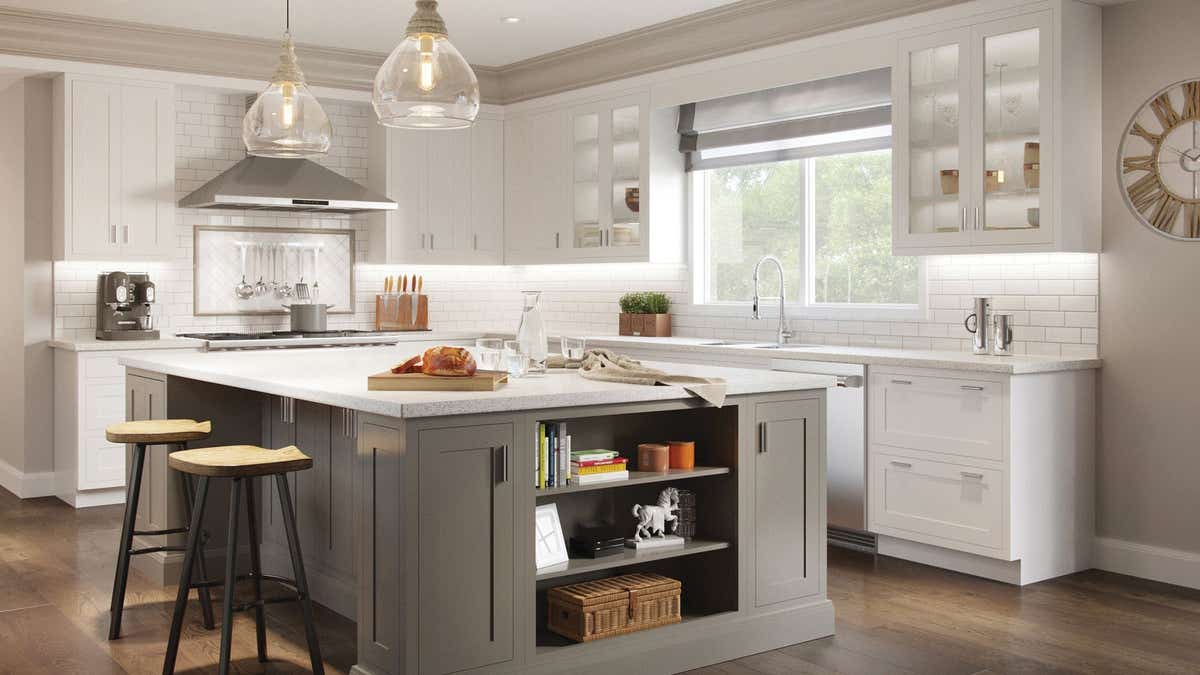 Idea #3 & 4
Glass island bookcases are pretty easy to design. There isn't much work that goes into it, but you do need to choose between using a wall or base cabinet. Your designer can tell you which option is most cost-effective if that's a concern.
The first option is to use a base cabinet with full-height doors. Since this cabinet already has a built-in toe kick, there's no need to worry about building a base for it. Add glass doors and reduce the depth based on your preference. Most of the time, bookcases need 15-18" in depth minimum, but this is up to you. Finish the interior of the cabinet and if any sides are exposed, cover them with finished panels.
Alternatively, you can also design this island bookcase using a wall cabinet. Select a 30" tall wall cabinet for a counter-height island in your desired width. Most wall cabinets come in a standard depth of 12", so you may need to increase the depth. Add glass doors and a finished interior. When it comes time for installation, your contractor will need to build a 4-1/2" toe-kick out of wood blocking for it to sit on. When the toe kick is covered, it will blend in with the rest of your island.
Either one of these options can be modified to create the open bookshelf look. The only change your designer needs to make is removing doors from the base or wall cabinet.
---
Now that you know how to design your own DIY bookcase, think of how this could be incorporated into multiple areas of the home. Bookcases can also act as a display for mementos, unique gifts, and décor, so get creative!
Schedule a Complimentary Design Consultation for help on creating your new bookcase!