3 Min. Read
Do you know which vent unit is the best choice for your wood hood? Since every kitchen remodel is unique, there's no one size fits all answer on what vent you should buy. The first step, however, is to choose your wood range hood. Many hoods are specifically designed around vent units, including CliqStudios' wood hoods, so this will easily help narrow down your options.
---
---
What to Expect When Buying a Vent Unit
- Ventilation units are sold separately from the wood range hood
- Ventilation units are hard-wired only
- Some can be converted to ductless, but most vent out
- Ducts are typically not included
Aside from this, keep three things in mind when shopping for your vent: CFM, sone's, and BTU's. Without getting too far into the weeds, here's a breakdown of each and why it's important so you can make a more informed decision.
CFM
CFM or Cubic Feet per Minute is an important feature of every vent. This is the measure of how much air is moved through your hood every 60 seconds. In more detail, it's the amount of air the vent takes in, cleans, and recirculates back into your kitchen.
Sones
Like decibels, sones is a measurement for the level of sound a vent emits. The lower the sone level, the quieter it is. With larger hoods and increased CFM levels you can expect a higher sone rating. For comparison's sake, one sone is roughly the same level of noise that would come from a quietly running refrigerator.
BTU's
Short for British Thermal Units, this is the measure of how much heat your range or cooktop puts out. The ratio is 1 BTU + 1 lb. of water = 1 degree of temp rise. For those who prefer a shortcut, every range and cooktop specifications guide tells how many BTU's each burner gives off as well as a CFM recommendation for venting.
Things to Keep in Mind
Every range and cooktop comes with CFM recommendations based on its BTU output, but it's best to confirm your decision with your range appliance specialist. They are experts who do this every day, and sometimes appliance specs can have multiple recommendations based on all the brands available sizes.
Regardless of whatever size or CFM your new vent unit is, you should always check with local municipal ordinances in case you need to provide make up air. Hood vents can be very powerful, so it may be necessary to replace more airflow in the kitchen.
What to Look for in Quality Ventilation
---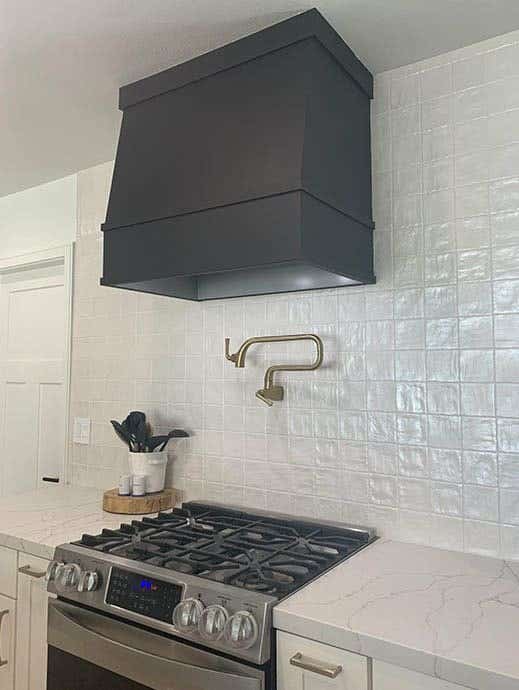 ---
Since hood vents are one of the larger working components in your beautiful new kitchen, invest your money wisely in a high-quality product. This means going with a brand that cares about more than selling you something. For instance, all CliqStudios wood range hoods are designed to fit Trade-wind ventilation systems. Trade-wind vents include the following characteristics:
- Commercial grade stainless steel
- Galvanized steel construction
- 3-speed motors
- Electronic touch controls
- 2 directed LED lights
- Dishwasher-safe baffle filters
- Remote controls
Qualities like these are easy to appreciate because they provide beautiful design, function, reliability, and high performance. Plus, a 3-year limited warranty is a great bonus. Stay away from ventilation systems that don't offer warranties or seem shady. It's better to take stock of your options, budget, and take your time so you're satisfied with your purchase.
Explore Hood Ventilation now!