2 Min. Read
CliqStudios has a new hickory wood door now available! The long-awaited Pioneer Hickory door style is part of the RTA cabinet line and is now ready to order. Available in Natural stain, it's a 5-piece, full-overlay Shaker cabinet with a slab drawer front and natural wood interior finish. This hickory wood cabinet comes in one door style and one finish. If you're curious about whether this wood type and style is for you, here are more details.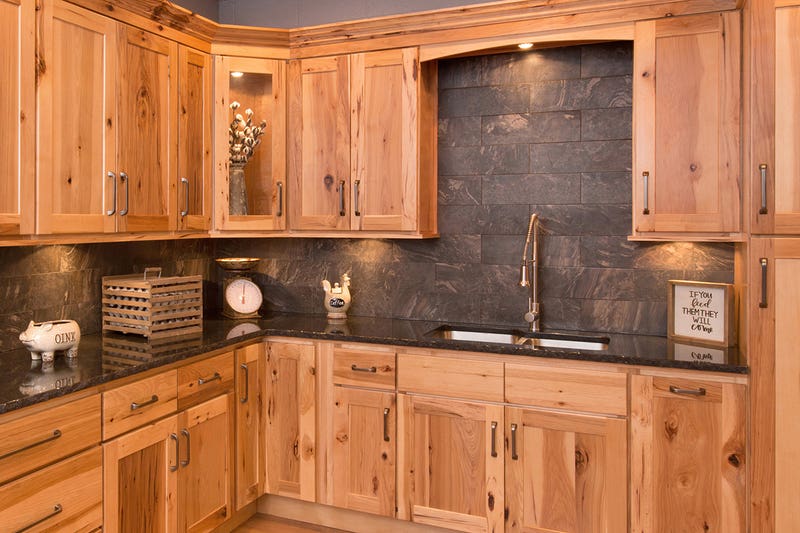 What Are the Characteristics of Hickory?
Hickory wood is a timeless natural material and it's extremely durable and strong. Being such a hard wood, it's great for kitchen cabinetry that is 'well-loved' The grain is very distinctive in that it's complex and flame-like in pattern while maintaining a rustic appearance. You will see anything from near white to very dark brown wood grains and knots, so the variation can be drastic. Any homeowner going with Hickory is excited about a bold and dramatic kitchen.
What Colors Go Well With Hickory?
There is some flexibility as far as what colors are paired with hickory wood, but they come with a few general recommendations. If you need to pick flooring, it's always a safe bet going with a less dramatic wood type or finish that is 2-3 shades darker than your cabinetry. Doing this will keep the cabinetry the focal point of the kitchen.
In relation to color schemes, warm, neutral, and cool all work well. For warm, stay away from bright reds and oranges. Bold color choices combined with Hickory wood grain will be overwhelming. Try using warm colors in their darker hues to bring a sense of calm to this color scheme.
Neutral is a great choice, and you have many options to choose from. When selecting your colors, use darker or lighter tones with pops of color. Bright notes of color mixed with calming neutrals will give the space a calming, but dynamic look. This will also prevent the kitchen from turning into a boring brown room.
Cool color schemes are bright and airy, but keep your eye moving with the dramatic wood grains throughout the room. This combination is a great way to add high visual contrast while creating interest. Whether it's crisp white or a forest green, there's enough versatility here to satisfy everyone.
Are you curious about the Pioneer Hickory door? Explore RTA now.